Rawalpindi Cricket Stadium dimensions: Rawalpindi Cricket Stadium boundary length and ground size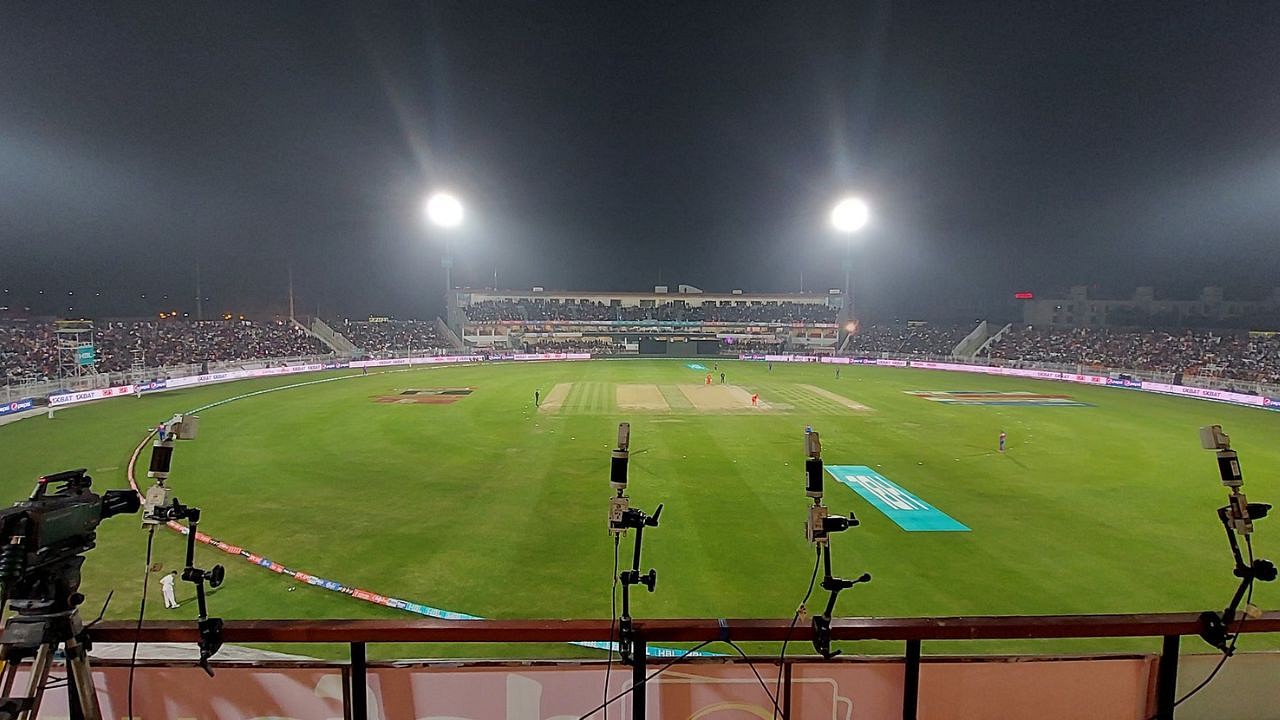 The average score across the 10 Pakistan Super League (PSL) 2023 matches at the Rawalpindi Cricket Stadium has been 209 runs, with the highest score of 262 runs posted by the Multan Sultans a few hours ago, during their match against the Quetta Gladiators.
In fact, the last ten innings total out of 12 at this venue have been in excess of the 200-run mark, and which has made way for a record shattering fest to say the least.
The last league match of the ongoing PSL season at this venue will take place on March 12 (Sunday), and one should expect the bowlers to have the miseries piled upon them tonight as well, after which the action for the remainder of PSL 2023 moves towards the Gaddafi Stadium in Lahore.
Rawalpindi Cricket Stadium dimensions
With truckload of runs being scored at this venue this PSL season, fans have been eager as ever to fathom whether it is the shorter boundary dimensions which have aided the batters significantly in run-making.
While the same is true to some extent, and the boundary cushions have been pulled inside by some meters, the minimum boundary distance requirement of 59.43 m from the the center of pitch is duly being adhered to.
The criticism on boundary size is also due to lack of knowledge. The minimum boundary requirement from "the center of pitch" in PSL is 59.43 meters, same as Men's T20Is and IPL.

— Mazher Arshad (@MazherArshad) March 10, 2023
In fact, the boundary distance of the Rawalpindi Cricket Stadium is between 70 and 75 meters from the pitch, although the distance is not even when measured across different parts of the ground, as is always the case considering its shape.
During one of such matches at this venue around a week ago, a noted Pakistan journalist's observation had caused a lot of stir, after the ball just travelled 57 meters and went beyond the boundary cushion. However, the Six hit was in the Fine Leg direction (behind the wicket-keeper), where the distance from the striker's end is usually lesser than the straight or squarer boundaries. Add further 18-20 meters from the other end, and the straight boundary distance goes up to around the 70-meter mark.
PSL Records shattered at Rawalpindi
The record for the fastest-ever century in PSL history, highest Powerplay score this season – 91, the highest team total this season – 262/3, the most expensive bowling spell by a bowler this season, took place at the Rawalpindi Cricket Stadium just a few hours ago. Five of the seven centuries scored this PSL season, have been smashed at this venue itself.
Also, the venue now also holds the record for the highest match aggregate by two teams in a T20 match, as Quetta Gladiators and Multan Sultans together piled on 515 runs across 40 Overs tonight.
---
Share this article