"Always a Light in Bad Times": Twitter F1 in Dismay as Lewis Hamilton Parts Ways With Longtime Physiotherapist Angela Cullen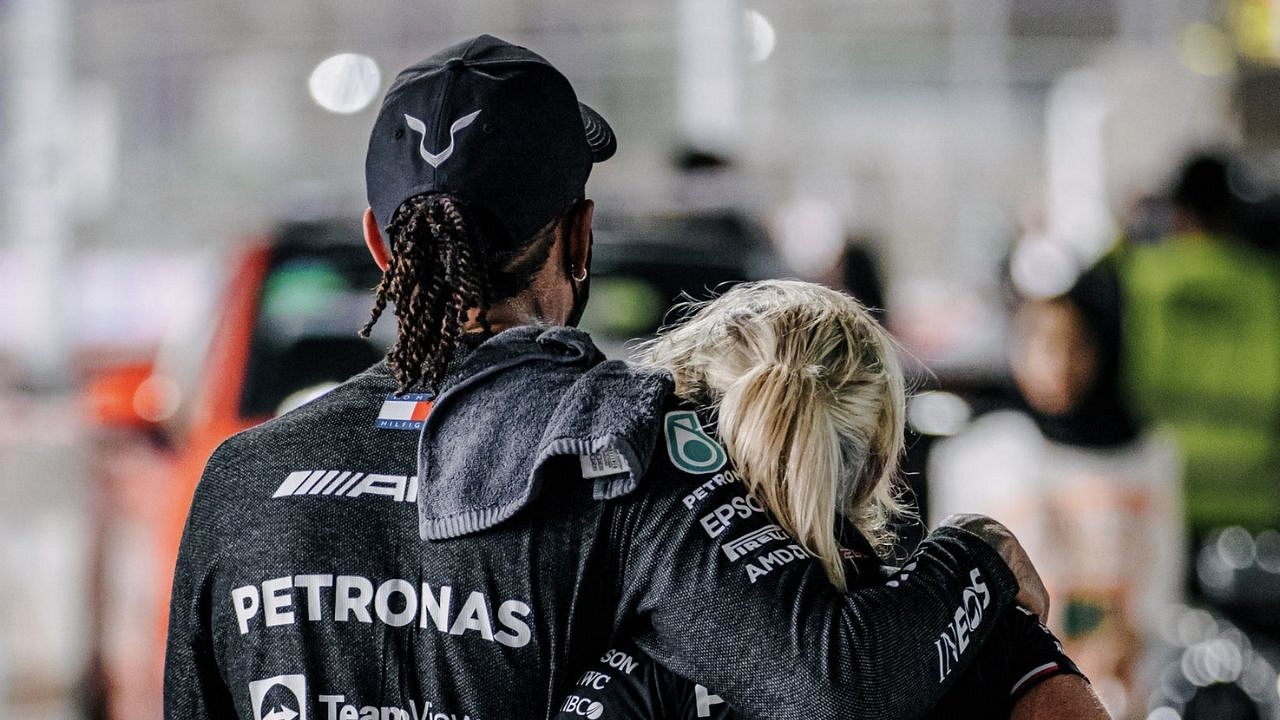 Formula 1 is set to lose a legendary partnership as Lewis Hamilton is all set to part ways with his longtime performance coach Angela Cullen.
The Kiwi physiotherapist announced the same via her Instagram handle on March 17. She explained how after spending seven long years in the sport, it was time for her to move on to her 'next adventure.'
Cullen was Hamilton's coach for the past seven years (2015-22) and helped the 38-year-old scale new heights during this time. In this duration, the British driver won five of his seven world championship titles (2015, 2017, 2018, 2019, 2020).
Since such an iconic partnership is all set to end now, several Hamilton fans got emotional and thanked Cullen for all her efforts.
Fans react as Lewis Hamilton parts ways with Angela Cullen
📰: Lewis Hamilton has announced that he is parting ways with his longtime performance coach, Angela Cullen via his IG.

"For the last seven years Angela Cullen has been by my side, pushing me to be the best version of myself. I am a stronger athlete and a better person because… https://t.co/vcD1T8EHaN pic.twitter.com/V9Nh2gET5g

— F1 Naija 🇳🇬 (@f1_naija) March 17, 2023
Wow! Dunno how I feel about this

— Luther (@luther_am) March 17, 2023
#F1: Lewis Hamilton and Angela Cullen, his long-time right hand are going separate ways.

I can confirm that any drama and speculation around it is FALSE. This was an amicable and mutual decision, Angela has family of her own and has dedicated a very huge part of her life to F1. pic.twitter.com/S5ISDGOrbe

— deni (@fiagirly) March 17, 2023
She's such an icon I'm gonna miss seeing her in the paddock…

— JJ🌱 (@JJlovesLeyu) March 17, 2023
😭 sad to see her go she was always such a light for Lewis when things were bad. I'm happy for her though and wish her the best.

— Nicole Becker (@Crazy4Skinner53) March 17, 2023
Also Read: Lewis Hamilton Doesn't Feel Fully Safe In Saudi Arabia Despite Reiterated Assurances
Hamilton and Cullen thank each other for sharing one of F1's most iconic partnerships
Both Lewis Hamilton and Angela Cullen took to social media and shared heartwarming posts for each other. The 38-year-old described how Cullen has been on his side for the past seven years and pushed him to be a better version of himself each day.
 

View this post on Instagram

 
On the other hand, Cullen wrote about how it was a pleasure for her to share the platform alongside Hamilton.
She described the British driver as the 'GOAT' and thanked him for always believing in her. Cullen ended her heartwarming post by wishing Hamilton all the best for his future and said that she will always be on his side.
 

View this post on Instagram

 
Also Read: Kim Kardashian Revs Up to Make Motorsport Debut With F1 Royalty Lewis Hamilton
Lewis Hamilton commits his future to Mercedes
While all may seem gloomy for Mercedes fans following the team's poor start to the F1 2023 season, Lewis Hamilton's desire to stick with the side in these difficult times would certainly help boost their morale.
While speaking at his Saudi Arabia GP press conference, the Briton said that he has '100% belief in the team' that they could find their way back to the top.
He clarified that he did not plan to go anywhere else as the team was like 'family' to him. However, he did state that some 'bold decisions' needed to be made if Mercedes were to have any chance of getting closer to their rivals. As things stand, the Silver Arrows are the fourth-fastest team, behind Red Bull Racing, Ferrari, and now even Aston Martin.
---
Share this article