"I Am Not Racing Sunday!": Offended Charles Leclerc Refuses to Put Up With Carlos Sainz's Innocent Insult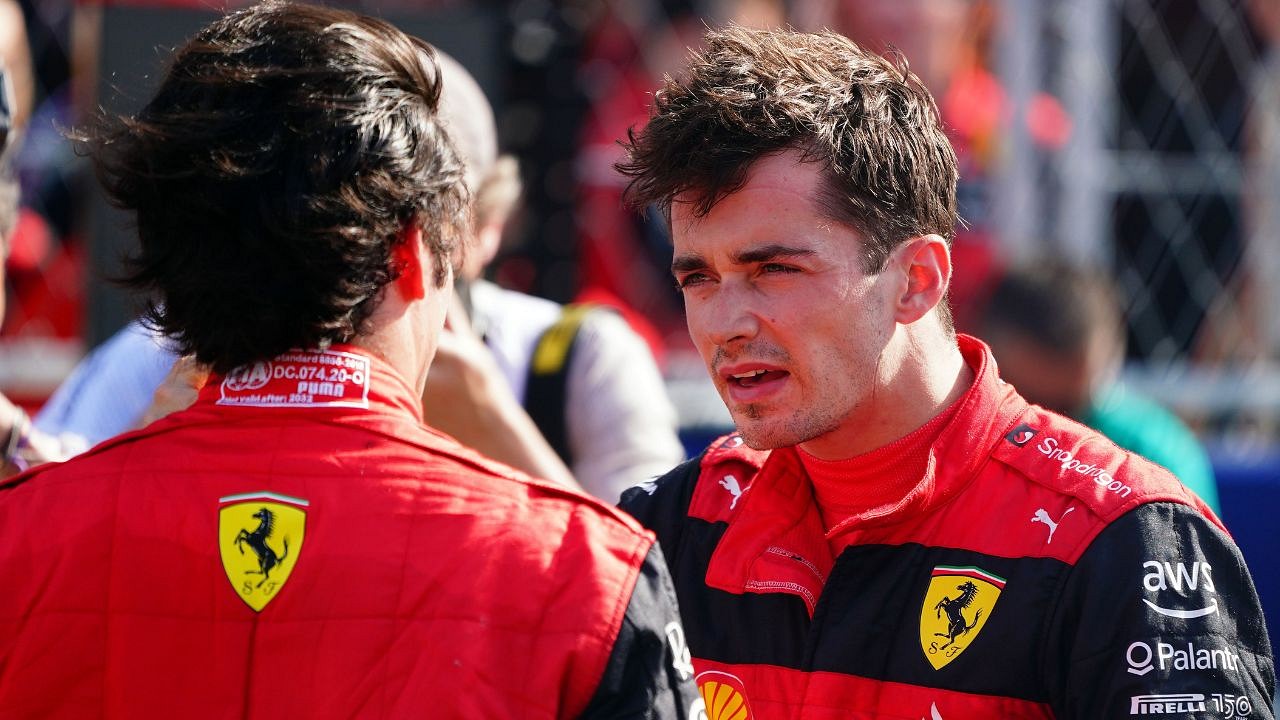 As if Ferrari's woes weren't enough, Charles Leclerc has stumbled upon another excuse to sit out the Jeddah race. While Carlos Sainz may excel on the track, his artistic skills leave much to be desired, as evidenced by his abysmal attempt at drawing Leclerc's portrait. Known for his striking appearance, Leclerc was unamused by Sainz's antics and refused to join the track except on one condition.
Despite the forecast for a gloomy weekend ahead for the Scuderia, Carlos Sainz and Charles Leclerc engaged in some much-needed silliness after the practice sessions.
Charles Leclerc upset with Carlos Sainz's art
With a comical flair, Sainz endeavored to capture the likeness of his fellow Ferrari driver on paper. The rivalry between the two was fierce, with Leclerc providing uproarious live commentary on Sainz's unique artistic perspective.
charles: WHAT ARE THESE EYES? mate, is my nose that big? my mouth, i could eat a full tyre! […] if he is winning, i am not racing sunday!

PLEASE 😭😭😭pic.twitter.com/sTS5murlmz

— clara (@leclercsletters) March 17, 2023
Screaming at his teammate, Leclerc was horrified. " What are these eyes? Mate, is my nose that big? My mouth, I could eat a full tire!" Unhappy with his teammate, Leclerc vowed, "If he is winning, I am not racing Sunday!"
On the other hand, Sainz was pleased with Leclerc's attempt to draw him. The artsy Monegasque was also proud of himself. "Oh my god, I'm actually pretty good! You are looking super aggressive in this!" Even Sainz was impressed. "I look like Fernando!"
Leclerc sure of Ferrari surprises
In Friday's practice at Jeddah, Leclerc's name hovered around the middle of the timesheets after finishing 11th in FP1 and 9th in FP2. To add to his woes, he also faced a daunting 10-place grid penalty.
However, the Ferrari driver refused to let the setbacks dampen his spirits as he emerged from the cockpit unbroken. While Verstappen set the pace, Leclerc remained determined and unyielding, confident in his team. " I don't think we are that bad, honestly, the feeling is pretty good."
Also read: 2023 Saudi Arabian Grand Prix Weather Forecast: What's the weather forecast of Jeddah this weekend?
He also added that Ferrari may still have a few tricks up their sleeves. "We have quite a bit in the locker – [as for] how much, let's see. I am sure Red Bull also have something still hidden so we'll see tomorrow. But I think it will be closer than what it is for now."
Leclerc has clearly put his full faith in the team, despite the painful DNF incurred in the season-opener. With confidence at an all-time high, maybe the tables could turn for the Maranello outfit this weekend.
---
Share this article