The Five greatest left handed Tennis players of all time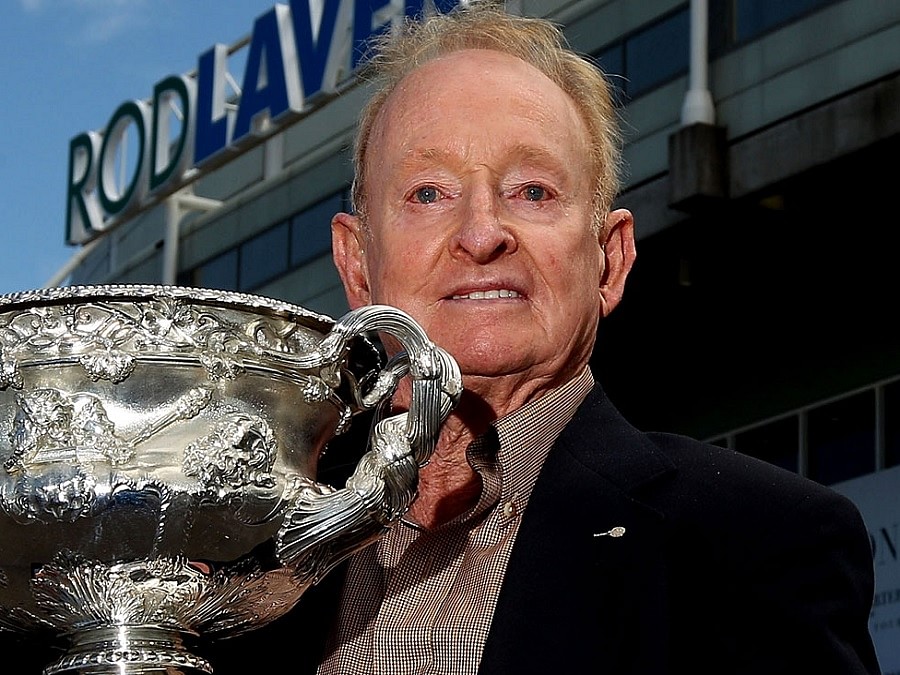 Lets accept the fact that this is a right-hander's world! Going by the estimations – 85 percent of us are right handers. But today's list will concentrate on the remaining 15 percent, the lefties!! And one more thing, these players have a lot of things in common. They have won seven or more Grand Slam events, and claimed more than 50 total titles each. So let's take a look at Top five greatest Left handed tennis players of all time.
1) Rod Laver
Rod Laver is the best left-handed and most admired tennis player of the modern era. Despite his not holding the most Grand Slam titles, and being ranked only as high as No. 3 in his time, there are two main reasons why he tops this list. Which are : 1) Calendar Year Grand Slam 1962 and 2) Calendar Year Grand Slam 1969.Yesss.. winning a calendar year grand Slam for one single time could be a Historic Moment for any tennis player..while Rod made that record twice!! Once Rafa had said, "To win all four Grand Slams in one year I think is impossible for anyone. That's my feeling." And here, Nadal was careful to use the word impossible, impossible for other players, Not for Laver ! That's why he is the best. WOW!
And along with his record of two Calendar Year grand slams, his Four Wimbledon trophies, three Australian Open victories, and a pair of French and US Open titles make him a legend.
Grand Slams : 11
Major Titles: Australian Open, French Open, Wimbledon, U.S. Open
Total Titles Won: 52
Highest Ranking: No. 3
2) Martina Navratilova
Martina Navratilova is the queen of tennis! The history of sports places her as one of the best female athletes of all time, not just the best of tennis.
I have placed her in the 2nd spot and that too ahead of Rafa, the reason being, her overwhelming numbers. Martina holds more individual major titles than him. And she wasn't just a big-game player, either. Each and every year of her career, Navratilova won other tournaments.
She won the Wimbledon 9 times!, US open for 4 times, Australian open for 3 times and French open twice. At 5 foot 8, she had a perfect height to dominate the women's game.
Grand Slams : 16
Major Titles Won: Australian Open, French Open, Wimbledon, U.S. Open
Total Titles Won 167
Highest Ranking: No. 1
Also Read: Twitter reacts as Andy Murray loses in the First Round of Queen's
3) Rafael Nadal
The true essence of the left-handed tennis is best expressed by Rafael Nadal! There are 2 facts universally accepted by all tennis lovers: Federer is the greatest ever grass court player, and Nadal is the greatest ever clay court player in the history.
Federer has never won the French Open by beating Rafa on clay. The one occasion that he's won the French Open was when Nadal had an early exit from the tournament in the year 2009. But Nadal has won Wimbledon twice when Federer could still be considered to be at his physical best!
And Nadal's numbers speak for him!
His career winning percentage is 82.51% !
His 10 French open titles also speak volumes for his game and courage. The King of Clay currently owns total 15 grand slams and a gold medal in 2008 Beijing Olympics. His records make him apt for No.3 in this list.
Grand Slams: 15
Major Titles Won: Australian Open, French Open, Wimbledon, U.S. Open
Total Titles Won: 73
Highest Ranking: No. 1
4) Monica Seles
One thing I wish to mention about her is that her left-handed forehand was a weapon all by itself. After watching her past matches on YouTube, sometimes it is difficult to remember that Monica Seles was actually a left-hander. More often than not, she hit with two hands from both sides. Her Coach Nick Bollettieri once wrote that very few people could ever do that successfully, let alone at the pro level.
In her eight-year career, she never won a Wimbledon. But her talent managed to secure 9 grand Slam titles! Due to her successes at the slams, it is only justified to put Monica a spot ahead of Jimmy Connors.
Grand Slams: 9
Major Titles Won: Australian Open, French Open, U.S. Open
Total Titles Won: 53
Highest Ranking: No. 1
5) Jimmy Connors
The reason why I love Jimmy is, he started his career as a villain in 1972! And 24 years later, at the age of 44, he walked away from a legendary run as a saint, truly remarkable!
So, At the No. 5 position is the one and only Jimmy Connors. Legendary Jimmy was famous for his unpredictable behaviour. Apart from that he will be always remembered for three things: The way we knew he was hated by all, his left-hand skills, and the 8 Slam titles won!
According to the ATP website, he is the only player to win the U.S. Open on three different surfaces – a record that will never be broken.
Grand Slams Won: 8
Major Titles Won: Wimbledon, U.S. Open
Total Titles Won: 110
Highest Ranking: No. 1
There are many other great left handed players who should feature in any Tennis list of the greatest players. Boris Becker, Petra kvitova, John McEnroe, Goran Ivanisevic Angelique Kerber and many others.
---