Kurt Zouma's insane dribble leaves fans mesmerized in Champions League match against Ajax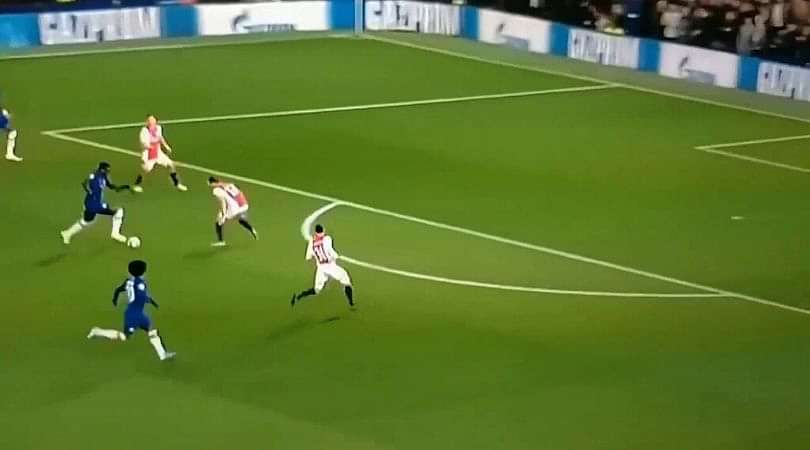 Kurt Zouma's insane dribble leaves fans on their feet as Chelsea defender's 60 metres dribble against Ajax was an unexpected sight to watch.
Chelsea Vs Ajax could go down as the game of the season, as an 8 goal haul, 2 red cards and VAR controversy spiced the fixture to the next level. Although, it was surely a heartbreak for the visitors.
Amidst all of this, a rare sight made the game even more entertaining, over where Kurt Zouma was seen making an insane dribble from his own half, up until the 180yard box and even tried a shot but it went way off target.
The unexpected skill by Zouma brought the Chelsea fans at the Stamford Bridge on their feet and even compelled manager Frank Lampard to give a laugh about it.
Watch the dribble
https://twitter.com/FootbaII_HQ/status/1191824951977893888?s=20
https://twitter.com/CFCBlues_com/status/1191824838102528000?s=20
Also read: Kepa embarrassingly scores own goal after Hakim Ziyech free kick hits him in the face
The fans on the internet didn't spare a minute to show their affection for the breathtaking run and effort by Zouma to try and get Chelsea back in the game since the Blues were trailing by 3-1 at that point of the time.
Loading embed tweet https://twitter.com/AlexGoldberg_/status/1191823576720117761?ref_src=twsrc%5Etfw
Loading embed tweet https://twitter.com/SoccerByIves/status/1191823611759353857?ref_src=twsrc%5Etfw
https://twitter.com/Liammoran7/status/1191851072735907840?s=20
Apart from this, Zouma had an impressive game, even though the scoreline doesn't reflect upon this claim, but the French defender managed to have 100% of his take-on successful in the game and four of them came from that one dribble forward.
In the second half, Chelsea's determination paid off, as the West Londoners managed to equalize the deficit after Ajax scored past 4 goals against them.
Further, the Blues were able to take a lead, but VAR spotted a handball by Tammy Abraham's handball after Cesar Azpilicueta's strike went in successfully, hence the goal was overruled.
A huge relief for Lampard, who was on the verge of losing at home against the visitors. With this, Chelsea will next face Lille in the next Champions League clash.
---