Lionel Messi vs Cristiano Ronaldo: Who has the better stats in Champions League?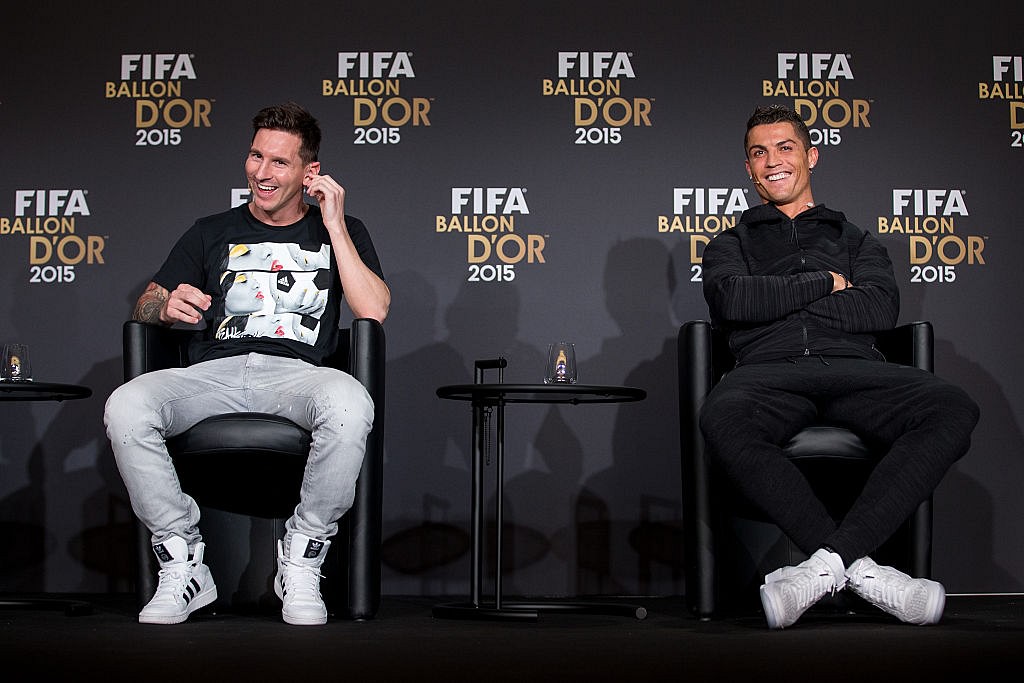 Lionel Messi vs Cristiano Ronaldo: Who has the better stats for their respective teams in Europe's elite football competition?
There have been many great players in the past but very rarely have players like Lionel Messi and Cristiano Ronaldo stepped on a football pitch, let alone in the same era.
Also read: Adidas unveils new multi-coloured UEFA Champions League ball for 2019/20 season
The Lionel Messi vs Cristiano Ronaldo debate will probably rage on till the end of time. However, let us do our best to make an educated attempt to finally put the question to rest.
Goal Machine
Lionel Messi has played all of his life for Barcelona and in all likelihood will also retire at the Catalan club. With the Spanish giants, he has made 135 appearances in the Champions League and won the competition 4 times. In contrast, Cristiano Ronaldo has featured in the contest with 3 different teams and won it 4 times as well.
He first played in the competition before switching his allegiance to Real Madrid, for whom he has featured the most. Last season he turned out for Juventus and guided them to the quarters. In total he has made 162 appearances.
In his 162 appearances, Ronaldo has found the net 126 times with an average of 0.78 goals per match. Messi on the other hand has scored a goal 112 times with an average of 0.83 times per game. A very small margin but one in which Messi holds the advantage.
Men of the big moments
A goal scorer is not only defined by the number of goals he scores but also by the number of big moments he has. With that in mind, let us now compare the numbers of braces, hat-tricks and pokers between these two players.
Messi has 25 braces to his name, 6 hat-tricks and a couple of pokers to boot. Ronaldo in comparison has 27 braces, 7 hat-tricks and 1 poker. His brace and hat-trick are slightly higher than that of Messi with the Argentine slightly taking over on pokers. Ronaldo however, has the advantage of playing 27 more games than Messi.
How were the goals scored?
Next we will compare the manner in which the goals were scored. Cristiano Ronaldo has scored 16 goals from Penalty and a further 12 from free kicks. Of his remaining 98 goals, 24 have been scored from headers.
Lionel Messi has 12 goals from the penalties and 5 more free kicks. Which means that his ratio from open play is better than Ronaldo's. However, Messi's short stature means that he won't win as many headers as he would like. The result of which is only 4 goals from his head.
Another stat to look at is their ability to create goals for their teams. A facet that both these players are quite good at seeing that Messi has 30 assists to his name while Ronaldo has 38 assists awarded to him in the Champions League.
When the going gets tough…
A player's leap from good to great stems largely from his ability to soak pressure and thrive in it. It is here that the numbers begin to favour Ronaldo heavily, having been on par for most of the comparison before.
Ronaldo has scored 23 goals in the round of 16 for his teams. In comparison Messi has scored 26. The numbers skew heavily in Ronaldo's favour from the next stages. The Portuguese has 25 goals in quarter finals and 13 in Semi Finals.
Messi has only 12 and 6 in the quarters and semis. He also has only 2 goals in the finals in comparison to Ronaldo's 4. In total Messi has scored 46 goals in the knockouts while Ronaldo has a whopping 65 goals!
Conclusion
For the most part, Lionel Messi fares quite favourably vs Cristiano Ronaldo. Ronaldo though, takes the edge in terms of his performance in the knock outs. However, it would be foolish to overlook Messi's higher goal average and his conversion from open play.
It is very hard to separate the two. Where one dominates, the other races past in the other category. This is one reason why its hard to find a conclusive answer to the Lionel Messi vs Cristiano Ronaldo debate. Perhaps the debate is best left alone in favor of kicking back and watching them play while they still can.
Click here for more football news
---
Share this article