"Best years were 1981-90": When Dennis Rodman snubbed Michael Jordan for 6ft 9″ duo of Magic Johnson and Larry Bird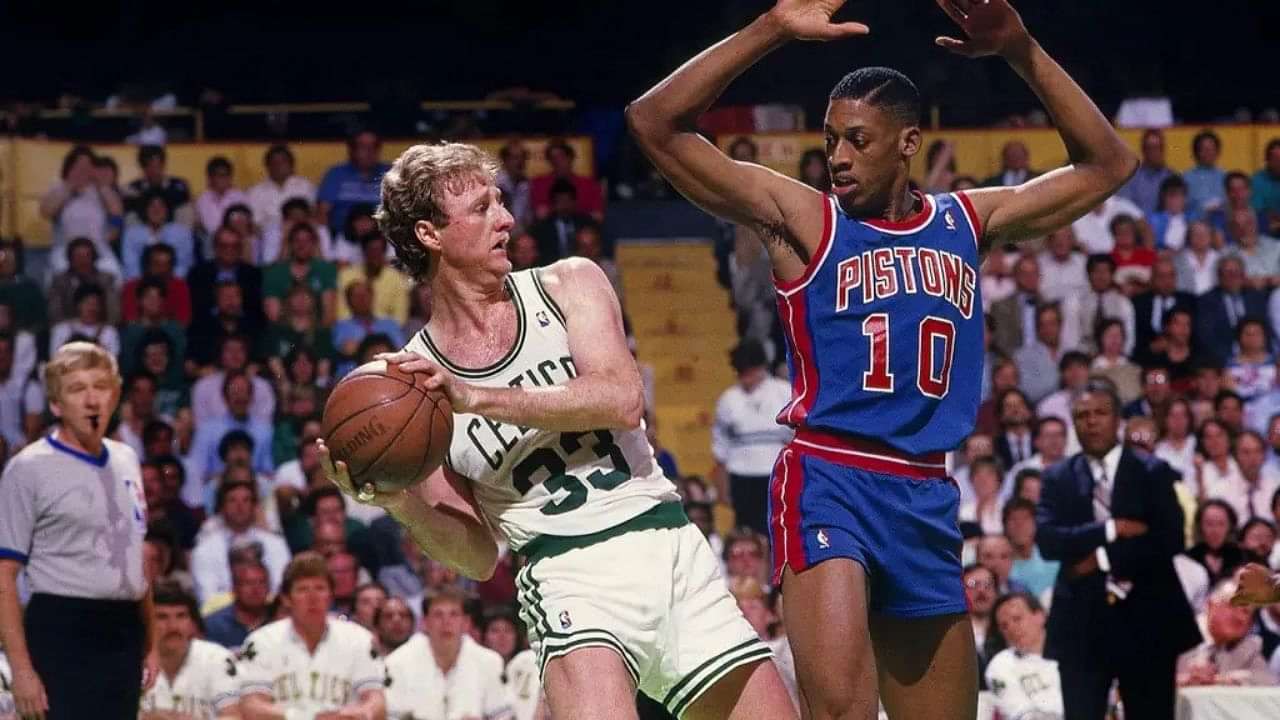 Only a few players left in the scene speak about their time with and against the Chicago Bulls of yore. Almost everybody who tells the story is pretty histrionic about the fact that they played the "best team ever." One person, however, chooses not Michael Jordan's era but the one he emulated.
Dennis Rodman, a former foe turned friend of the Black Jesus, knew both sides of the coin that was the Chicago Bulls. He stopped them from winning titles, and then he also joined them to win three more. His acquisition was crucial to let Michael be Michael, and yet, Rodman did not take MJ's side.
He said he preferred the era before MJ. 1981–1990, to be exact. This era saw Magic Johnson and Larry Bird go at it with verve and vigor. Yet this did not stop them from being the best of friends off the court, something MJ failed to do.
It was always "personal" with the man, and Dennis was someone who didn't like anyone cramping his style. Soon, it became a one-way competition: beat MJ, and you win the championship. It was a nice movie story—one man against the world. But Rodman, as a teammate, was not impressed.
Also Read: "He Was Walking on Air": First Encounter With Michael 'Black Jesus' Jordan Left LeBron James Awestruck and Speechless
The league has gotten away from the things that made it great. The NBA's
best years were from about 1981 to 1990, when guys like Magic Johnson,
Larry Bird and Isiah Thomas came into this league and brought it to the
level of success and popularity it has today.

—Dennis Rodman in Bad As I Wanna Be
Magic Johnson made the league fun – His battles with Larry Bird inspired many
That era of the Showtime Lakers battling with the brave Celtics was a sight to behold. It almost felt like the country's factions were banding together and bringing the entire country to a halt.
The key word is enjoyable. People thought Patrick Ewing would go through that year until Michael Jordan was drafted. He did not, arriving in 1985. One of the reasons Jordan even plays is because of Magic Johnson.
He was there to watch the game's legends play, analyze them, and watch them become like him. Dennis Rodman saw that firsthand, battling against each other as a spectator from the stands as well as from the perspective of a player.
He was star-struck, infatuated with the fact that two individuals could hold such power. But he wasn't wrong in doing so—Magic and Bird made sure everyone who attended their games went back not only with their pockets heavier, but their hearts richer.
Also Read: Michael Jordan's Son, Marcus Jordan, Was Recently Seen on Girlfriend Larsa Pippen's New Year's Eve Instagram Story!
The era of the 80s and 90s was a golden period – they knew what they were doing
As millennials grow older, wiser, and stronger to leave the nest egg they've accumulated for you, Michael Jordan grew older, and amassed wealth, but one thing was missing from him. the happiness of just playing without thinking of the result.
That is what may have motivated Dennis Rodman and his story about the Lakers and Magic Johnson. He grew up watching the fun part of the game, but all of a sudden he had to face his childhood idol.
His motivations weren't wrong, because the players made the game fun to watch. Larry Bird and Magic Johnson may not have played together, but the amount of fun they had outside of it was precious.
Michael Jordan came in and ruined the game for everybody. It became a rat race on how to get to the top. The simplicity and the tenacity of the game slowly dwindled, and the hope of winning championships was lost.
Also Read: Bronny James and Bryce James in the NBA Would Mark LeBron James' Success Over Michael Jordan as a Basketball Dad
---