"Celebrate LeBron James as Much as Possible": Kyrie Irving Reflects on 18x All-Star Nearing Kareem Abdul-Jabbar's Scoring Record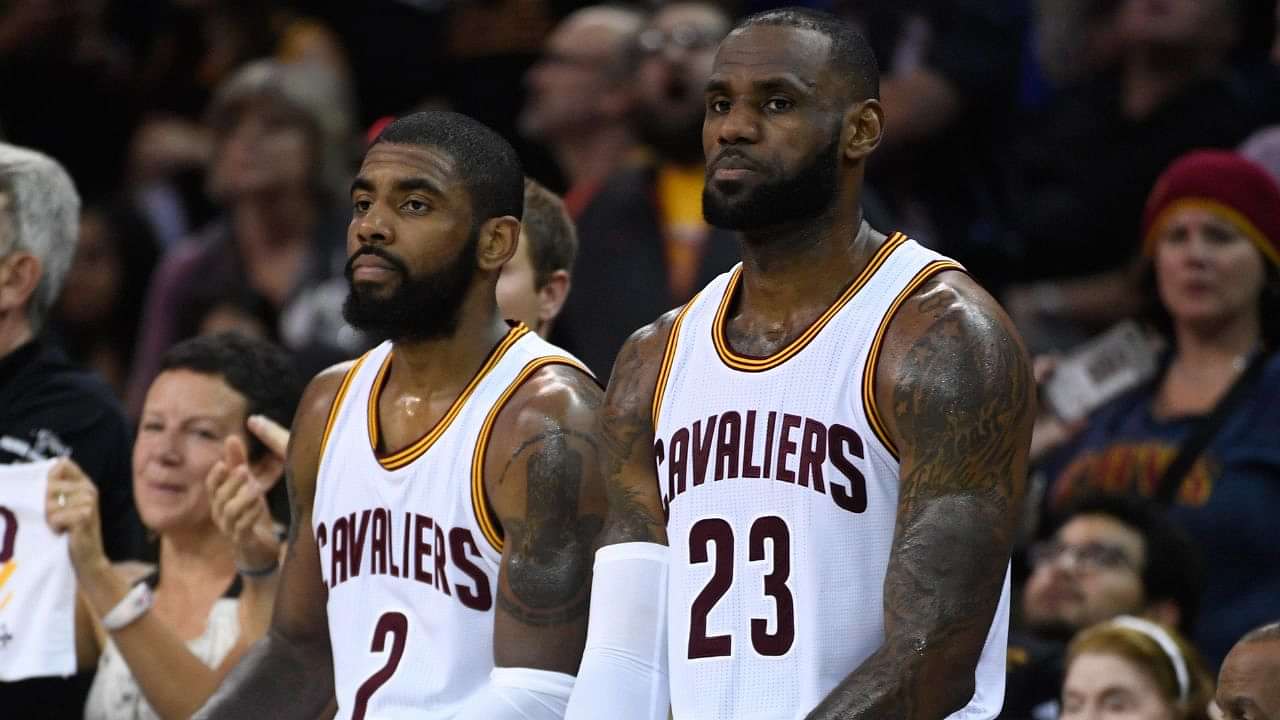 With each game, LeBron James is casually moving towards a record that will perhaps never be broken again in this generation. The Lakers superstar will make history in just a few more games as he passes another Lakers legend Kareem Abdul-Jabbar's scoring record.
Kareem scored 38,387 points by the end of his 20-year-long career. Almost poetically, LeBron is also all set to break his record while playing in his 20th season. For James, this record is an added bonus to his already solid case for the greatest of all time. But for Kyrie Irving, his former teammate's ongoing chase means something else entirely.
Also read: "You Want Me? Take My Son": Lucille O'Neal Firmly Stated Shaquille O'Neal's Step-Father, Philip Harrison, Had To Accept Shaq As His Own
Kyrie Irving wants LeBron James to be celebrated for his extraordinary career
The Brooklyn Nets registered an easy win over the Lakers tonight. Though Kyrie Irving did not get a chance to face off against LeBron in the game, he did get a chance to discuss the 6ft 9″ superstar in his post-game conference.
Irving, while acknowledging the upcoming milestone in LeBron's career, emphasized the greatness of James. He claimed that the NBA community should celebrate and cherish what James for as long as he plays. Kyrie also emphasized that fans would not be able to watch LBj dominate for too long.
Kyrie: "[The NBA] gave the keys to the whole entire business to an 18-year-old kid and now he's 38 years old and he's still dominating. I don't think we should be surprised. I think we should congratulate him and celebrate him as much as possible. Continue to enjoy the shows he continues to put on because it's not going to be for too much longer"
Loading embed tweet https://twitter.com/SNYNets/status/1620273758710685699?ref_src=twsrc%5Etfw
Irving's observation is astute. Granted LeBron is performing in a way previously thought impossible for a 38-year-old. But, despite his age-defying antics, father time catches up to all. Even if not today, LeBron's performance will surely decline in the coming seasons. The best we can do is to bask in his greatness until it's time for him to hang his cape.
LeBron needs 117 points to break Kareem Abdul-Jabbar's record
After his 41-point performance against Boston, LeBron James further closed the gap between him and Kareem. He pushed his total scoring tally in the regular season to 38,271, leaving him just 116 points behind Kareem. He now needs only 117 points to break Kareem's record.
Taking into account his scoring average this season, it should take LeBron 4-5 games. This means he will most likely do it against either Milwaukee Bucks or the Oklahoma City Thunder. When do you think LeBron will pass Kareem?
Also read: "Jerome Allen Was Chirping At Me; I Ain't Scared": Luka Doncic 'Blames' Pistons Asst Coach For His 53-Point Mavericks Explosion
---