"Celtics Are Thirsty For Success!": Jaylen Brown And Al Horford Celebratory Spank Grant Williams After Beating The Heat In Game 5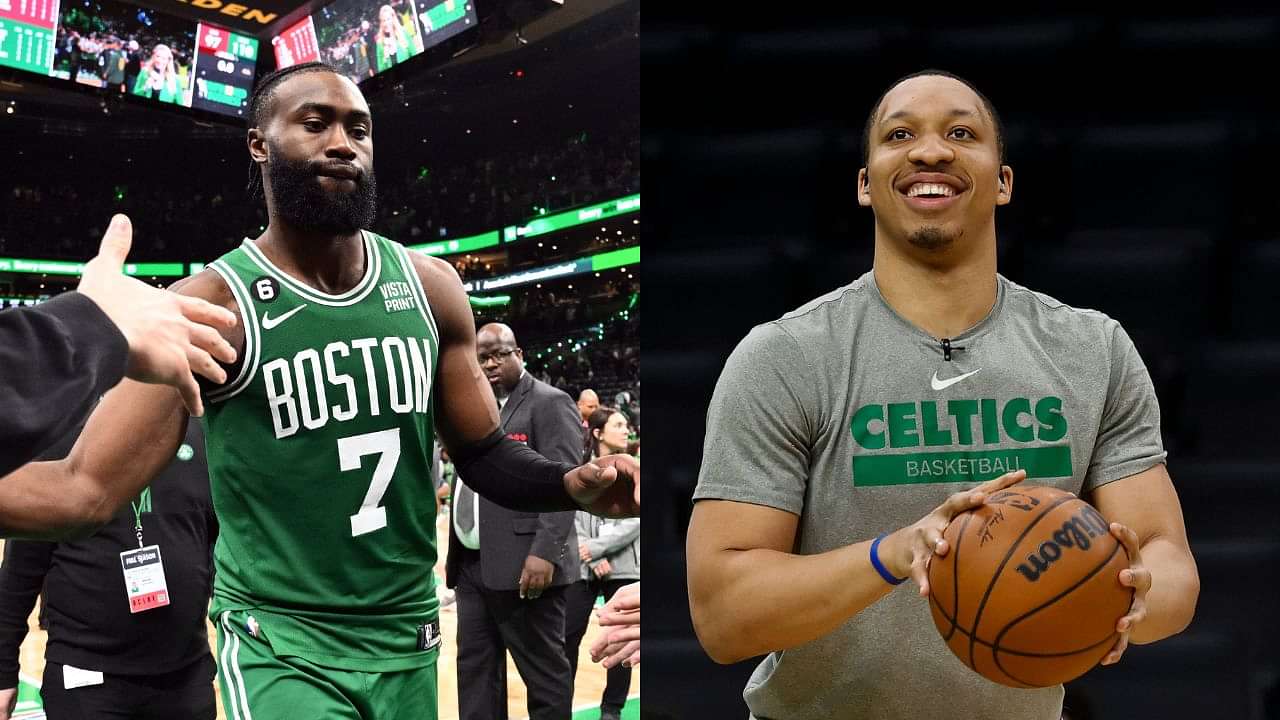 Despite the 3-0 deficit, the Boston Celtics haven't lost any faith. After clinching a Game 4 win, with momentum by their side, Jayson Tatum and co. went on to win a second straight elimination game. Grabbing a 110-97 Game 5 victory, the TD Garden was a happy crowd and so were the Celtics' players. Forcing a Game 6, Jaylen Brown and Al Horford had a pretty hilarious way of celebrating as they headed to their locker room – spanking Grant Williams during his postgame interview.
Brown, who had a 21-point night on 50% shooting, was the first one to catch Grant by surprise with the spank. Just moments after the young forward whispered "Ouch", Horford would go on to do the same. Only this time, the 36-year-old's spank was much louder.
Loading embed tweet https://twitter.com/BleacherReport/status/1661945069908398080?ref_src=twsrc%5Etfw
NBA Twitter reacts to Grant Williams getting spanked by Jaylen Brown and Al Horford
As soon as the clip went viral on social media, NBA Twitter erupted with various reactions.
There were several users who hilariously stated how Williams must've felt "violated".
Loading embed tweet https://twitter.com/veryrare_ns/status/1661940073812709377?ref_src=twsrc%5Etfw
Loading embed tweet https://twitter.com/anZo_maGee/status/1661946672010739713?ref_src=twsrc%5Etfw
Another user jokingly mentioned how the 24-year-old would be mentioned on the team's injury report for the upcoming clash following the spankings.
Loading embed tweet https://twitter.com/ColeyMick/status/1661942856758579201?ref_src=twsrc%5Etfw
Famous memes page @NBAMemes had a rather nasty innuendo stating that the Massachusetts-based franchise was quite "thirsty" for the win.
Loading embed tweet https://twitter.com/NBAMemes/status/1661948193020493824?ref_src=twsrc%5Etfw
Following a 14-point outburst in the previous outing, tonight, Grant only had 6 points. However, he gave Joe Mazzulla an exceptional defensive performance in the 26:49 minutes he played.
Can the Heat close out the series in Game 6?
Unlike any other instance in this playoff, Jimmy was not even the Heat's top 3 scoring option tonight. Duncan Robinson, Bam Adebayo, and Haywood Highsmith recorded more points than Butler. Further, it was pretty evident that Erik Spoelstra's boys were hurting without the services of Gabe Vincent.
As the series now shifts back to Florida, the Heat would want to get done with the Conference Finals at home. Losing a third-straight game and playing a Game 7 at the TD Garden is something that would be an idea that would actually haunt them.
For the Cs, their "nothing to lose" mentality has been rewarding. The motivated Celtics are aiming to become the first team ever to come back from a 3-0 deficit. And right now, they look like a team that can achieve it.
---