"Charles Barkley, You're Making That Up": Kenny Smith Calls Cap on Chuck's Claim That Players Used to Wash Uniforms in Shower in his Era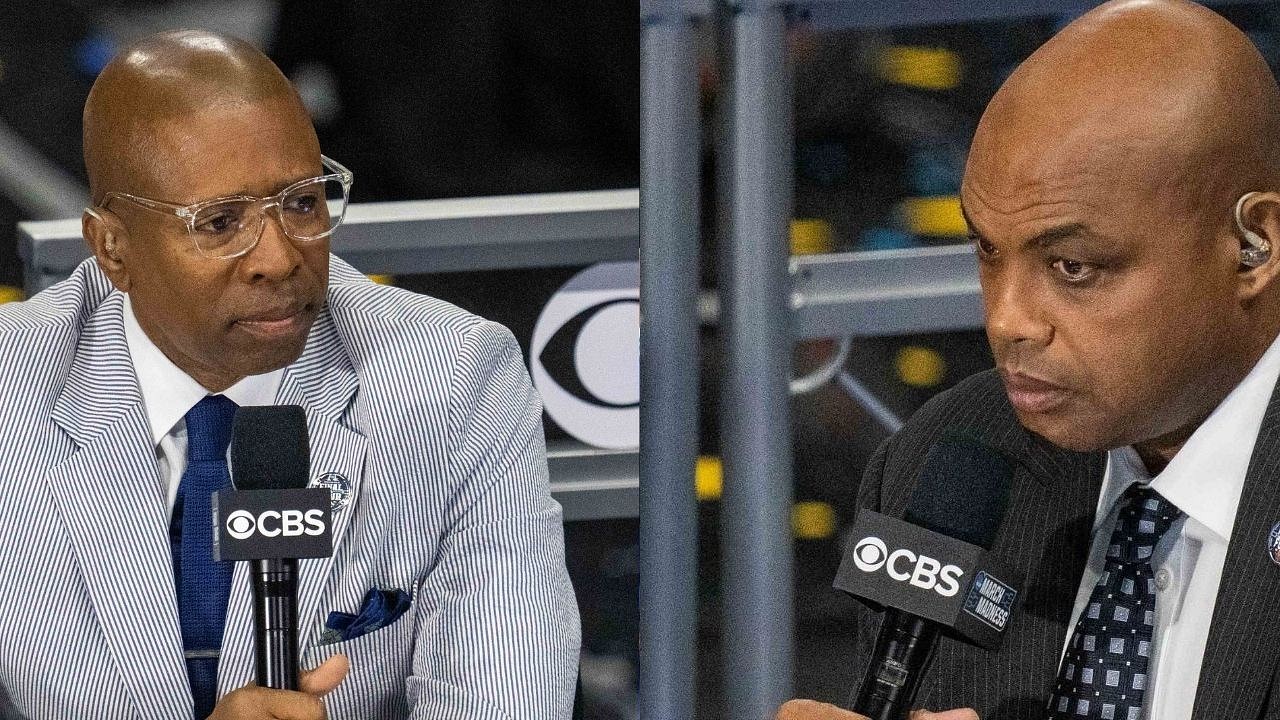 Charles Barkley is the most hilarious in the entire sports media, if not all media. The former NBA MVP has been in the media business, working as an analyst for Turner Sports, much longer than he was active as a professional basketball player.
In his 23-year career, the 60-year-old legend of the game has only said a few things that make sense. Most of it doesn't. Yet, TNT's Inside the NBA has been one of the most entertaining sports talk-show over the past two decades.
A lot of credit goes to the Chuckster for it. And his fellow teammates on the show— Shaquille O'Neal, Ernie Johnson, and Kenny the Jet Smith often give him his due love and respect for it. However, some of his habits still get on their nerves after so many years of working together.
Also read: "I am Going to Quit TNT": When $60 Million Worth Charles Barkley Dreamt of Living on a Boat After Appearing on Shark Tank
Kenny Smith calls out Charles Barkley for lying about taking a shower with the jersey on
Recently the Round Mound of Rebounds, in his appearance on Road to the Final Four on 'March Madness', talked about how is so old that he and his teammates used to shower in their uniforms.
"We flew commercial, so when you played the night before and flew the next morning, how exactly were you going to get your uniform clean?" Barkley explained when Kenny and Clark Kellogg questioned it. "You had to wash your uniform yourself. After the game, when you got to the room, you took a shower In your uniform, dried, and dropped it on the commercial airliner the next day."
Straight out rejecting the claims of his Inside the NBA partner, Smith said, "you're making that up," and put a full stop to the bizarre claim hilariously. Watch it here.
To put things in perspective, Smith made it to College and the NBA just 3-years after Chuck. So, he can vouch for what happened then.
Also read: "The seat's not big enough": Michael Jordan 'Body Shamed" 252lbs Charles Barkley In Front of Oprah Winfrey
This isn't the first time Chuck's on-screen partner had to cap his lies
Barkley might be 60 and probably too old to make cook most of what he says up in his head, but that's what he does, and is hysterical with it.
However, he has to be stopped by his studio partners when he goes way off with it, and this particular incident wasn't just a one-off.
Also read: "I Don't F**k With Charles Barkley's Approach": Kevin Durant Goes Off On Suns Legend's Overtly Negative Analysis
---
Share this article