"I Lose Every Time": Steve Kerr and Stephen Curry's Free Throw Rivalry Pushed Former Bulls Guard to his Limits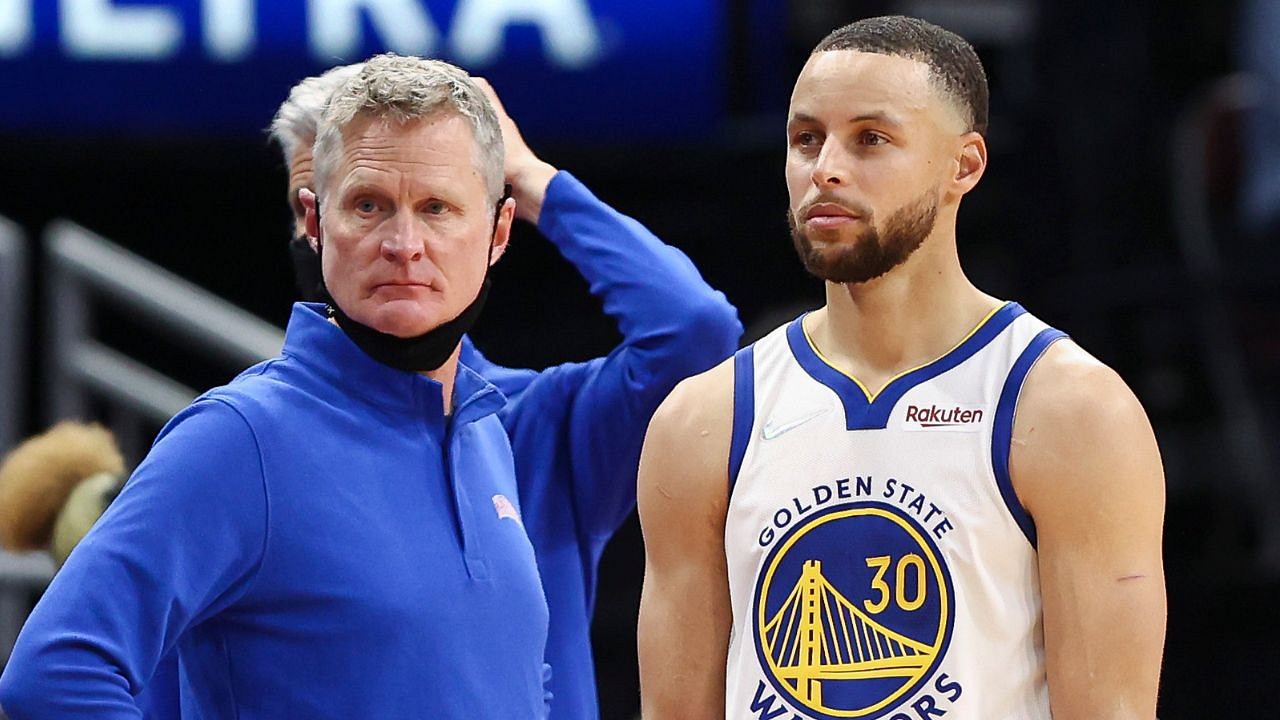 Four-time NBA champion Stephen Curry's bond with head coach Steve Kerr is unlike anything the NBA has ever seen before. Curry was drafted as the seventh overall pick by the Golden State Warriors in 2009. Although he had displayed glances of brilliance through his initial years, the former NBA MVP didn't come into his own until 2014. The year that Steve Kerr was appointed as the head coach.
Subsequently, the Dubs would go on to create history by capturing their first championship in 40 years. Led by Curry and Kerr, the Warriors would go on cement themselves as a dynasty for their tyranny over the NBA in the years that followed.
Kerr and Curry's relationship was and has been pivotal to the Dubs' triumph. Footage from 2015 has now resurfaced, showcasing Curry and Kerr building on their relationship via a free throw competition.
Also read: "Just Say You Miss Me": Kevin Durant Hilariously Teases Nets Fan For Questionable Nets Take
Steve Kerr and Stephen Curry's comical free-throw competition
Curry and Kerr are both renowned for their remarkable shooting abilities. The pair have been catalysts when it comes to that facet in the sport of basketball. In 2015, Kerr and Curry provided a vivid insight into their friendly banter involving free throws. Curry, as expected, came out on top, beating his coach 12-11. A margin of a single point. When asked by a reporter as to how he was able to attain the victory and best his coach, Curry said:
"It feels good. The pressure was on, and I had to swish those last two to keep the title. He made me work today. I'm glad I got the job done, though." 
The reporter then queried Kerr as to what makes the Chef a great free-throw shooter. Kerr's response perfectly demonstrates his comprehension of his pupil's best trait.
Kerr said:
"There's just this kind of relaxed flow to his shot. It's pretty rare, and most of us are maybe a little more rigid, a little more mechanical, but I've never anybody with a rhythm like he has, and it's starting to piss me off"
Kerr hilariously concluded. The rule of the game is simple. The player who is able to swish the free throw, i.e., without the ball touching the rim, will be awarded two points, with a normal free-throw accounting for just one. Stephen Curry will unequivocally go down as the greatest three-point and free-throw shooter when it's all said and done. 
Also read: "Don't Trust Anthony Davis to be Consistent": Shannon Sharpe Doubts LeBron James' Return Will Improve Lakers Chances
A deep delve into the relationship between Kerr and Curry
It goes without saying that Curry is indebted to Kerr for his growing success, as great as he is by himself. Kerr enabled the 35-year-old to transition into the next step to capture individual as well as team accolades.
The nine-time NBA champion laid the blueprint for Curry's eminence. His man management has often been undermined, but in all fairness, has been pivotal to Curry reigning supreme over the league for about the past decade.
The duo will be lauded for possessing one of the greatest player-coach relationships, which can be attested by the footage above. 
Also read: "I Should Have Had 90": Damian Lillard Makes Bold Claim About Wilt Chamberlain's Record
---
Share this article