"Is Stephen Curry Still on This Team? Klay Thompson? Me?": Draymond Green Believes Warriors Can Cause Troubles if They Book a Play-In Berth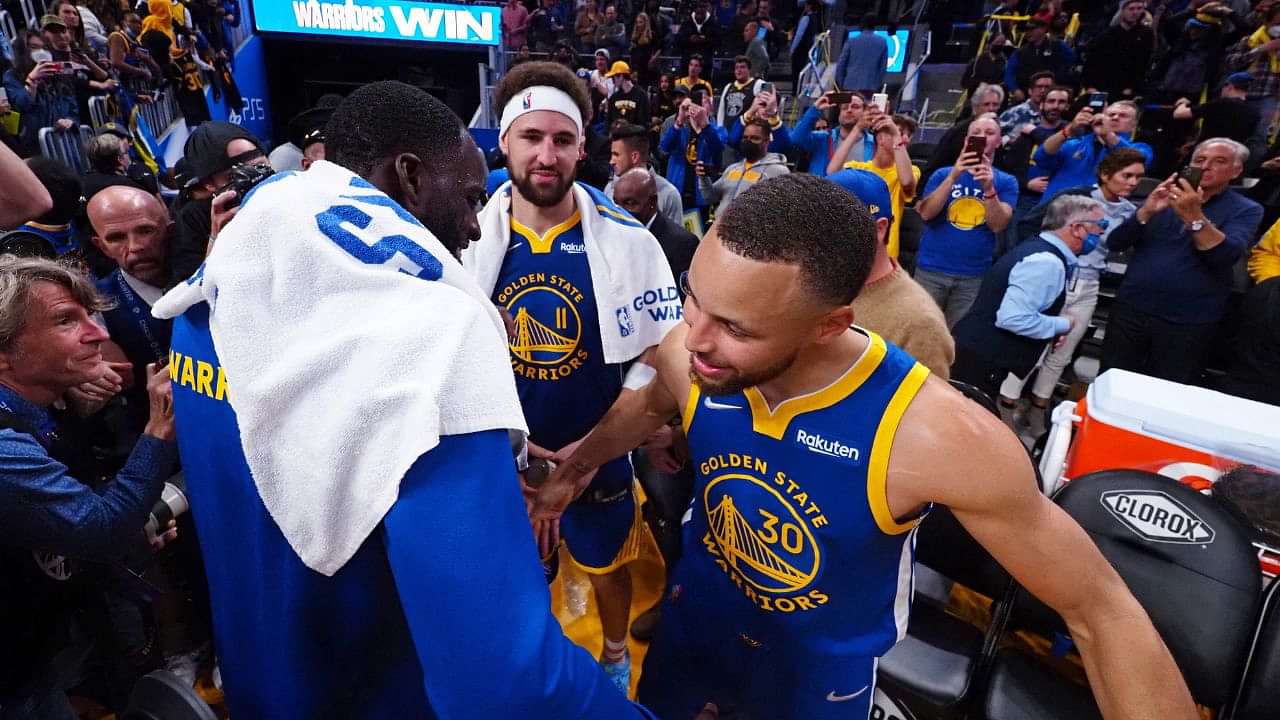 The NBA's defending champions are not having the title defense season they would've hoped for. Thirty-three games in, the Warriors are on the 11th seed with a 15-18 record. Stephen Curry is still weeks away from returning from injury. Draymond Green has not been able to rally the troops like he used to.
It is a highly competitive Western Conference where the #1 seed and the #7 seed both have the same number of wins. The plan for the Warriors is to stay afloat and within striking distance while Curry rehabs and returns from his shoulder injury.
While many people may doubt the Warriors' caliber and ability to salvage this season, the same kind of doubt doesn't even exist in Draymond Green's head. In a recent interview, Green made a bold claim regarding the team.
Also Read: Despite $130,000 Bond, Miles Bridges Is Being Pursued By The Hornets Following Domestic Violence Charges
Draymond Green thinks the Warriors would take down the #1/#2 seed if they get a Play-In berth
During the Bubble playoffs, the NBA introduced the Play-In tournament. Four teams, the 7,8,9, and 10th seeds, compete and fight their way to get the final two playoff seeds. The winners face either the #1 seed or the #2 seed.
While talking about the Dubs and their seeding, Draymond said,
Loading embed tweet https://twitter.com/CjHolmes22/status/1606390926699425792?ref_src=twsrc%5Etfw
It's a bold statement, but then again, it truly showcases who the Dubs are and what they're capable of. When asked to elaborate on his comments, Dray said,
Loading embed tweet https://twitter.com/CjHolmes22/status/1606434497406304256?ref_src=twsrc%5Etfw
Last year, the team went Stephen Curry, Klay Thompson, and Draymond Green being the guys they could rely on. This year, the numbers have doubled, with what Wiggins, Poole, and Looney displayed during their championship run last season.
I agree with Green. If the Dubs make it and secure a playoff berth, it doesn't matter who they play. They are going to be a problem.
Also Read: "Kevin Durant is NOT Larry Bird": 4-time Champ Has KD as His Favorite Current Player, But Considers Celtics Legend a Class Apart
Can the Warriors win another championship?
So far this season, it has been the Stephen Curry show. If it continues this way, the Warriors can't repeat their success. However, if the team learns and finds a way to win without Steph on the floor, things might change.
If the team learns to win without Steph around and still manages to incorporate those things with Curry back, they might actually help Steph take a little load off his shoulders. It's a big IF currently, but there are still 49 games left for the Dubs. A lot can happen in that time frame.
Also Read: "Michael Jordan, You Too Small": When 7-footer Patrick Ewing, On Street Shoes, Shut Down a Trash Talking MJ During UNC Visit
---