Kobe Bryant's Former Teammate Slammed Dwyane Wade's 15-Year-Old Daughter Zaya Wade for Honoring Him With a #8 Dress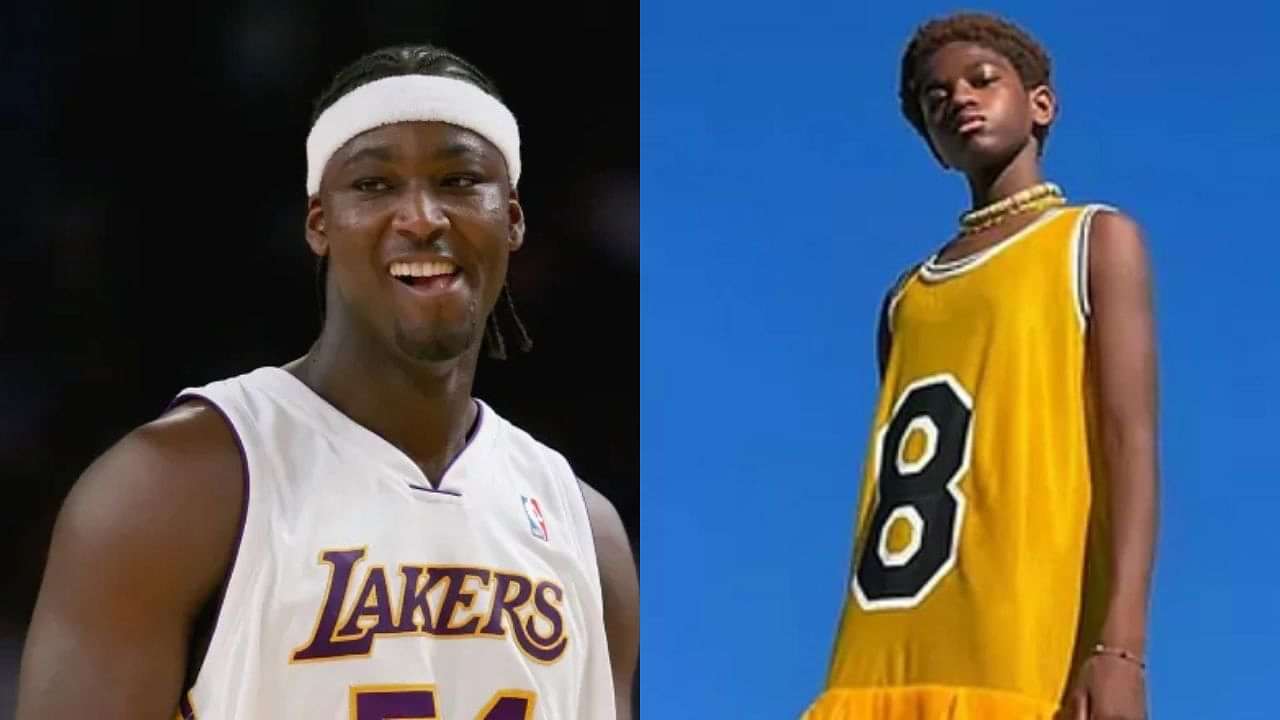 Kwame Brown, the former teammate of Kobe Bryant, once disparaged the daughter of Dwayne Wade, Zaya Wade, for paying tribute to the Black Mamba.
On January 26th 2020, the world fell to a standstill. It was divulged that the Los Angeles Lakers great had perished in a helicopter accident. Bryant, his daughter Gianna, and seven other members were tragically killed in the fatal accident.
Their loss impacted millions worldwide, given that Bryant was a symbol of excellence driven through hard work. In the years since, January 26th has become a day when individuals across the globe pay their respects to the five-time NBA champion.
A year ago, Kwame Brown, a former Los Angeles Lakers player who shared the floor with Bryant from 2005-2008, took exception to one of the tributes paid to the Black Mamba. Specifically, a homeage from Zaya Wade, the transgender daughter of Dwayne Wade.
Also read: Is LeBron James Playing Tonight vs Blazers? Lakers Release Injury Update for NBA's Scoring King
Kwame Brown once discredited Dwayne Wade's daughter, Zaya Wade's celebration of Kobe Bryant!
Dwayne Wade's daughter publically came out as transgender in 2019 at the age of 12. She has since been identifying as a woman and has received enormous support from friends and family. Wade and his family have also accepted and supported her for her true self.
In 2022, Zaya Wade wished to honor Bryant in her own way. As such, she donned a #8 jersey dress of the Black Mamba to remember him. She posted a picture with the dress on Instagram and captioned it "always remembering and honoring Kobe and Gianna".
Loading embed instagram https://www.instagram.com/p/CZMyJHhJmPx/?utm_source=ig_embed&utm_campaign=loading
Brown, however, was livid that Flash's daughter had sported a dress to salute him, stating that the former NBA MVP was a heterosexual man. He further added that Wade could have respected Bean by sporting a regular jersey.
On his youtube, Kwame Brown went on a rant and said:
"I'm not saying there's anything against homosexuals, but Kobe is a heterosexual man. Why is he being honored by making his jersey into a dress? Wear his jersey for the day to honor him without the dress part. Let's please not show our Black brother in this light. This is no offense to nobody else. This man was a heterosexual man with a wife and a family. There's no reason for this to be tied to Kobe Bryant."
Brown believed the tribute was emasculating to Bryant, who was the representation of a straight man. Brown's comments weren't isolated, as he had also issued a statement aimed at Dwayne Wade. Brown enquired with Wade as to why he was letting women control his house.
Brown was scrutinized for his comments by famed personalities in the sporting world. Not the best moment in time for Kwame Brown!
Also read: Shaquille O'Neal Backs Nate Diaz in Potential Canelo Alvarez Match: "He Ain't Gonna Backdown"
Who is Kwame Brown?
Kwame Brown is a former NBA player who was selected as the number one pick in the 2001 NBA draft. He is notoriously known for being one of the most notable busts in the history of the sport.
Brown was selected by the Washington Wizards in 2001 and shipped to Los Angeles in 2005. He is predominantly known for representing the Los Angeles Lakers between 2005 and 2008.
He spent 13 total seasons in the NBA. In that time, the 40-year-old averaged a mere 6.6 points per game, 5.5 rebounds per game, and 0.9 assists per game.
Also read: Is Joel Embiid Playing Tonight vs Rockets? Sixers Release Injury Update for the 7ft Star Big Man
---