"Nikola Jokic Doesn't Impact the Game Like Giannis Antetokounmpo": Kevin Garnett Questions The Joker's Defensive Efforts to be the Best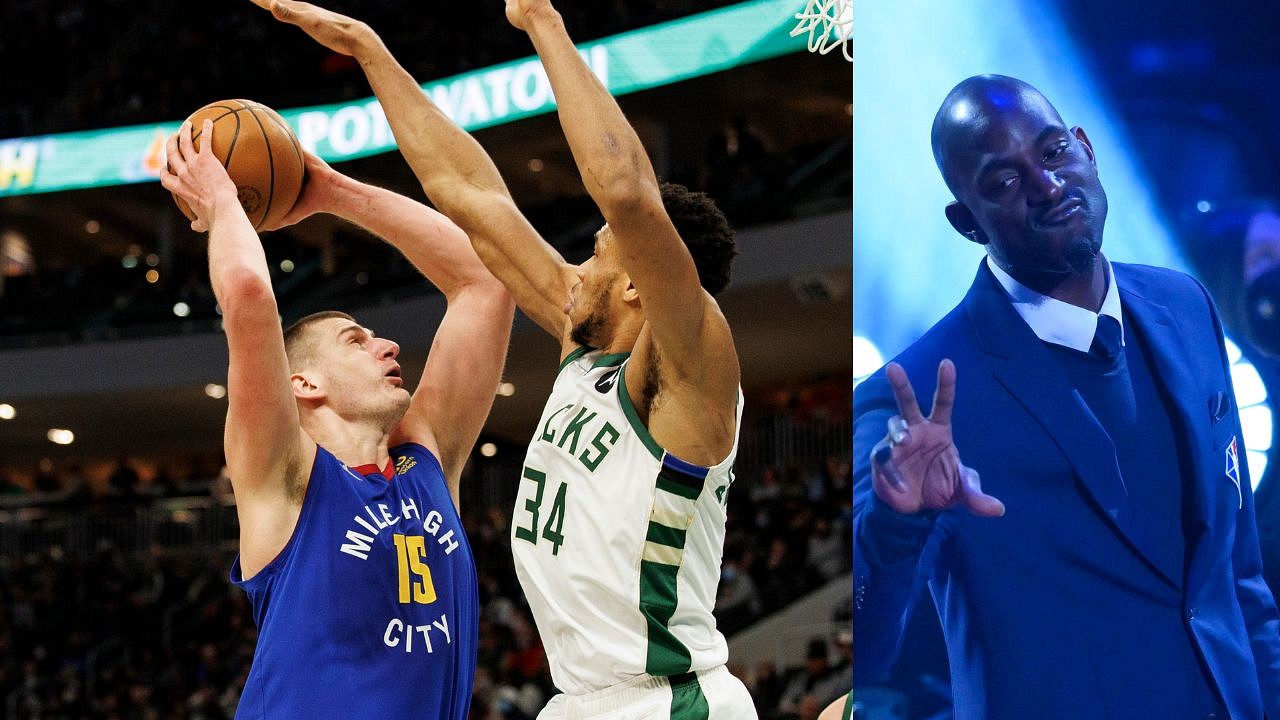 Nikola Jokic has been a revolution in himself for the last three years or so. The Nuggets' big man is doing things that no one has seen any other center in the game do before.
The 6ft 11' Serbian has dominated the league so much that he quite comprehensively swiped the last two years' MVP awards over the likes of Giannis Antetokounmpo and Stephen Curry.
And the unique aspect of his dominance is that he doesn't even take breaks like other superstars. The man plays day in and day out despite being involved in the game much more than anybody in the league.
Also read: "Tough that only 3 of us can start": Jayson Tatum's Humble Response When Asked to Name East Frontcourt All-Star Starters among him, KD, Giannis, and Embiid
Yet, Kevin Garnett believes the Bucks' 7-Footer edges him on impact.
Kevin Garnett says Nikola Jokic isn't the best player in the league
On the latest episode of KG Certified, Garnett and Paul Pierce discussed the Nuggets' playoff chances and how the #1 team in the West will prevail through the jam-packed conference when it is showtime.
The Truth spoke of his fear of seeing them out early this year as well because of the lack of consistency or absence of their #2 guy. Whereas The Big Ticket said that they have multiple players, Jamal Murray, Michael Porter Jr, and Aaron Gordon who consistently rise to the occasion by taking turns.
However, the latter also went on to say that Nikola is not THE best player in the league because "he does not impact the defensive end like Giannis."
Also read: "Joel Embiid is the MVP!": Skip Bayless Throws Nikola Jokic's Brilliant Campaign Right Out the Window in Recent Tweet
The Joker has been destroying PER
There is no argument that Nikola Jokic deserved the MVPs in the last two years. The man averaged over 26 points, 8 assists, 12 rebounds, 1.4 steals, and 0.8 blocks per game in the two years, shooting well over 55% from the field and maintaining a 60+ eFG%.
Although his PPG is down this season under 25 for the first time in 3 seasons, he is continuing to be the league leader in Player Efficiency Rating. It was 31.3 in 2020-21, 32.8 in 2021-22, and 32 in the ongoing one.
The players, like Luka Doncic, Giannis Antetokounmpo, and Joel Embiid, who have played as many games as him and are close to him on PER are having much higher usage rates than him.
Truly astonishing! And whether KG likes it or not, MVP trophy number 3 is halfway on the way.
Also read: "Starting to think Nikola Jokic is a little overrated": Mike Malone Lays Down Sarcasm After Winning Without 2x MVP
---