Zion Williamson is Flabbergasted and Dumbfounded as Giannis Antetokounmpo Throws Down a Vicious Dunk Over his Pelicans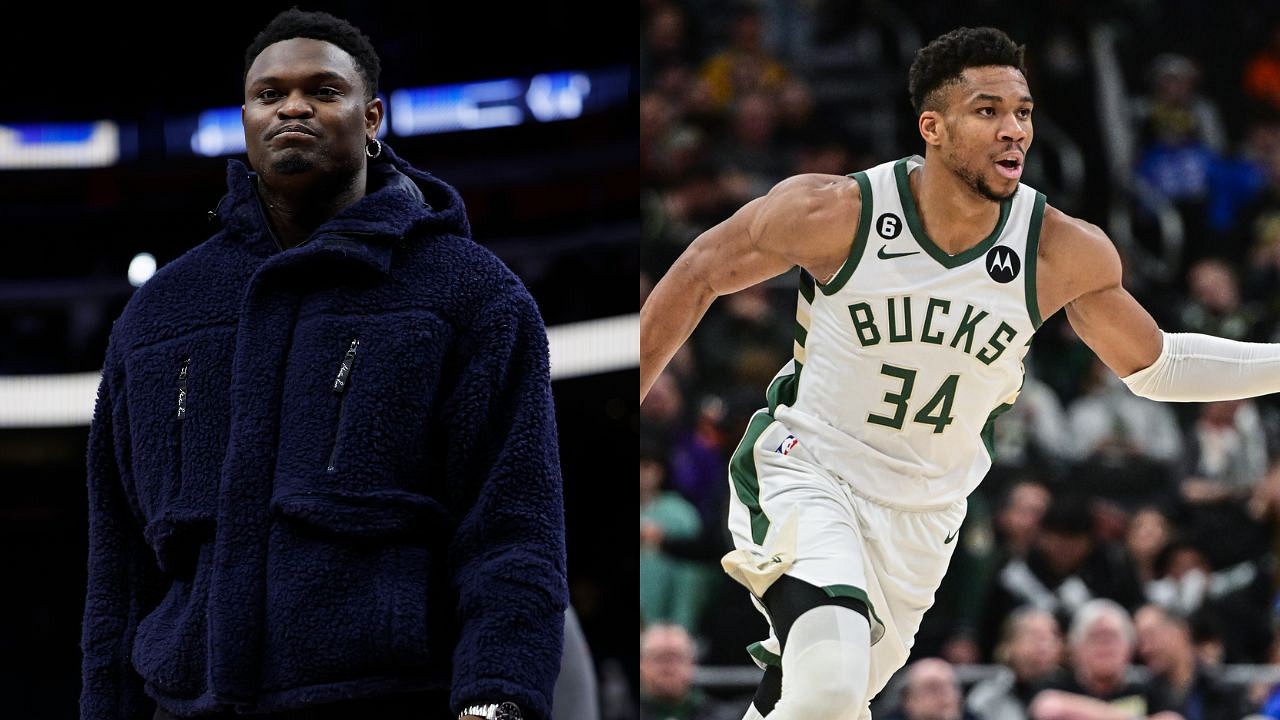 It is not often we get to see a mean dunking machine like Zion Williamson react in awe. Well, it was more disgust and flabbergastation. Giannis Antetokounmpo threw down a nasty dunk over Jonas Valanciunas and Zion was appalled looking at it.
Zion, who has been out for the last few weeks and is still inching his way back from a hamstring issue, was present to witness the destruction of his team.
Antetokounmpo took no prisoners tonight. He scored a stunning 50 points, his second 50-point game of the season, to demolish the New Orleans Pelicans.
And he had a few memorable plays, including this vicious dunk.
Also read: "Give Russell Westbrook Credit For 24,000 Points!": Amidst LeBron James' Scoring Brilliance, Redditor Ponders Over Lakers Guard's Greatness
Giannis' vicious dunk has Zion Williamson making faces in disgust
First, let's take a look at the dunk itself, Giannis was not going to take any prisoners. Jonas Valanciunas, unfortunately, happened to be the defender.
Giannis Antetokounmpo with 50 points in 30 minutes. Best player in the world. pic.twitter.com/DoBxV457m3

— Kevin O'Connor (@KevinOConnorNBA) January 30, 2023
Now, just take a look at this fan-filmed reaction from Zion Williamson.
Zion's reaction to Giannis's monster dunk (via 1milwaukeebucksfan832) pic.twitter.com/7ax29MAzu2

— (@Bucks_Take) January 30, 2023
Yup, he is not happy about that. And as a dunking force himself, he can tell that this dunk was just plain filthy.
To make things worse, Antetokounmpo hit a three late in the game to cap off his night and get 50 points.
GIANNIS 50 PIECE‼️ pic.twitter.com/DtBHbxN42q

— NBA on ESPN (@ESPNNBA) January 30, 2023
Welcome to the FreakShow indeed. Although, we think Williamson would have had something to say about the game if he had played.
Welcome to the FreakShow pic.twitter.com/obCeyYvJsE

— Giannis Antetokounmpo (@Giannis_An34) January 30, 2023
Also read:"Good Block, Jayson Tatum!": LeBron James Banters With Celtics Star Following NBA Referees Panel's Admittance of Blown Call in Lakers Loss
Zion Williamson is an All-Star starter!
Yes, despite missing more than 20 games in the first half of the season, young Zion will make his second All-Star team. And this time he will be a starter from the west.
ZION IS AN ALL-STAR STARTER OMG pic.twitter.com/PrBBBGR13W

— Overtime (@overtime) January 27, 2023
While we can't deny Zion's meritocracy, there are still questions as to how others more worthy of him have missed out on the slot. Even Charles Barkley has spoken out about it.
Charles Barkley on Zion being named an All-Star starter:

"I would have went with Sabonis or Markkanen… I don't think you can miss 20 games in the first half of the season. I just don't think that's fair."

(via @NBAonTNT) pic.twitter.com/1HHCAIT4AZ

— Legion Hoops (@LegionHoops) January 27, 2023
The debate will be pointless as the outcome is already in front of us. Irrespective of opinions, we hope Zion recovers soon so we can see him at his best during the 2023 NBA All-Star game.
Also read: "Giannis Antetokounmpo is just different, keep going GOAT": Magic Johnson, MarJon Beauchamp & NBA Twitter Laud Bucks MVP For his 50-points in 30 Minutes
---
Share this article