"Aaron Rodgers Doing to Jets What Peyton Manning Did to Broncos": Fans Point Out Hypocrisy of Aaron Haters as Trade Rumors Heat Up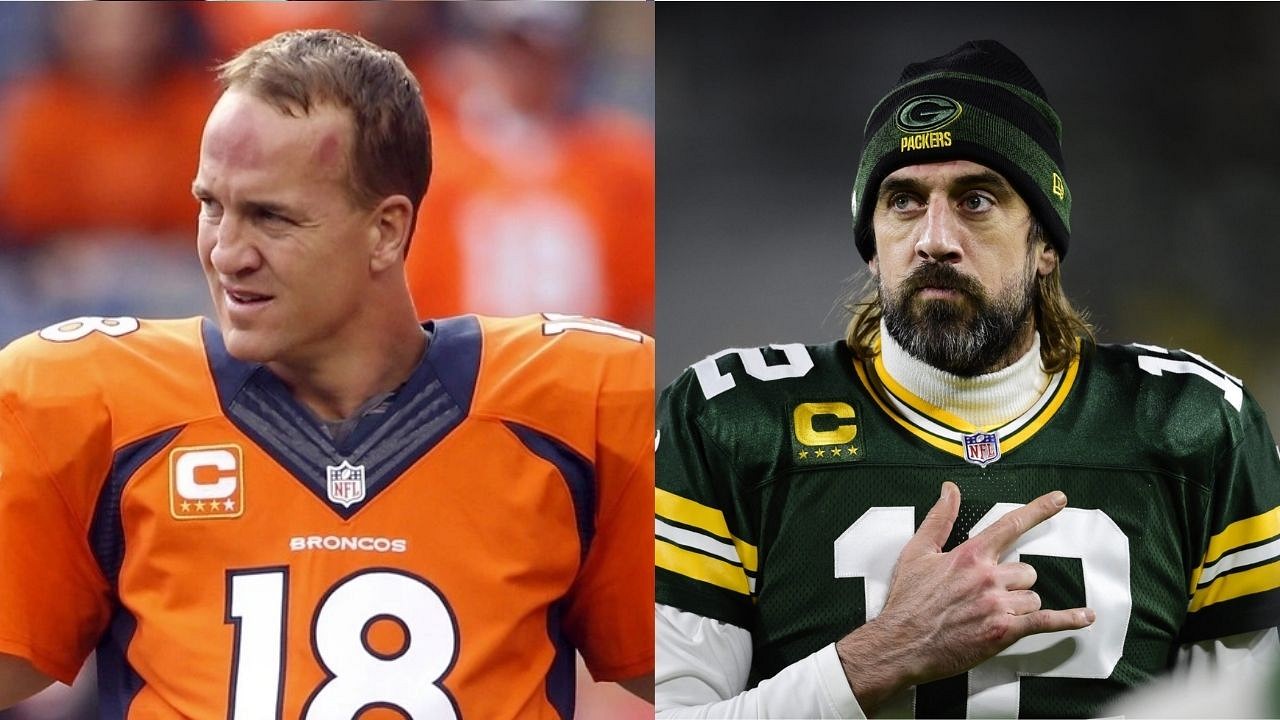 The clock is ticking faster than ever. As the trade deadline comes closer, fans are biting their nails and following each move that the Super Bowl-winning QB will make. Aaron Rodgers, the 38-year-old star shot-caller of the Packers, has not decided about his future. However, the shot-caller had prepared a wish list of players. This decision of his is getting a lot of negative responses.
What the future Hall of Famer is doing is not an unusual phenomenon. Many a time, when a franchise quarterback moves on to a different team, he wants to take with him players whom he deems to be uber-talented. Then why is the back-to-back MVP-winning QB facing criticism from the NFL world?
Also read: "Aaron Rodgers, What's He Gonna Do?": Packers QB's Pal Pat McAfee Seems as Clueless as Everyone Else Regarding Aaron's NFL Future
Is what Aaron Rodgers doing out of the ordinary?
When the seven-time Super Bowl-winning legend signed with the Tampa Bay Buccaneers in March 2020, he recruited three players to the Bucs. They were CB Richard Sherman, TE Rob Gronkowski, and WR Antonio Brown. So, here we have our first example of a QB who brought other players to a team he was signed.
Then comes the jolly Hall of Famer, Peyton Manning. When Manning signed with the Denver Broncos in 2012, he brought with him former WR Brandon Stokley and former TE Jacob Tamme from the Colts. Hence, this is the second example of a QB bringing in other players.
Aaron Rodgers has provided the NY Jets with a wish-list of free agents he would like them to target and acquire, per sources.
It includes Randall Cobb, Allen Lazard, Marcedes Lewis and….Odell Beckham Jr.

— Dianna Russini (@diannaESPN) March 14, 2023
Part of the reason fans do not support Rodgers is that he is taking too much time to decide. Even though the Packers QB said that he would decide as soon as possible, there has been nothing but confusion from Green Bay and the Jets. Rodgers wants New York to sign Allen Lazard (the deal is almost done), Randall Cobb, Marcedes Lewis, and Odell Beckham Jr.
Why is Rodgers facing so much opposition?
Although there were people who did not support Rodgers' wishes, a sizable portion of the population on Twitter thinks that this is not out of the blue.
These are the fans who supported the 39-year-old. The tweets are in response to a famed sports critic who pointed out the hypocrisy that Rodgers is facing.
When four-time MVP and inner-circle HOFer Peyton Manning chose the Broncos, he had them bring in Brandon Stokley and Jacob Tamme from Indy and no one said shit. When Rodgers does something similar, let the mockery begin! (It's okay because the joke days are likely over.) #Jets

— Michael Salfino (@MichaelSalfino) March 15, 2023
Aaron Rodgers should absolutely take Allen Lazard, Marcedes Lewis, and Randall Cobb with him to the Jets. Heck, bring back Jordy Nelson if he wants.

Signed,
me & @bstokley14

— Jacob Tamme (@JacobTamme) March 14, 2023
This user was successful in explaining why Rodgers is getting so much hate.
But not before he was actually a member of the team, right? It's kind of pathetic to watch a franchise bend over and grab their ankles for a guy who hasn't even committed to them. They hired Nathaniel Hackett! It's like buying a car for a woman you're not even dating.

— Hirsch (@GSIndustries80) March 15, 2023
The diff is he signed with the broncos first and didn't drag this out like this.. another diff is will Rodgers be there when otas start to start to build chemistry with his new teammate?

— FadeAwayPicks (@AwayPicks) March 15, 2023
If Rodgers is successful, no one will remember that he was mocked over this. If he ends up pulling a Wilson (Russ, not Zach) and bombing his first season with a new team, it will never be forgotten.

— Nick Hlavacek (@NickInNC) March 15, 2023
I agree, and the part that's also significantly different is that this is a trade so it's not as simple as Jets and Rodgers coming to a conclusion… Packers gotta agree to it too

— NYJetsPlanet (@nyjetsplanet) March 15, 2023
If the team really wants to have the veteran QB on their roster, which they do, they will soon come up with a contract that best fits Rodgers' demands.
Also read: 2X Super Bowl Champion Peyton Manning Credits This NFL Legend for His Oscar-Worthy Acting While Executing Fake Spikes
---
Share this article