Allen Lazard Trade: To Lure Aaron Rodgers, Jets to Sign His Favorite Target?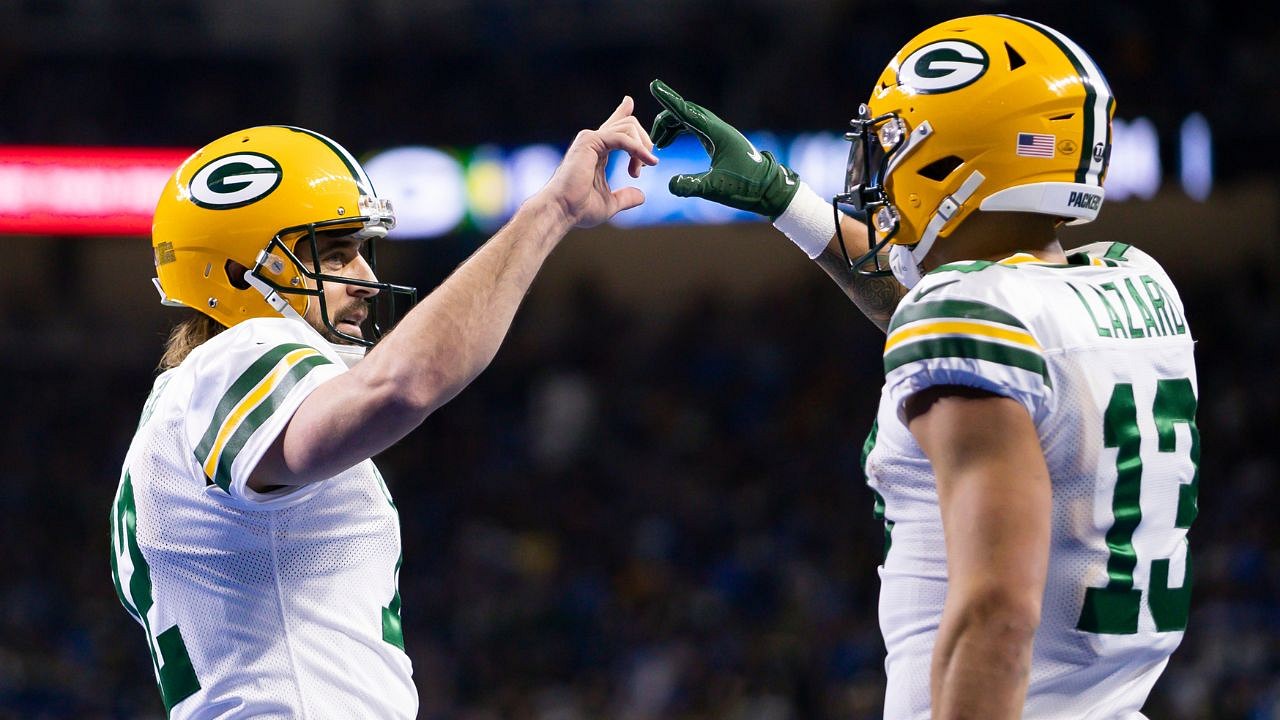 The Jets are making it clear that they want the back-to-back MVP-winning quarterback on their roster. The New York Jets are the team that is actively pursuing the future Hall of Famer. But Aaron Rodgers did not make a decision about his place in the league. Hence, to lure the star QB, New York is now opting to take a different road. They are working tediously to sign his favorite target, Allen Lazard.
The 27-year-old is closely following A-Rod, just like everybody else. Even he wants to know what his QB will finally decide. However, for now, the star WR has an important decision to make because he hit the free agency market.
Also read: Xfl Goes Adult Mode as Cameras Accidentally Stumble Upon A.J McCarron's Naked Teammate During a Trip to the Battlehawks Locker Room
Will Rodgers follow Allen Lazard if he signs with the Jets?
New York is chasing the top receiver on the open market. They think that the former GB Packers wide receiver could be a splendid weapon for them. Hence, as reported by ESPN, Lazard looks like a good fit. Obviously, fans had already made the unavoidable connection between this news and the continued recruitment of the iconic QB Aaron Rodgers.
Jets fans checking Twitter to see if there's any Aaron Rodgers updates pic.twitter.com/bJDJxeMwUQ

— Gordon Damer (@gordondamer) March 10, 2023
Lazard and the 10-time Pro Bowl winner are close friends, and since the former is tracking the moves of the latter, it raises the question: will Rodgers follow where his former trusty target goes?
Jets are actively working to reach an agreement with Packers' free-agent WR Allen Lazard, per league sources. There is another team involved, and no final decision, but the Jets are trying to reunite Lazard and OC Nathaniel Hackett. pic.twitter.com/rkzX17o5do

— Adam Schefter (@AdamSchefter) March 14, 2023
Considering the number the Iowa product has put up with Rodgers (Lazard hauled up 168 passes from Rodgers for 2,216 yards and 19 touchdowns), the 39-year-old will definitely consider following him.
The Jets have their eyes on a Green Bay Packers veteran
Lazard is not the only player that the Jets are trying to acquire. Along with him is the veteran star WR Randall Cobb, who wishes to play in 2023. The WR healed his injured ankle because of which he missed four mid-season games. He also underwent surgery, which would allow him to play with no problems.
And since he desires to play this season, there is a high possibility that New York will show an interest in him. Not only Lazard but Cobb was also an essential part of the Packers. Even though the receiver will turn 33, he is still a solid product who put up great numbers.
Also read: Derek Carr Car Collection 2023: From Ferrari 488 GTB to Mercedes-Benz S63 AMG, Saints QB's Luxury Car Collection Can Even Make Hollywood Stars Envious
---
Share this article