Chiefs Owner's Gorgeous Daughter Gracie Hunt's Stunning Holiday Pictures Are Breaking The Internet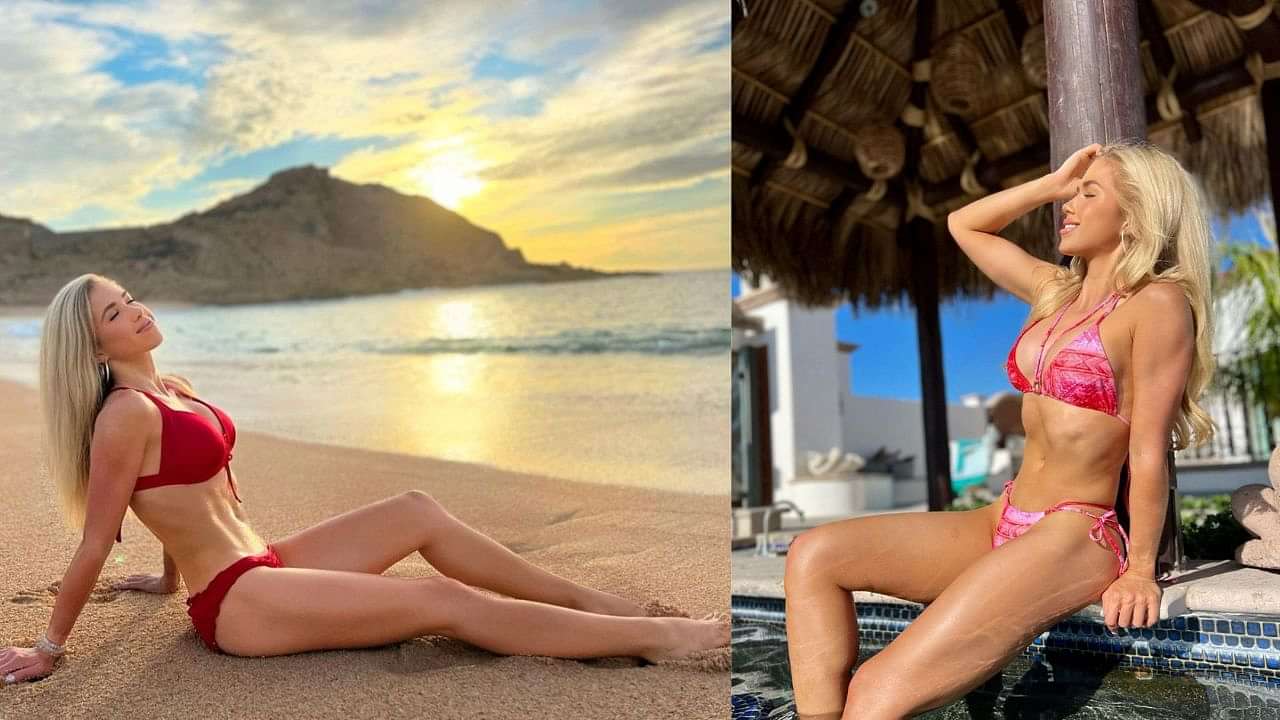 Families of NFL owners are not alien to being popular among fans. In fact, many try to soak in the attention, enjoying every moment of the fame they enjoy. Such is the case with Kansas City Chiefs owner Clark Hunt's daughter, Gracie Hunt. A vocal Chiefs fan, she is also the former Miss Kansas USA, and has a massive following on social media.
Hunt is a headline maker, no matter where she goes. Whether it be a Chiefs game, or a half marathon she's running, she stands out from the crowd. With almost 200,000 followers on Instagram, she is one of the more influential members of the NFL fraternity. She's also quite close with Brittany Mahomes, wife of Chiefs' maestro Patrick Mahomes, and she regularly attends their games.
Loading embed instagram https://www.instagram.com/p/Cmt7YkrL7ww/?utm_source=ig_embed&utm_campaign=loading
Hunt recently took to Instagram and Twitter to post stunning photos of her in a swimsuit, accompanied by some funny and nicely worded captions. The wordplay in some of them is quite eye-catching. She took these photos while on her holiday trip to the sandy beaches of California, presumably also celebrating the Chiefs' pre-Christmas destruction of the Seattle Seahawks.
Also Read: "He's Such a Beast": Fans Enthralled With Cardinals' Budda Baker as He Plays Through a Season Ending Shoulder Injury in OT Loss to Buccaneers
Gracie Hunt takes social media by storm with holiday pictures in California
Hunt's social media posts garnered a lot of attention from the NFL community, with fans heaping praises on her beauty. Some even commended her excellent wordplay in one of her posts, while some just wanted to praise the Chiefs.
https://twitter.com/BookerT3/status/1607539004722892804?s=20&t=NKEa74Q8bZXEl5bgIhoiZA
https://twitter.com/crandaddy425/status/1607474222963499008?s=20&t=NKEa74Q8bZXEl5bgIhoiZA
Loading embed tweet https://twitter.com/GameguyLA/status/1607751751087816704?ref_src=twsrc%5Etfw
Loading embed tweet https://twitter.com/UDontKnoMeSon/status/1607419243619913730?ref_src=twsrc%5Etfw
"Nice Wordplay", a user commented on her Instagram post.
Loading embed tweet https://twitter.com/ralphla73922707/status/1607469598013628416?ref_src=twsrc%5Etfw
Loading embed tweet https://twitter.com/buckba01/status/1607477429135888384?ref_src=twsrc%5Etfw
Loading embed tweet https://twitter.com/William76352263/status/1607403556197535748?ref_src=twsrc%5Etfw
While Gracie Hunt is enjoying her holidays in sunny California, Chiefs players will be preparing themselves for the postseason. With only two games left in the regular season, they have already clinched their division title, for the 7th year straight, and the playoff spot that comes with it. But the season is not over yet, and the fight for the number 1 seed is still on.
The Buffalo Bills are the closest competitors the Chiefs have, and the next few games will be crucial if the Chiefs want a bye-week. But in the postseason, the Bills will not be alone in stopping the Chiefs from making it to the Super Bowl. The Cincinnati Bengals are not too far behind and can mount up stiff resistance to the Chiefs' plans if they do meet.
The Baltimore Ravens can be a surprise package too, especially with their QB Lamar Jackson trying to prove a point to his club. This triple threat will surely unnerve some on the Chiefs' team, but they have a weapon of their own: Patrick Mahomes II. His ability to influence the game is remarkable, and with him, the Chiefs are more or less well clear of the rest of the conference. Or, so they hope.
Also Read: $245 Million Russell Wilson Creates Another Embarrassing Record; Registers Largest Decline in Passer Rating in First Season With New Team
---