"Worst Play in NFL History": Fans Brutally Troll Cowboys For Yet Again Ending a Playoff Loss With a Silly Play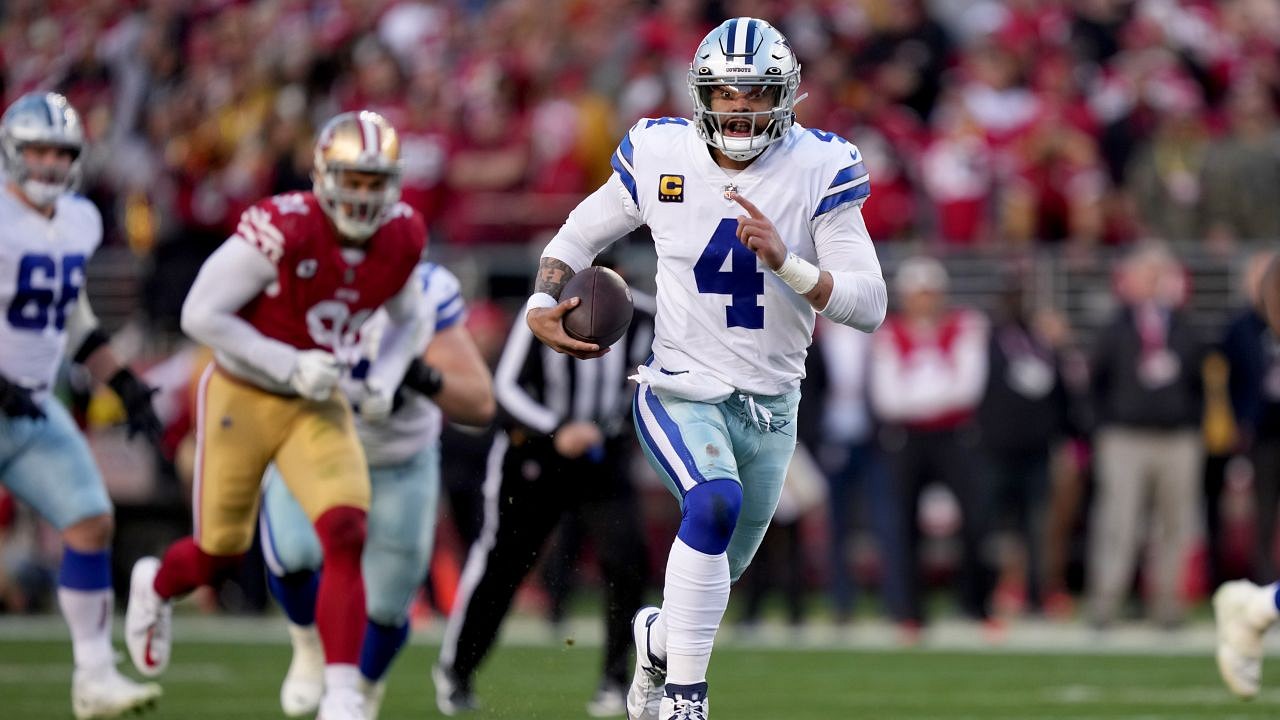 Monday night was a disaster for the Dallas Cowboys. Not only did they lose their chance at getting revenge against the San Francisco 49ers, but they also managed to humiliate themselves completely. Not that they had a hard time keeping up with the 49ers. Just that on their final play of the game, with 5 seconds left and 7 points behind, they had a rather unusual idea to execute.
The Cowboys and the 49ers had to really fight tooth and nail for every inch of the field. No team was ready to give up, clawing at each other's throats well into the 4th quarter even. However, during the game, the more experienced Cowboys QB Dak Prescott seemed to make more mistakes than his rookie 49ers counterpart, Brock Purdy. The 2 interceptions Prescott threw, coupled with other things, proved costly.
The play in question came when there were only 5 seconds left in the game. Finding themselves 7 points from a draw, the Cowboys had to pull something out of the box. What they did eventually pull out, seemed to be one of the strangest plays ever in the NFL. There was no O-line, just RB Ezekiel Elliott in the center on snapping duty. The rest were all out with receivers, and no one has any idea why.
Worst Play in the history of the NFL pic.twitter.com/Hgykz8MSoK

— Pardon My Take (@PardonMyTake) January 23, 2023
Also Read: "Trust in the Sheriff": Pat McAfee Draws Flak From NFL Fans for His Peyton Manning at a Roulette Table Story
Fans take shots at the Dallas Cowboys for ending playoff loss with silly play
The Cowboys' antics may have failed to achieve their goal of possibly getting a touchdown, but it did make a lot of people laugh. Fans across the board are amused at the Cowboys for attempting to pull off such a crazy formation. There are also some who are just dumbfounded at the play, wondering what the game plan was. We'll never know, will we?
Colts fans finally witnessing a worse play than the fake punt pic.twitter.com/UXm2qlSmvO

— Ethan Eagleson (@EthanEagleson) January 23, 2023
Not knowing what they were going for here will haunt me for my entire life. Not a Cowboys fan at all, just really want to know what the plan was.

— jeremy (@heyitsberm) January 23, 2023
McCarthy: Zek it's time to run that last play

Zek:… pic.twitter.com/jFs5q5gavm

— SAMHINKIESGHOST (@Joelsharpee) January 23, 2023
So much for that fancy formation 😂🤣

— Seton O'Connor (@HiMyNameIsSeton) January 23, 2023
Whoever drew up that final play of the game for cowboys needs to just quit all together

— Reggie Bush (@ReggieBush) January 23, 2023
Zeke at center, all their O-Linemen split out, Turpin immediately lit up. Ball game. The Cowboys are hilarious.

— Chase Shannon (@chase_shannon) January 23, 2023
"Now put Zeke at center" 😂😂 pic.twitter.com/2UVHT68Qla

— RedditCFB (@RedditCFB) January 23, 2023
Many are laughing at that final Cowboys play but at least they changed gears from normal type failure and I appreciate that

— BUM CHILLUPS AKA SPENCER HALL (@edsbs) January 23, 2023
Dallas Cowboys fans might have anticipated this long ago. In fact, it all seemed too good to be true a week ago. The Dallas outfit showcased a class act in their dismantling of a broken and battered Tampa Bay Buccaneers side. No matter the difference in strength and skill, the Cowboys did put up an incredible display. One that gave their fans hopes of a good postseason.
Unfortunately for them, it all came crashing down on them on Monday. Their star man, Dak Prescott, did what he does best: throw interceptions. As the league leader in interceptions thrown, Prescott did not disappoint 49ers fans, as he threw 2 interceptions on the night. Those two handovers could have very well shifted the game in the Cowboys' favor, but it only helped the 49ers get a tighter grip on the game.
The 49ers will face the Philadelphia Eagles on January 30 for the NFC Championship. Expect another grind, a fight for every point on the board. The odds will heavily be in the Eagles' favor, though the 49ers could stage an upset win.
Also Read: "That's Not Cheating" : Eagles' Jake Elliott Refutes 'Foul Play' Accusations After NFL Issues Memo For Foreign Objects on the Field
---
Share this article