"They Got Scr*wed by The Officials!" : Joe Burrow Getting Flagged for Grounding Has Bengals Fans Up in Arms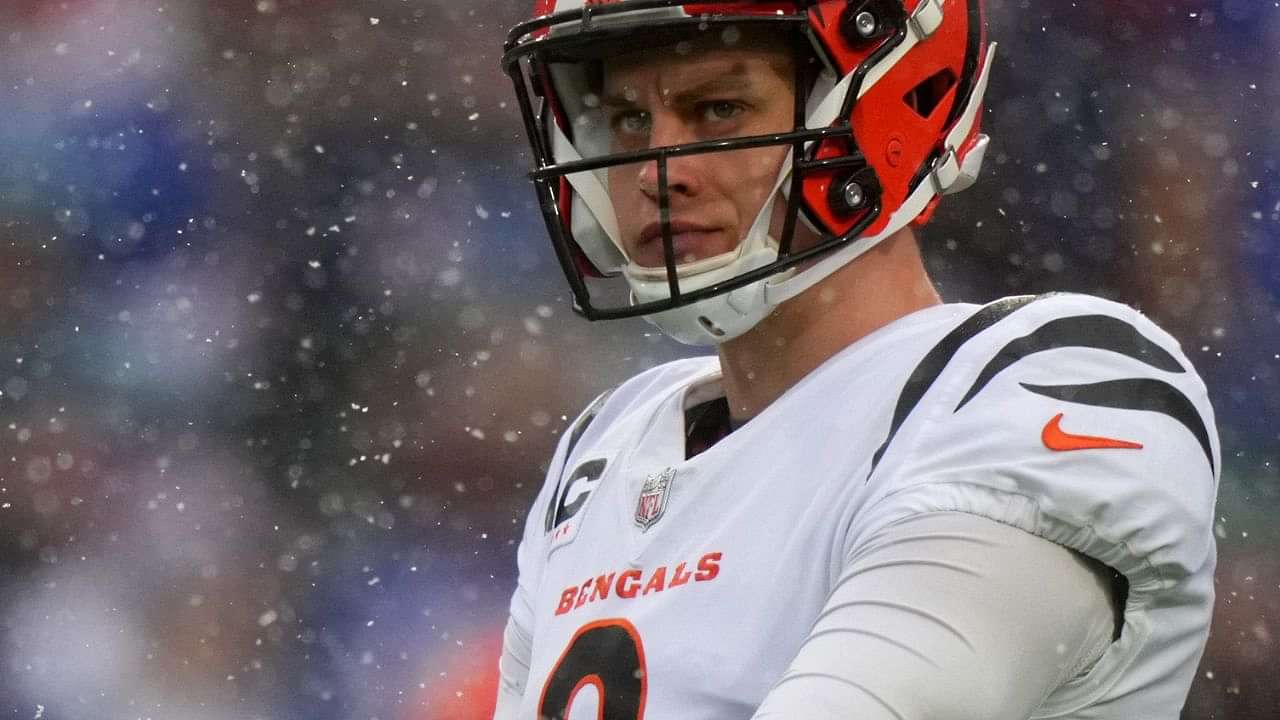 Almost a year ago, at last year's AFC Championship game, the Kansas City Chiefs blamed bad calls from referees for their loss. This time around, it is the Cincinnati Bengals' turn to cry wolf. The heartbreaking 23-20 loss on Sunday was plagued with calls that time and again went against Joe Burrow and the Bengals. While some did not make a massive impact, some could have potentially impacted the outcome.
Two of the most game-changing calls came in the 4th quarter. One was an "intentional grounding" foul against Joe Burrow. While the other was an "unnecessary roughness" call on defensive lineman Joseph Ossai. Both fouls changed the game for the Chiefs. The intentional grounding had a lesser impact, though, only managing to set Bengals' QB Joe Burrow on an uncomfortable 3rd-and-16.
The "unnecessary roughness" call, on the other hand, gave the Chiefs a lifeline. In fact, it might just have won the game for them. Staring at 3rd-and-4 with 17 seconds left in the game, the Chiefs' signal caller Patrick Mahomes decided to run the ball himself. As he crossed the first down line and went out of bounds, Ossai came charging into him. The eventual push occurred out of bounds and gave the Chiefs 15 yards.
From there, Harrison Butker had no problems scoring a 45-yard goal. It was almost as if it was scripted. Last year, the Bengals won with the last kick of the game. This time, it was the Chiefs' turn to break some hearts.
Also Read: "Put the Hennessy Down": Shannon Sharpe Offends Fellow Hall of Famer Ed Reed, Gets Called Out on IG live
Bengals fans are not happy with referees calling a foul on Joe Burrow
While referee Ron Torbert gave a reasonable explanation for the grounding call, fans are not satisfied. In fact, many are again calling out a conspiracy, the same as how their Kansas City counterparts did last season. However, there were a lot of fans who did notice the subtle line which made it a foul and called out the other fans on it.
Loading embed tweet https://twitter.com/SAS0620/status/1619896437457948672?ref_src=twsrc%5Etfw
Loading embed tweet https://twitter.com/emileekayx/status/1619922998991147008?ref_src=twsrc%5Etfw
Loading embed tweet https://twitter.com/GusDaddy18/status/1619942038262222850?ref_src=twsrc%5Etfw
Loading embed tweet https://twitter.com/ROliynik/status/1619892232055652352?ref_src=twsrc%5Etfw
https://twitter.com/BrianBengal/status/1619931046363160577?s=20&t=q290U2XYqgDk1OP51U6qPQ
https://twitter.com/harryxafc/status/1619891752432721921?s=20&t=q290U2XYqgDk1OP51U6qPQ
Loading embed tweet https://twitter.com/Moshe00008702/status/1619892077311168513?ref_src=twsrc%5Etfw
Loading embed tweet https://twitter.com/ccm_bearcat/status/1619947096395902976?ref_src=twsrc%5Etfw
Joe Burrow put up a good performance on a night that ended up in heartbreak for him and his team. On the other hand, the Chiefs were ecstatic about winning the Championship on their home turf. Even more exciting than that must be beating the Bengals. A week of trash-talking from Bengals players and the Cincinnati Mayor backfired when the Chiefs scored the winning field goal.
Patrick Mahomes and the Kansas City Chiefs have now in their hands the chance to win a Super Bowl once again. If Mahomes wants to establish himself as one fo the greatest signal callers in the history of the NFL, then he needs to win Super Bowls. The journey to match and pass Tom Brady starts this season. Will Mahomes one day win an eighth Super Bowl? Or will his journey end next month?
Also Read: Brittany Mahomes, Who is Taking Care of the House & Kids Without Patrick Mahomes, Gets Appreciation From Chiefs Fans for Her Sacrifices
---