NFL Community Shocked as "12-Year-Old" Jeremiah Johnson Who Sports a Mustache & Tattoos, Runs Rampant at the Youth National Championship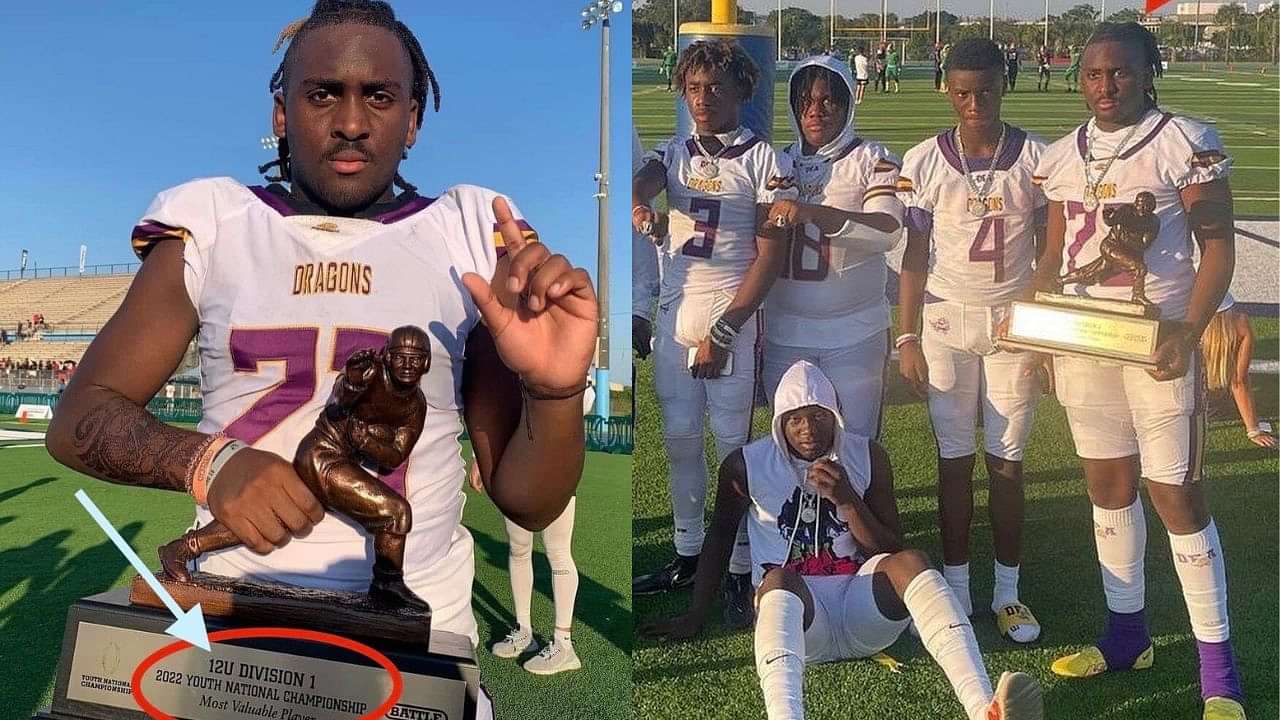 Early onset of puberty is not a surprising thing these days. Kids all over experience sudden growth spurts, and often have to deal with the consequences of such situations. Especially boys, who have to be constantly on the lookout for odd patches of facial hair. But it seems one kid might just have been too lucky with his hormones. Or so it seems.
Jeremiah Johnson, a running back for the Dallas Dragons Elite Academy, took the footballing community by storm after pictures emerged of him with a proper mustache, and tattoos on his arm. In the photo, he is holding the trophy for the MVP of the 2022 Youth National Championships held in Miami.
Videos of Johnson smashing through opponents are already making the rounds on social media. Reportedly, the 5-foot-11, 198-pound running back is eligible for college in 2027. Expect college coaches to start lining up on his doorway already, like in the movie 'The Blind Side'.
Also Read: "It's In The Name": NFL Legends Eli & Peyton Manning's Nephew Arch Manning Signs for Texas Longhorns To Continue Family Domination in QB Position
Fans in utter disbelief as 12 year old Jeremiah Johnson becomes an internet sensation
While there have been numerous testimonials from various sources regarding his age, including a video where he himself confirms he is 12, not everyone is readily hopping on the bandwagon. His size and maturity do not even closely resemble what fans are expecting from a 12-year-old.
Loading embed tweet https://twitter.com/BleacherReport/status/1602818098167357447?ref_src=twsrc%5Etfw
And it's not just fans who can't seem to wrap their heads around his age. Miami Dolphins star receiver, Tyreek Hill, is also clearly dumbfounded at this startling revelation presented to him. He immediately took to Twitter to present his two cents on the matter. Even Baltimore Ravens defensive end Calais Campbell does not believe Johnson is 12. Definitely a boost for Johnson's image, is it not?
https://twitter.com/cheetah/status/1602759144930676736?ref_src=twsrc%5Etfw%7Ctwcamp%5Etweetembed%7Ctwterm%5E1602759144930676736%7Ctwgr%5E1eed8684560fc78fed828e1c19e2e0fbcaa6662d%7Ctwcon%5Es1_c10&ref_url=https%3A%2F%2Fnypost.com%2F2022%2F12%2F14%2Fjeremiah-johnson-12-year-old-football-player-with-tattoo-goes-viral%2F
Loading embed tweet https://twitter.com/CalaisCampbell/status/1602826736194170881?ref_src=twsrc%5Etfw
https://twitter.com/JackSwagg2k15/status/1602826484237963264?s=20&t=EN5MK9gu6SZtbnJ2h2RJng
Loading embed tweet https://twitter.com/LuckyovLegends/status/1602824733459853313?ref_src=twsrc%5Etfw
Loading embed tweet https://twitter.com/IcyKso/status/1602823948961710080?ref_src=twsrc%5Etfw
Loading embed tweet https://twitter.com/WadexFlash/status/1602819252071063553?ref_src=twsrc%5Etfw
Loading embed tweet https://twitter.com/KKodec/status/1602837212223127554?ref_src=twsrc%5Etfw
Johnson recently lined up against another football player in a similar social media bubble as him. Madden San Miguel, a 9-year-old football player who goes by the name "Baby Gronk", has been the center of attention for the past few years. With almost 300,000 followers on Instagram, he is already en route to be a celebrity well before he reaches college.
When Jonhson and Miguel faced off in a race to win the ball, Miguel came out on top. Reportedly, the near 6-foot Johnson sandbagged himself, probably because he knows he outmatches his opponent. But these two are definitely going to face off against each other, under more competitive circumstances, sooner or later. Who will come out on top then?
Also Read: "Dak Prescott is A**": Former Super Bowl Hero Sean McCoy Tears Apart Cowboys QB For Underwhelming Performance in Loss Against Jaguars
---