"NO WAY THE BUCS KEEP LAVONTE DAVID AND SHAQ BARRETT. WAY!": Skip Bayless Shocked & Ecstatic As Tampa Bay Re-Signs Star Pass Rusher To Massive Deal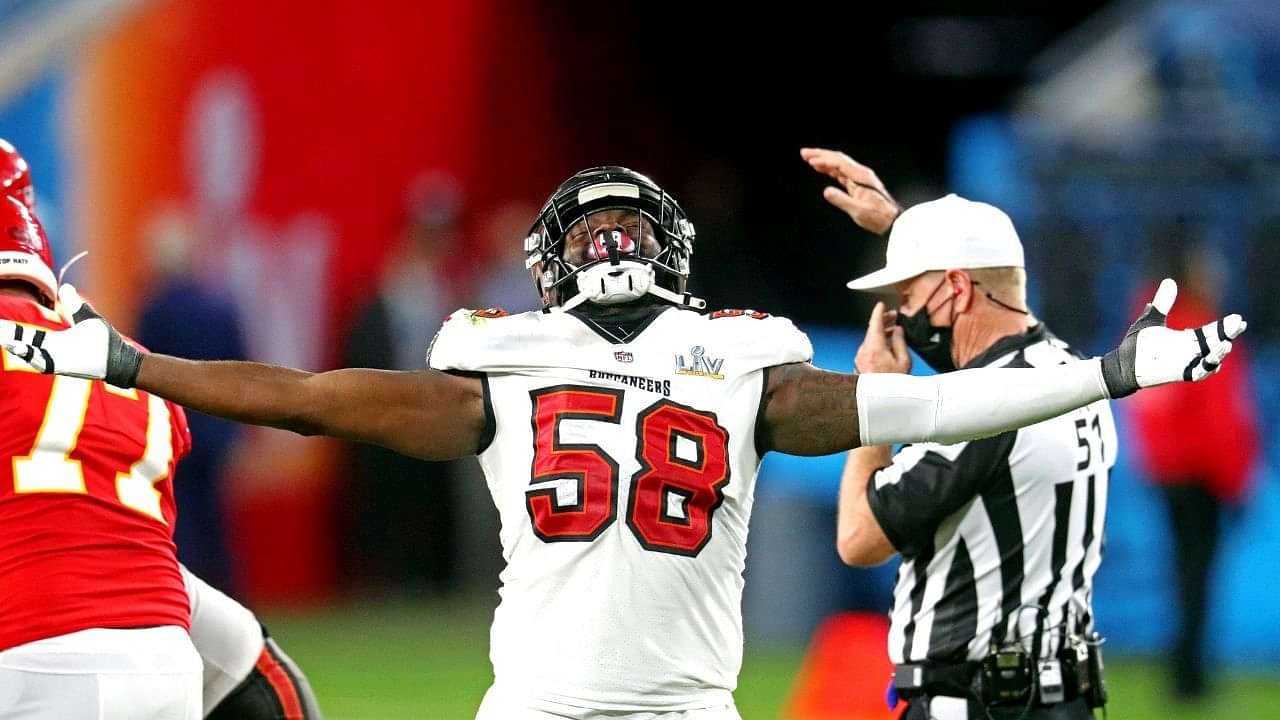 Shaq Barrett is probably THE most important piece of the Buccaneers defense. And well, it doesn't look like Barrett is going anywhere else anytime soon.
The star outside linebacker signed a huge deal with the Buccaneers, securing a long term contract with the team and a bright future ahead. His deal is reportedly worth up to $72 million over four years, and he gets $36 million of that guaranteed. Way to secure the bag Shaq.
Loading embed tweet https://twitter.com/NFL/status/1371497886584872960?ref_src=twsrc%5Etfw
The Buccaneers had several free agents they needed to take care of this offseason, including Barrett and long-tenured linebacker Lavonte David. Many people believed that the Bucs would have to do away with at least one of the stars, especially with Chris Godwin set to hit free agency as well, but Tampa Bay was able to lock up all three of them.
Skip Bayless was particularly happy about this:
Loading embed tweet https://twitter.com/RealSkipBayless/status/1371514936258670595?ref_src=twsrc%5Etfw
Also read: Will The Seattle Seahawks Trade Star QB Russell Wilson To The Bears?
"If it's meant to be it will be": Shaq Barrett Looks On To A Stellar Career With Bucs
Loading embed tweet https://twitter.com/gregauman/status/1371510923324706816?ref_src=twsrc%5Etfw
Barrett is one of the best pass rushers in the NFL at the moment. His 27.5 sacks over the last two years rank second in the NFL in that time.
In the 2019-20 season, Barrett was the NFL leader in sacks with 19.5 while he tallied 8 this year. His 51 quarterback hits and 28 tackles for loss both rank fourth in the league during that time frame.
Barrett's numbers are simply incredible, and don't be fooled by the dip in his sack total. Barrett was still one of the best pass rushers this past season. He had the third most quarterback pressures in the NFL, sitting just behind the DPOY runner up in T.J. Watt and the DPOY in Aaron Donald.
After being franchise tagged last season, Barrett was eager to get a long term deal done with the Buccaneers. His priority was always to come back to Tampa, but if the Buccaneers weren't going to give him his money, then Barrett may have looked to "break the bank" elsewhere. Fortunately, for both him, and the team, Barret isn't going anywhere.
Barrett had the following to say:
"I'm most definitely looking forward to getting a long-term deal done," Barrett said. "I feel like it's time for me to break the bank now, and I most definitely want to do that to be able to set my family up better and most definitely going to keep producing so it's not like anything is going to fall off. I still think I got a lot left in the tank. I'm still getting better, actually."
"I mean, I do still want to have a great fit for me and a great fit for the family. So whatever that, like, that turns out to be. But I do want, I want to be, I want to be here. I think we got a great team here, a great organization here. So we will definitely go on just to see how it works out and shake up. But, I'm looking forward to trying to get something done here."
Tampa fans are certainly going to enjoy this news. Barrett is once again set to terrorize the NFC alongside JPP, Devin White and Lavonte David on the Bucs' prolific defense.
Loading embed tweet https://twitter.com/SimStrength/status/1371505417537396738?ref_src=twsrc%5Etfw
Buccaneers Gear Up To Defend Super Bowl Title
As we said before, Barrett, Godwin, and Lavonte David were all unrestricted free agents. The Bucs also have several other players who they need to lock up in Gronk, AB, and Suh, but those three were probably the biggest names. And well, what do you know, the Bucs have done it.
Tampa Bay clearly wants to retain its Super Bowl core and they've made a number of strategic salary cap moves to ensure this can happen. From David's voidable years to Brady's extension which will only count $9 million against the cap, the Bucs are making it happen.
Tom Brady explained the situation with just two words, two perfect words that'll make any Bucs fan happy:
Loading embed tweet https://twitter.com/TomBrady/status/1371515228538699784?ref_src=twsrc%5Etfw
Also read: Drew Brees announces his retirement after 20 years in the NFL.
---