Patrick Mahomes Joined Hands With $5.2 Billion Fashion Giant to Bring Out the "BOSS" Look At Met Gala 2023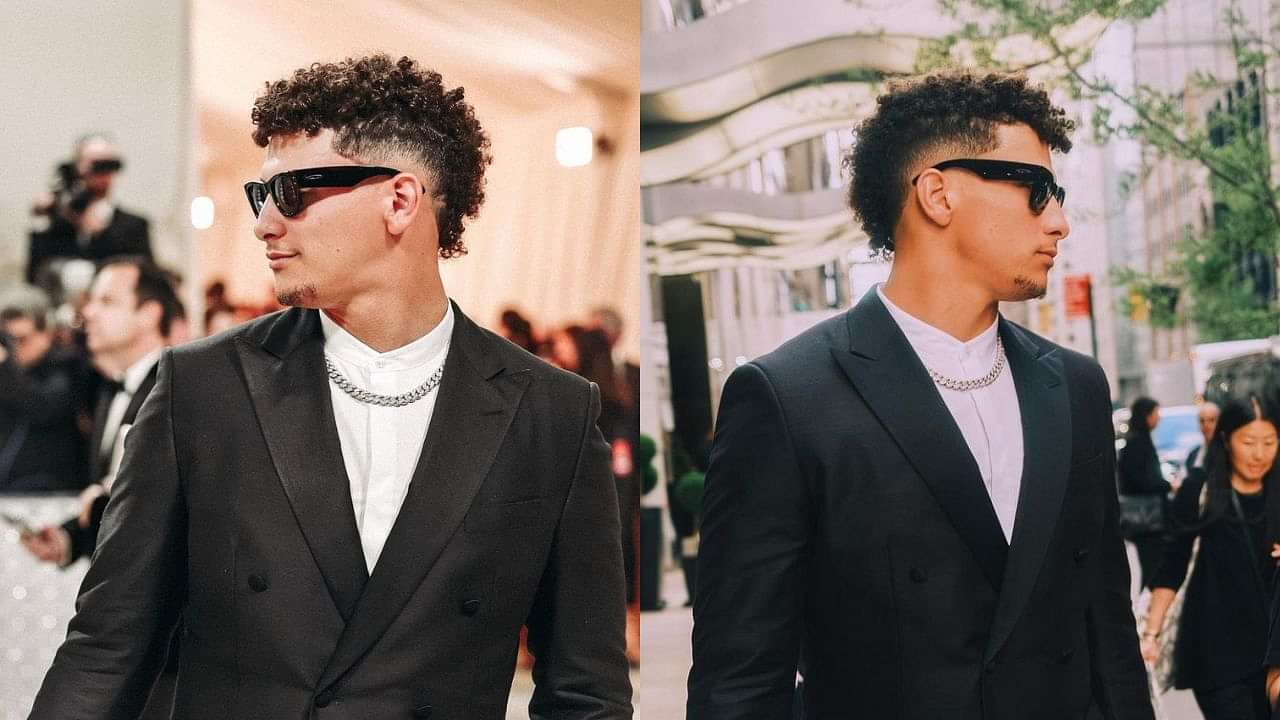 A few days ago, Super Bowl LVII winner Patrick Mahomes and his wife Brittney Mahomes made their Met Gala debut. That too, in style, as the couple stole the spotlight with every step they took. While almost everyone knew the outfits they were sporting, new information reveals that the couple, in particular Patrick, partnered with Hugo Boss to wear the stunning outfits for the occasion.
Patrick and Brittany Mahomes wore custom Hugo Boss outfits to this year's Met Gala. While Mahomes wore a simple black coat with a collar-less shirt, Brittany enthralled fans with a white gown with silver linings and heels.
The couple, who were holding hands almost throughout the photo session, looked dashing as their outfits complimented and stood out against each other, simultaneously.
Hugo Boss reveals a potential partnership with Patrick Mahomes
Just days after Patrick Mahomes took the Met Gala by storm, Hugo Boss revealed their hand behind this stunning act. Through an Instagram story, the $5.24 billion dollar company revealed its partnership with Patrick Mahomes. Though they did not use as many words, it is somewhat obvious with the story showing Mahomes in the suit that he wore to the gala.
Loading embed tweet https://twitter.com/Reuters/status/1653269368464179201?ref_src=twsrc%5Etfw
Hugo Boss also revealed that they collaborated with tennis pro, Matteo Berrettini, who also made an appearance at this year's Met Gala. Berrettini was seen sporting an all-black outfit, with a black tux, a black shirt, a black bow tie, and black pants. Stunning as he was, it was nothing compared to the elegance and class the Mahomes brought to the stage.
Patrick is set to have a busy off-season ahead of jam-packed gamedays
Patrick Mahomes is certainly enjoying his off-season. Though, he will no doubt be noticing that he is busier than he ever was. After all, everyone wants a piece of the Super Bowl winner.
One who also bagged both MVP awards available in a season. Perhaps the thing he will be looking forward the most to will be his 'The Match' encounter against Stephen Curry and Klay Thompson, with Travis Kelce by his side.
However, not everything is rosy in the Mahomes' household. Patrick's younger brother, Jackson, was recently arrested on charges of aggravated sexual battery. A crime for which if convicted, he could face up to 55 months in prison. Naturally, this is a stressful time for the family, especially Patrick. Will this court case start seeping into his performance on the gridiron?
---