"Queen's Gambit on the Ceiling": Aaron Rodgers Admits Having Hallucinations During Darkness Retreat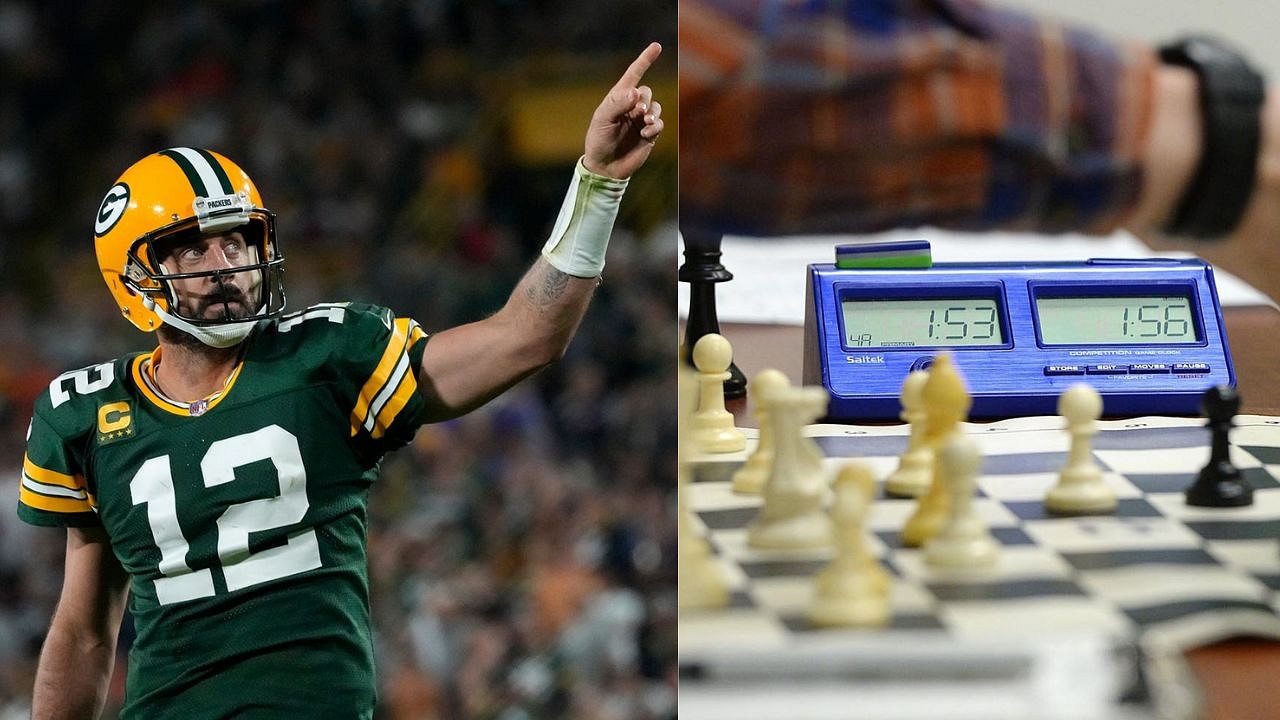 Aaron Rodgers, one of the most controversially interesting man in the NFL is all over the news, again. In the latest episode of the Pat McAfee Show, Aaron finally revealed that he won't be leading the Packers in the coming season.
This confirms that the star quarterback's trade off to the New York Jets is almost a done deal. Moreover, along with providing clarity about his future in the league, Aaron also talked in detail about his darkness retreat which ended a few weeks ago.
Also Read: Another Video of Jackson Mahomes Trying to Forcibly Kiss a Woman in Vegas Goes Viral as He Faces Scrutiny in a Different Alleged S*xual Assault Case
Aaron Rodgers relives 'hallucinating' darkness retreat
Rodgers told Pat that there was absolute darkness and silence in his room during the retreat. So what allowed him to keep a rough track of time was the door handle. Exactly at 6 O' clock, Aaron used to get food delivered in him room. So the creaking sound of the door handle was an indicator that finally, it was time to eat.
Rodgers went on to claim that because there was complete darkness all around, he used to have hallucinations as well. "At some point, the room looks different that it actually does and you are walking around with your hands out, bumping into stuff," he stated.
Before Aaron could say another word, Pat, enthusiastically shouted, "Queen's Gambit, Queen's Gambit on the roof hallucinating?" To this, with a broad smile on his face, Rodgers replied, "yeah." The 4x NFL MVP went on to claim that the hallucinations, which started off on Day 3 of the retreat, were not brought about by any chemical stuff, "it was all natural."
Rodgers ends "Future-Decision" drama in typical Aaron way
Aaron Rodgers is a fascinating person. There aren't many such characters in the NFL world. Although a huge section of football fans hate him, even they can't deny the fact that he is hard to ignore. The way Aaron orchestrated all the drama around his future in the NFL is just unbelievable.
Calling out NFL insiders who tried getting a scoop about his NFL future, to going for a retreat away from everything and everyone while the world was getting impatient to know about his final decision, Aaron executed everything in typical Rodgers way.
Now when all the hullaballoo around his future decision is settling down as he looks set to join the Jets, it will be interesting to see what new topic Aaron ignites before the start of football season.
Also Read: Spurs' Star Kawhi Leonard Once Revealed the Only Thing That Stopped Him From Pursuing a Successful NFL Career
---
Share this article