Did Gronk Make The Kick? Rob Gronkowski's $10 Million FanDuel Kick Steals the Show at Super Bowl LVII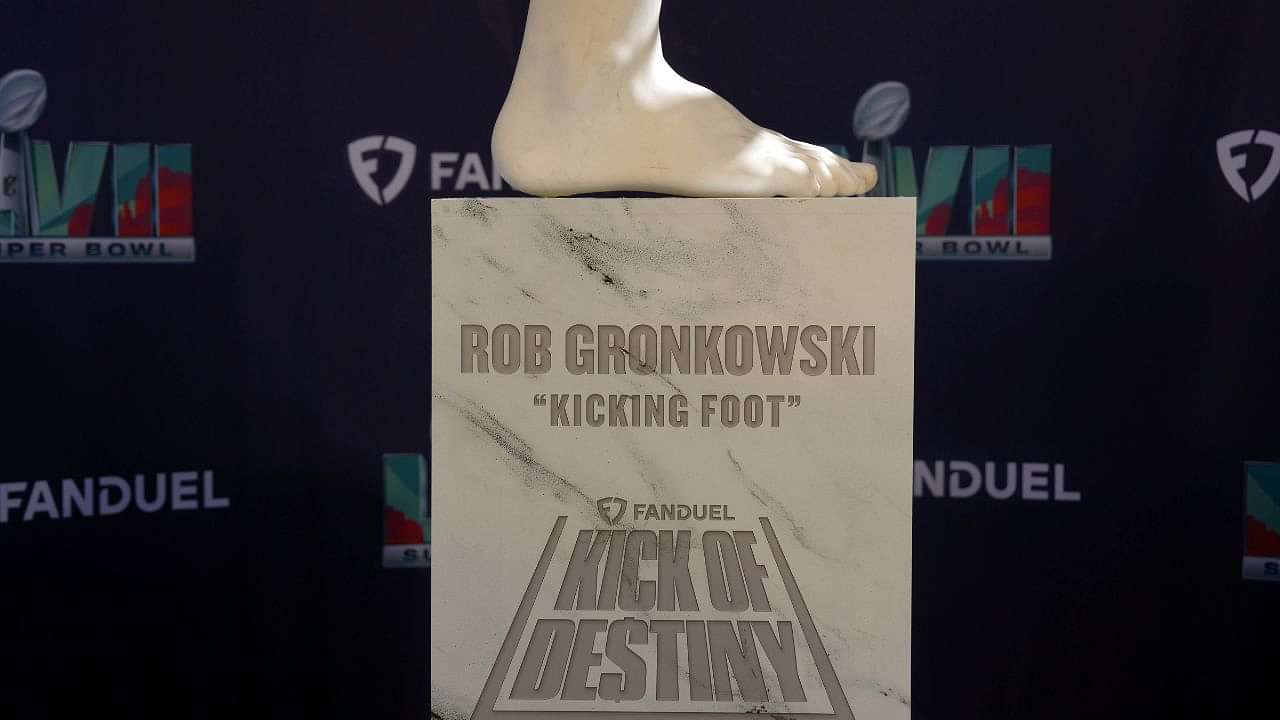 The Super Bowl took place on Sunday. The State Farm Stadium in Phoenix was packed with fans and celebrities as the Kansas City Chiefs took on the Philadelphia Eagles. In a closely fought contest, Patrick Mahomes' Chiefs came out on top and took home their second Super Bowl in five years. While the two quarterbacks were the stars of the night, a former Super Bowl winner also made his presence felt on the field. Rob Gronkowski was in the stadium and as usual, was cashing in on his persona.
Gronkowski took to the field during this year's Super Bowl despite having retired a few years ago. The former tight end was in a different avatar, as he was part of a promotional event. The former Lombardi trophy recipient had fans glued to their seats during the third quarter as he made history. 
Also Read: How Much Does a 30-Second Super Bowl LVII Commercial Cost?
Rob Gronkowski for the Kick of Destiny
Gronkowski was featured in what was the first-ever live commercial at a Super Bowl. While he did this, Gronk was to convert a 25-yard kick for a field goal. In making this, he would have enabled $10 million in gift prizes for FanDuel customers. 
Gronkowski missed his attempt, disappointing all the fans that were there for the money. Fortunately, Fan Duel announced a gift prize for whoever had a wager of more than $5 for this infamous 'Kick Of Destiny'. Even though it was out of character, fans expected Gronk to put the pigskin through the goalpost and bring them all the money.
While it isn't known what association the company has with Gronk, it is clear that they picked him for this. Gronk not only brings in the expertise of the game, he also brings with him the most marketable personality. With his personality being the hero in the campaign, FanDuel is guaranteed to get all the return on their investment for this campaign.
The betting platform announced that even though he missed the kick, some fans will still benefit from the contest. The Super Bowl is one of the biggest marketing platforms for brands.
https://twitter.com/FDSportsbook/status/1624951248872157184?s=20&t=nTpeD6QaKjDHh1aQNLL3dg
Brands end up splurging to have their commercials aired for this event. The Super Bowl is one of the most viewed properties in the United States. In having a live commercial, FanDuel would have spent a fortune. Along with this, Gronkowski's fees would have made for an expense as well. 
This expense won't hurt them when this promotion will give them a new pool of millions of users. Gronkowski may have missed the on-field kick, but this is definitely an off-field goal for the betting platform.
Also Read: Best Super Bowl Commercials: A look at the top 5 NFL Super Bowl commercials ever aired, ahead of Super Bowl LVII
---