Stefon Diggs, Who Spent $15,000 on a Diamond Starbucks Chain, Got Trumped by DK Metcalf's 'Donkey Kong' Jewel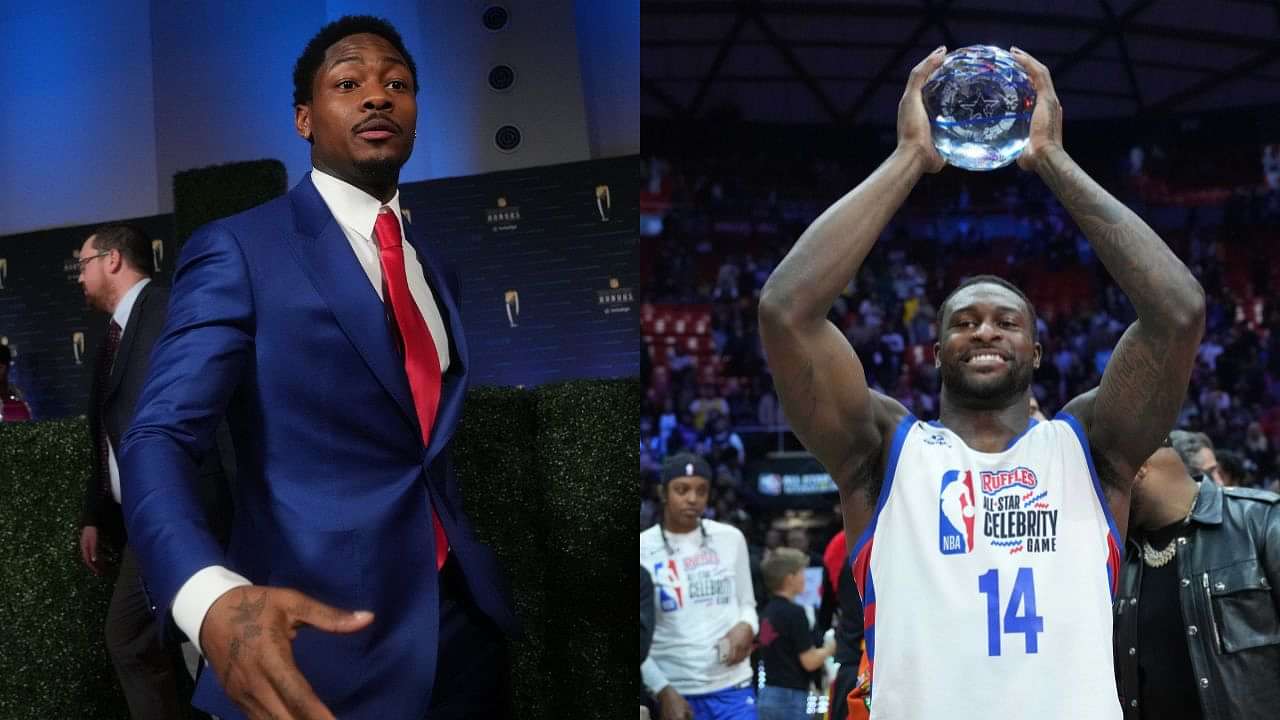 NFL athletes and their obsession with fancy chains are not a new thing. They spend hundreds and thousands of dollars to acquire those customized pieces of jewelry. Not to mention, all of them catch headlines because they depict some kind of uniqueness and have significant importance associated with their lifestyle. A couple of years ago, Bills wide receiver Stefon Diggs made a similar move by purchasing a diamond chain with the logo of the Starbucks coffee chain. It was valued at around $15,000, making it one of the most expensive purchases for a piece of fancy jewelry.
Two years down the line, this trend was followed by his counterpart, DK Metcalf, who ended up acquiring a specially made chain based on his favorite video game character. As it turns out, Metcalf, who is an absolute beast on the field, got himself a 'Donkey Kong' themed diamond chain.
DK Metcalf's love for Donkey Kong is on another level
The 25-year-old Ole Miss product happens to be a great asset for the Seattle Seahawks. He single-handedly controls the wide receiver corps with insane catching abilities and a muscular physique. He penetrates the defense effortlessly and provides an upper edge for the Seahawks' offensive unit.
When he was drafted in the 2019 NFL draft, the entire fraternity was impressed to see his athletic skills despite being so shredded at 229 pounds. Visuals of DK chasing down Budda Baker and stiff-arming James Bradberry can still send shivers down anyone's spine. To resemble this attitude and his on-field dominance, the wideout sports a Donkey Kong necklace.
Metcalf ordered the customized chain maker Zo Frost to make the flashy piece for him. They draped Kong with a diamond jacket filled with lots of expensive stones and inscribed the initials DK on its tie. One could also see jersey number 14 in Kong's hand, making it an ecstatic piece of art worth $50,000.
Over the years, Metcalf has evolved as one of the fastest players in the NFL. Even if he wears a defensive player's jersey, the veteran can easily shine with his ability to chase down the opposition. No wonder why he chose Kong over other nicknames like Wolverine, Megatron, or the Mandalorian.
Stefon Diggs once showcased his obsession with Starbucks in a unique way
The Bills receiver would be the first person in NFL history to exhibit his obsession for a beverage supplier by wearing a fancy chain. Since childhood, Stefon Diggs has fancied having a Starbucks coffee. So after making it big in the NFL, to showcase his never-ending love for the coffee chain, he ordered a customized design of the Starbucks' logo from Al the Jeweler.
Loading embed tweet https://twitter.com/MACHE275/status/897949173466583040?ref_src=twsrc%5Etfw
According to TMZ, the chain has 1,000 emeralds and costs somewhere around $15,000. Diggs also wore Starbucks-themed cleats before purchasing this chain and posted pictures of those on social media. As expected, they ended up drawing a lot of attention. Not to mention, Starbucks has also benefited massively by Diggs' shenanigans.
---