"Kayvon Thibodeaux is a Classless Human Being": Pat McAfee Destroys Giants Linebacker For Celebrating Next to a "Severely Injured" Nick Foles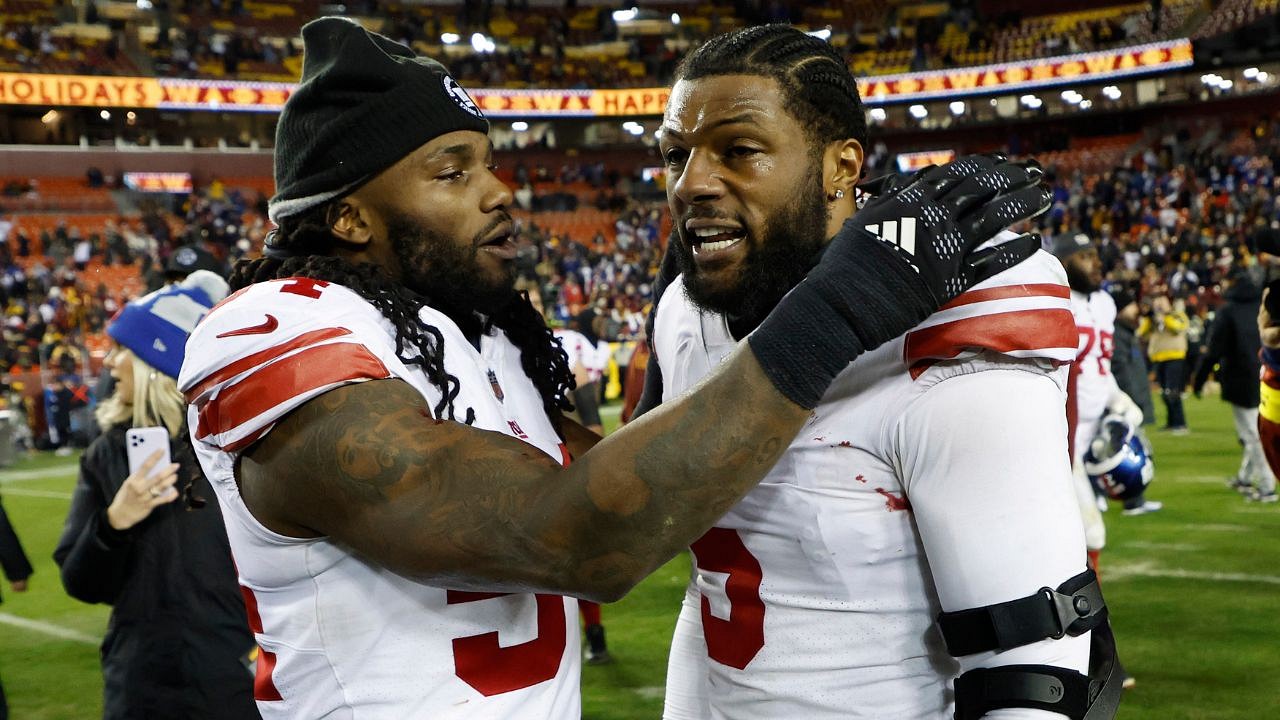 Sunday's game between the Indianapolis Colts and the New York Giants saw the Colts' QB Nick Foles get carted out. A gruesome but legal tackle from Giants' Kayvon Thibodeaux inflicted severe injuries on Foles' ribs, rendering him incapable of continuing. The Colts' community is not happy at all, but not for the tackle. Instead, his celebration was appalling for many, including former Colts' kicker Pat McAfee
On 'The Pat McAfee Show', McAfee talks about how he is upset at Thibodeaux's "snow angel" celebration next to an injured Nick Foles. More importantly, he seems distraught that none of the Colts players even bothered to stop Thibodeaux's obnoxious act. "Thibodeaux is a classless, classless, human being, with what he did next to Nick Foles's dead body," he said.
"Your quarterback gets buried, broken, and the guy's dancing next to him. And you don't f*****g do anything? That's a problem, like there's so many problems to that…" McAfee says about the Colts' offense not responding to Thibodeaux's celebration. He also praises a trainer for doing what others should have done, sticking up for his QB and kicking Thibodeaux's arm, telling him to get moving.
Also Read: "Let's Remember What's Really Important": Aaron Rodgers Gives Insight Into His Reaction About Damar Hamlin's Injury on 'The Pat McAfee Show'
Colts coach Jeff Saturday unimpressed by Thibodeaux; calls celebration "trash"
The Colts community was not at all impressed by Kayvon Thibodeaux's celebration. Colts' interim coach Jeff Saturday said "tasteless from the celebration afterward, just trash. Not a fan of it at all.'' However, the Giants linebacker did not take him seriously either, saying, "I don't know who he is, so I'm not really too concerned about people who comment on me and I don't know 'em.'' 
Fans were not happy with him either, and they made sure their feelings were known. Many took to Twitter to blast Thibodeaux, and more importantly, the Colts' offense for making such a mess of the situation.
He laid next to him doing snow angels for almost 10 seconds, he looked over at him 1/2 way through doing it. Then on the sidelines he did the sleep motion with his hands.

— Jaymeson Z (@JaymesonZ) January 2, 2023
That is a really good point. Never occurred to me. Honestly any Giant player could have done that too, I don't think Kayvon had any idea but someone should have done something before the trainer ran out to Foles.

— Bostromovich (@bostromovich) January 2, 2023
The snow angel was classless, though I doubt he knew what was going on at the time. The sleeping gesture afterwards though? This dude is asking to get blocked like Smith-Schuster did to Burfict.

— Muttdawg509 (@Muttdawg5091) January 2, 2023
They let it happen by not blocking him, so there's that.

— Stupid Games for Stupid Prizes (@games_prizes) January 2, 2023
hey that's not fair to charmin

— Sashenka (@SashenkaKun) January 2, 2023
While Foles' injury certainly did have an impact on the game, the Colts were already playing catch-up by halftime. Down 24-3 and their star QB, the Colts really had no way out of this mess. Having been out of the playoff race for a while, the Colts have nothing more but pride to fight for in the last week of the regular season.
The Giants, on the other hand, really benefitted from the 38-10 win over the Colts, as it secured them a spot in the playoff rounds. With this win, the Giants become the third team from the NFC East to qualify for the playoffs, along with the Philadelphia Eagles and the Dallas Cowboys.
Although they have a secure berth for the postseason, they will not want to slack for their next game against the Eagles. The Eagles soundly beat the Giants early last month. So the Giants will be looking to exact revenge, just like the Cowboys did. A win here will be a massive morale boost for the Giants, and a much-needed inspiration heading into the playoffs. Will the Giants follow in the footsteps of the Cowboys?
Also Read: What Will Happen to Bills vs Bengals Game After Damar Hamlin's Injury? Pat McAfee Explains
---
Share this article