"TJ Hockenson Named Tight End University Heavyweight Champ, Comes With A Kicka** Belt": Lions TE Shines At George Kittle's Tight End University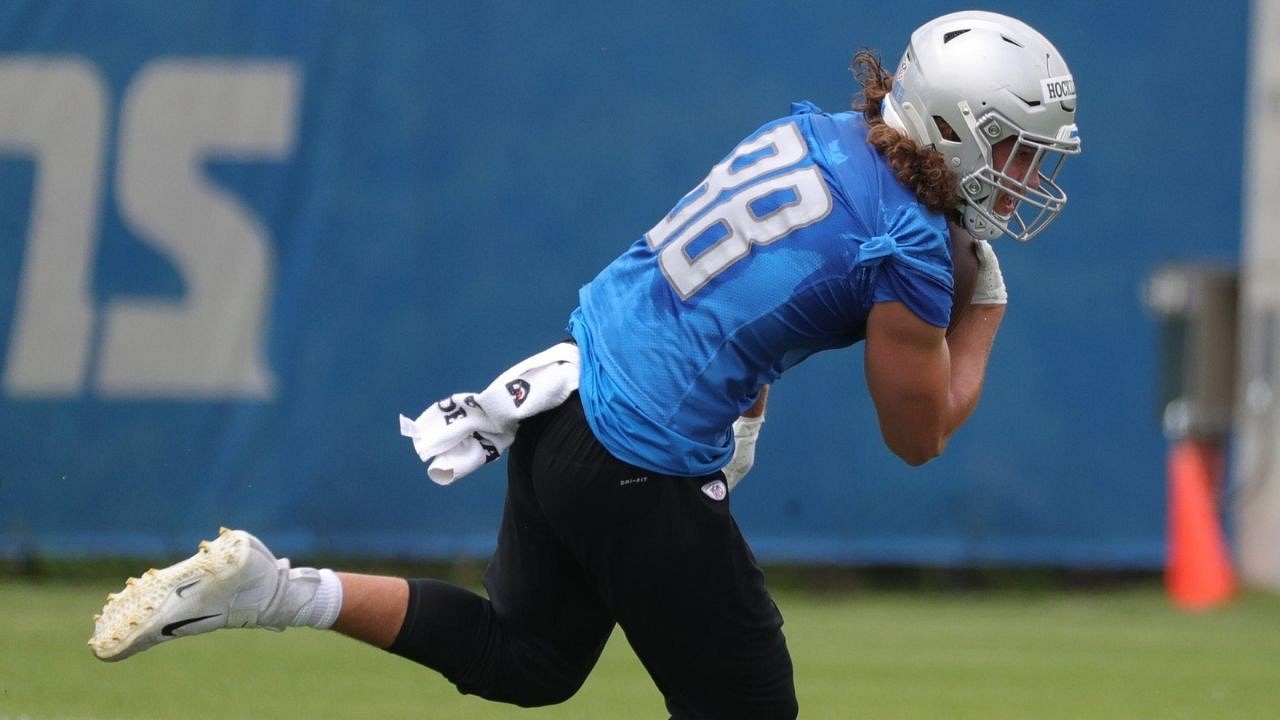 TJ Hockenson and several other tight ends took part in Tight End University this week, and Hockenson walked away with the heavyweight champ.
George Kittle founded Tight End University to help position players from across the country learn from some of the game's greatest. Hockenson is an emerging star at the tight end position in the NFL, making the Pro Bowl in his second year last season.
Players across the league like Robert Tonyan, Darren Waller, Atlanta's fourth overall pick Kyle Pitts, Noah Fant all participated in the camp. Hockenson's strong showing in the 2020-21 NFL season carried over to Tight End University. He walked away as the 'Heavyweight Champ' carrying a pretty cool looking belt:
.@TheeHOCK8 was apparently named Tight End University's Heavyweight Champion.

I don't know what that means, but it comes with a kickass belt. https://t.co/Xwf5pv59s8 pic.twitter.com/Jvfbuz3dWd

— Pride of Detroit (@PrideOfDetroit) June 28, 2021
Also Read: "We had a player a gay player in our locker room none of that stuff mattered": Bills HOF'er Bruce Smith reveals that the 90's Buffalo Bills had gay players.
TJ Hockenson Named Heavyweight Champion As George Kittle Looks To Raise The Respect For Tight Ends In The League
Hockenson was pretty pumped about winning the heavyweight champ at TEU. He took to Instagram to celebrate his achievement:
 

View this post on Instagram

 
George Kittle must be thrilled to see young players like Hockenson reacting in such a way. Kittle's entire purpose of creating this university was to help younger athletes to learn from some of the game's best. He wanted to create a space where tight ends from across the league could come together and share their secrets and tricks.
#Raiders TE Darren Waller and other TEs @te_university coming right into your screen. pic.twitter.com/yLLzVNRt7g

— TURRON DAVENPORT (@TDavenport_NFL) June 25, 2021
Even retired pro Greg Olsen was on the scene, helping players build their technique.
Greg Olsen offering up some tips on releases working w/ @delaniewalker82 at @te_university pic.twitter.com/zNnjdajlh3

— TURRON DAVENPORT (@TDavenport_NFL) June 25, 2021
For Kittle and all the other tight ends, the learning process is the biggest factor when it comes to this university.
"We're sharing our strategy, our mindset with guys. How do you flip the switch? All it's doing is giving the opportunity for the tight end position to take a step forward."
Also Read: NFL Trade Rumors: Top 3 Trade Destinations for Miami Dolphins star CB Xavien Howard.
---