"Tom Brady Is Haunted By His Association With Donald Trump": Skip Bayless Reveals Why Joe Biden And Bucs QB Were Cracking Jokes At White House Visit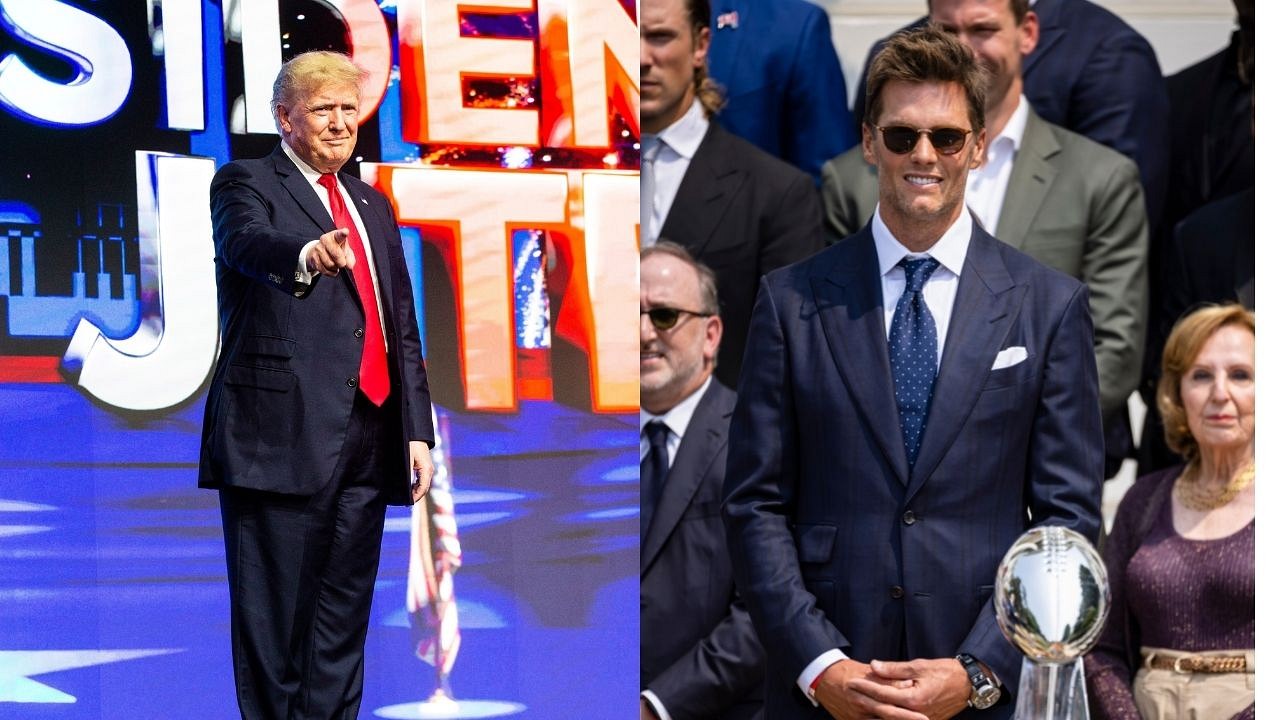 Tom Brady and the Buccaneers visited the White House, where Brady cracked jokes with Biden at the expense of his old buddy Donald Trump.
Tom Brady and Trump used to be great pals with their friendship dating all the way back to 2002. The two golfed together numerous times and Brady had Trump's red hat with the 'Make American Great' slogan in his locker in 2016.
Brady first met Trump in 2002 after winning his first ever Super Bowl. Since then Trump has asked Brady to judge a Miss USA competition. However, with the political sphere shifting away from Trump in the previous elections and athletes siding with Biden, Brady seems to have shifted his stance.
Brady refused to visit the White House with the Patriots in 2017, and he has expressed how Trump's political atmosphere made him uncomfortable. Brady would say:
"But the whole political aspect came, and I think I got brought into a lot of those things because it was so polarizing around the election time. It was uncomfortable for me. You can't undo things — not that I would undo a friendship — but the political support is totally different than the support of a friend."
Tom Brady joking around with Biden at the White House visit this year may have been the final nail in the coffin for Brady and Trump's friendship.
Also Read: Kansas City Chiefs Training Camp 2021: Start Date, Location, Roster Battles, and Fan Policy
Skip Bayless Believes Tom Brady Joked With Joe Biden To 'Burn Bridges' With Donald Trump
As a mark of Brady's discomfort with Trump and his political ideologies, Brady took a very decisive step in showing where he stands now.
The Tampa Bay Buccaneers visited the White House this year last Tuesday, and Brady had no objections with the trip.
More than that, he also took some supposed shots at Donald Trump:
Tom Brady: "Not a lot of people think that we could've won. In fact, I think about 40% of the people still don't think we won."

Biden: "I understand that."

Brady: "You understand that, Mr. President?"

Biden: "I understand that." pic.twitter.com/TSukhp5CIU

— Andrew Solender (@AndrewSolender) July 20, 2021
BRADY: "We had a game in Chicago where I forgot what down it was. I lost track of one down in 21 years of playing and they started calling me Sleepy Tom. Why would they do that to me?" pic.twitter.com/u4cIVDjEzg

— Jordan Fabian (@Jordanfabian) July 20, 2021
According to Skip Bayless, this is all in effort to finally break away from Brady's association with Trump. Bayless said on his show 'Undisputed':
"I believe Tom Brady has been irritated to the point of being troubled, even haunted by the fact that he was associated with Donald Trump once he won office. So I believe he took this opportunity in the Biden White House, to take a shot that I think will burn whatever bridge was left with Donald Trump."
You can check out the segment here:
Also Read: "One game that hurt me the most is watching Kansas City": Odell Beckham Jr. recaps the worst moment of being injured last season
---