The Last of Us PC: Find out if Your PC Can Run the Game Smoothly!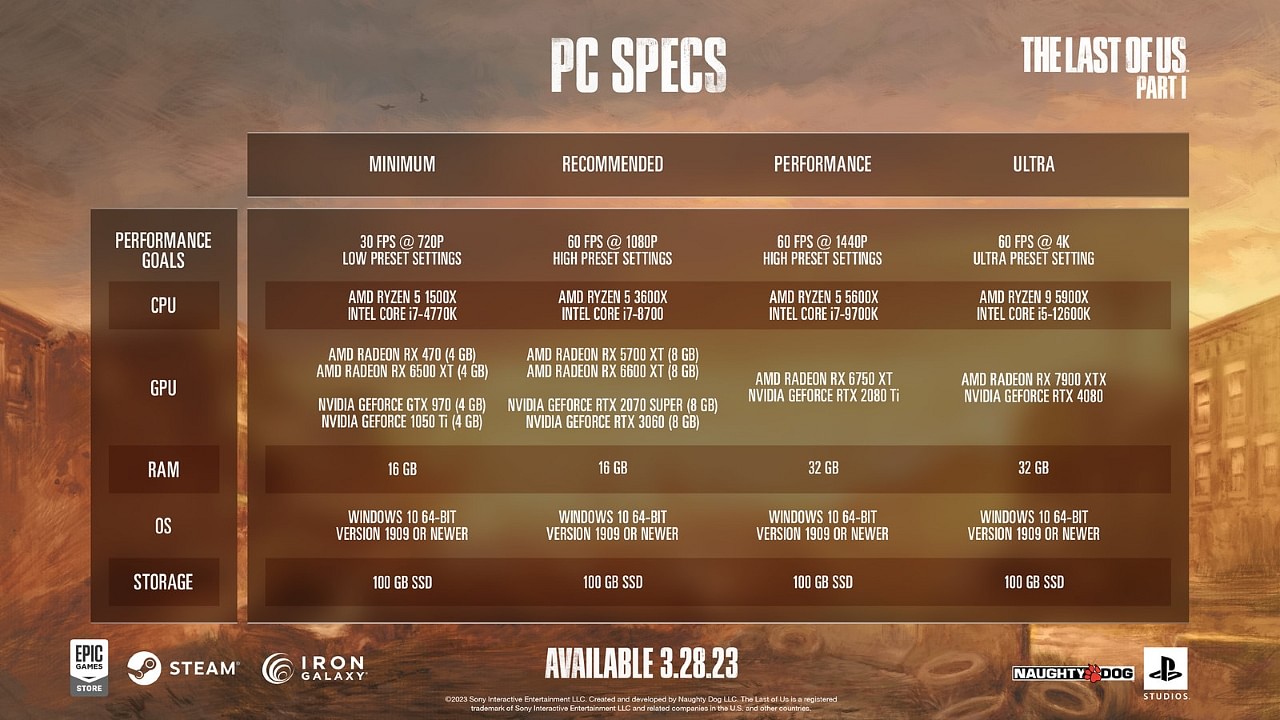 After the critically acclaimed success of the HBO TV Series, The Last of Us franchise is ready to dig its roots into PC. The release of the game was announced sometime last year and it will release on March 28th. However, the PC features some unique characteristics that the consoles were missing. Let us take a look at what PlayStation had to say about it!
Also Read: Is The Finals Coming to Console? Find out Everything You Need to Know
PlayStation Reveals Specs to Run The Last of Us on PC: Details Below!
Naughty Dog welcomes more players to Joel and Ellie's journey when The Last of Us Part I hits PC March 28.

PC features and specs detailed here: https://t.co/vvmD0nyixA pic.twitter.com/rVZxE3lUy2

— PlayStation (@PlayStation) March 9, 2023
On their blog, PlayStation wrote, "Whatever your previous experience with The Last of Us Part I, its PC release brings with it plenty of PC features to bring Joel and Ellie's tense and unforgettable journey to life. This version of The Last of Us Part I is optimized for PC with PC-centric quality-of-life enhancements."
The Blog then goes on to list a number of features and improvements upon the PS5 release. Firstly, TLOU part 1 on PC will have AMD FSR 2.2 support, Nvidia DLSS Super Resolution support, VSync, and frame rate cap options. This will make the gameplay feel smoother, the frames run better and the graphics more life-like.
In addition, PlayStation has also added a whole host of features exclusive to PC. Those include adjustable Texture Quality, Shadows, Reflections, Ambient Occlusion, and more. There is also Ultra Wide Monitor Support or 21:9 Ultrawide and 32:9 Super Ultrawide aspect ratios. There is DualSense controller support, 3D Audio support, haptic feedback, and dynamic triggers.
The developers have also listened to the community feedback from the PS5 version and have continued to integrate bug fixes and solve other problems from the previous versions. The game will also have the Left Behind DLC giving an insight into Ellie's past and different game modes like Speedrun Mode, Permadeath mode, and Photo Mode.
You can check out the recommended, minimum, and performance settings to play the game in the image above. It shows the hardware you need to run the game. You can also check out PlayStation's Twitter page for more updates on the PC version. The Last of Us on PC releases on March 28th worldwide on the Epic Games Store and Steam!
Also Read: Camel Mob in Minecraft 1.20: Everything You Need to Know about the Mob!
---
Share this article