"Admit Your Mistake": Warlord Ramzan Kadyrov Wants Dana White to 'Apologize' for 'Politics' in Sports After Controversial UFC 282 Split Draw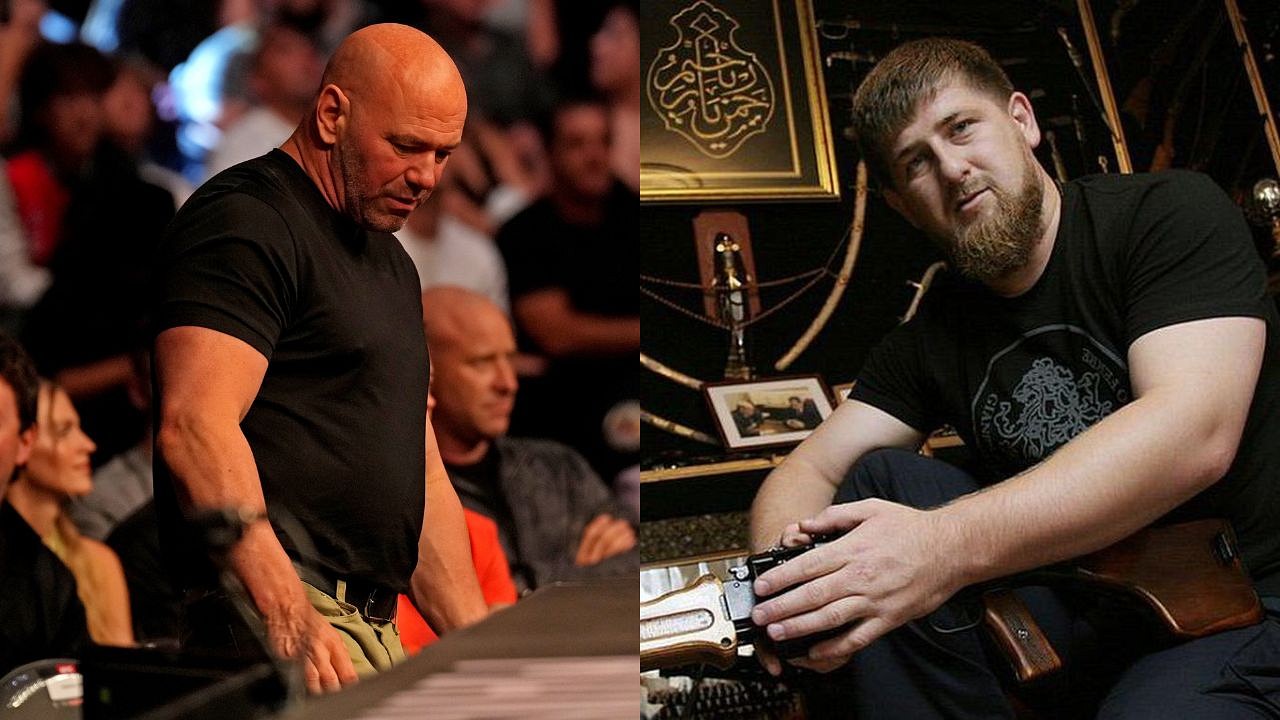 UFC 282 is done and dusted and unlike the general norm, the pay-per-view has left a sour taste in the mouths of martial arts supporters worldwide. The final PPV of an extravagant year was overshadowed by absurd decisions from the ringside judges. 
The pay-per-view kicked off as a fantastic night of fights with multiple knockouts in the prelims. Followed by which the main card consisted of some sublime performances by Ilia Topuria, Santiago Ponzinibbio, and Dricus du Plessis.
The co-main event was riled with controversy as Paddy Pimblett was awarded a unanimous decision victory. Needless to say, the fans of the sport didn't agree with the laurels being handed to Pimblett.
In spite of the scenario, the main event left the fans at the T Mobile arena speechless, as the main event fight was declared a split decision draw. Thereby leaving the vacant, undisputed light heavyweight championship still vacant.
The spotlight was concealed by the single most consistent issue that persists within MMA. Poor judging. 
Chechen dictator and contentious political figure Ramdmzan Kadyrov has issued his first statement on the controversial split decision draw that left fans flabbergasted.
Considering a fighter from his clan, Magomed Ankalaev was the one that had to face the ramifications of the decision being left empty-handed once again, Kadyrov didn't take too kindly to the decision. 
Also read: "Watching You": UFC Superstar Conor McGregor Has His Eyes Set on This UFC Debutant
Ramzan Kadyrov hits out at Dana White over dirty Politics!
The main event of UFC282 which was contested between Jan Blachowicz and Magomed Ankalaev ended in controversy and was left without a victor. Ankalaev and Blachowicz fought out a split decision draw. Meaning that the light heavyweight division is still left without a king. 
Speaking about the main event debacle, renowned Chechen director Ramzan Kadyrov gave his insight via an infuriating telegram message aimed at Dana White and the UFC. 
Chechen dictator Ramzan Kadyrov called out UFC President Dana White following the split draw in the UFC 282 main event.

The result saw Kadyrov's fighter (Ankalaev) denied a UFC title, which the dictator ironically blamed on "politics" before demanding UFC change the result pic.twitter.com/zN3LMvXgI7

— Karim Zidan (@ZidanSports) December 11, 2022
For someone who usually adheres to his native language of Russian, Kadyrov in an English language post stated–
"Dana White, what happened to you? You were a normal, principled man, and today you took the championship belt out of the ring without handing it to the clear winner. Or has politics entered the UFC ring and requires you to referee dirty? It's a sport, Dana. Be honest."
Ironic that Kadyrov has opted to pin the blame on dirty politics, considering he has made a name for himself off the very same reputation. 
Kadyrov continued-
"Hey, Dana White, were are you going? Save the face of the league, your own face. Admit your mistake, give the belt to the real winner, and apologize for this show. Save your league's reputation."
While White has no say in who the decisions are awarded to. It was a blatant mistake to grade that fight a draw. Ankalaev was deserving of the moment to be crowned as the new LHW champion. Nonetheless, as things stand, that won't be occurring.
Also read: VIDEO: Rare Joe Rogan in Cage Reaction to Paddy Pimblett's Controversial Win at UFC 282
Ramzan Kadyrov and his long-standing reputation. 
The Russian dictator has amassed a terrible reputation for a multitude of disputable actions centered around his authority. He has been accused of assassinations, torture, and causing harm to the LGBTQ community amongst other various crimes. 
Yet, there are a number of fighters who continue to align themselves with him including established UFC fighters Khamzat Chimaev and Magomed Ankalaev. 
After all, his reputation must precede him if he has to possess such strong patronage. 
Also read: Top AEW Superstar, Who Previously Beefed With Paddy Pimblett, Calls His UFC 282 Victory a 'Joke'
---
Share this article