3′ 4″Ft Hasbulla Aka 'Mini Khabib' Calls Out 6′5″ Giant Dwayne Johnson for a Lifting Session: " I'll Put You Through"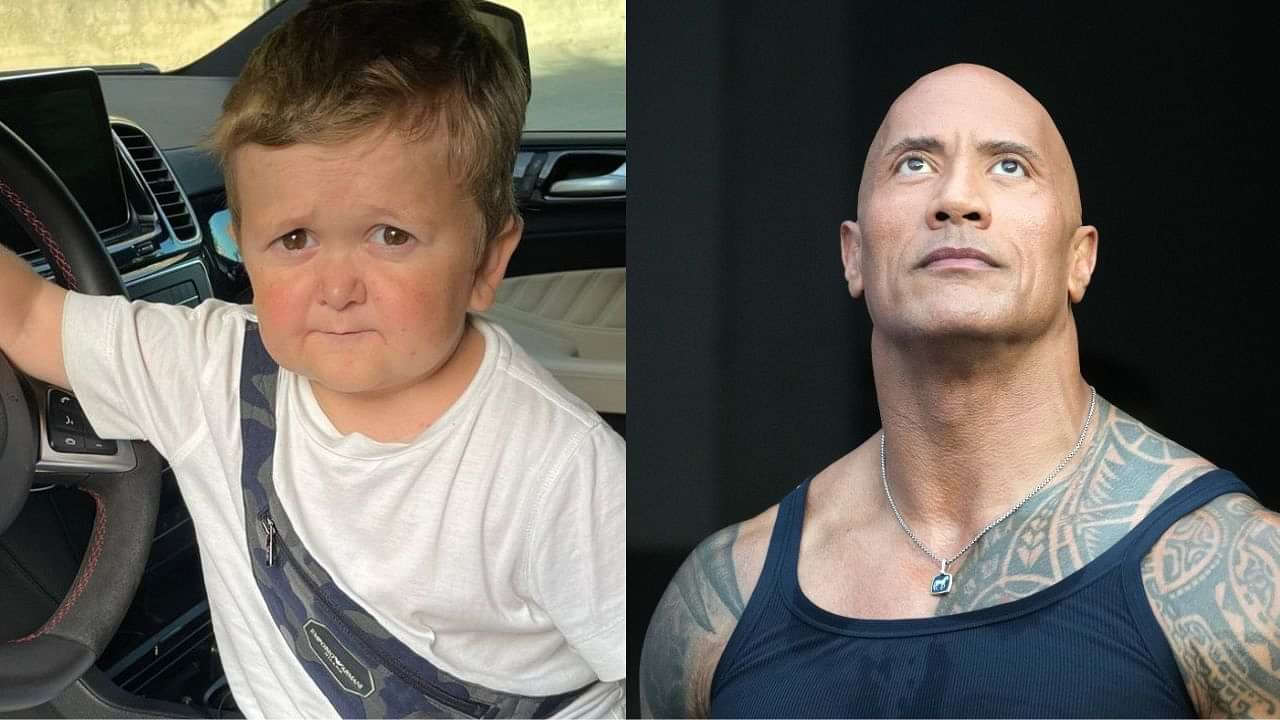 Hasbulla Magomedov is a well-known name in the world of combat sports. He was known for creating popular call-out videos for top UFC fighters. Magomedov so precisely imitated Khabib Nurmagomedov, the former UFC lightweight champion, that he earned the moniker 'Mini Khabib.' He was also known for his relationships with Team Khabib. However, Hasbulla's popularity increased when UFC president Dana White gave him a public relations deal last year.
He is, however, recently gaining notoriety for his antics in real-life and on social media. On Twitter, the 20-year-old responded to Dwayne Johnson's recent video in his own unique style.
What did Hasbulla say to Dwayne Johnson?
The WWE and Hollywood star recently posted a video to promote a drink while he was in the middle of his workout session. Among several fans, Hasbulla Magomedov also commented on the post. He, in a way, called out the Hollywood superstar for a workout session.
Hasbulla wrote: "Let me know when you wanna lift, I'll put you through one on the house."
Loading embed tweet https://twitter.com/Hasbulla_NFT/status/1660958470147850243?ref_src=twsrc%5Etfw
It is worth noting that Hasbulla suffers from a growth hormone deficiency. Therefore, he appears smaller that people of his age. He stands only 3'4″ tall. However, this didn't stop him from inviting the 6'4″ tall WWE legend for a workout session.
But, Hasbulla's tweet wasn't a surprise for many. As the Russian celebrity is known for his Twitter notoriety. He previously also joked about his arrest due to irresponsible driving.
'Mini Khabib' joked about his arrest
According to sources, the 20-year-old was detained with his buddies in Dagestan a few weeks ago for reckless driving. The group was also reportedly disrupting other automobiles while celebrating a friend's wedding.
Loading embed tweet https://twitter.com/HasbullaHive/status/1657118485452058624?ref_src=twsrc%5Etfw
However, 'Mini Khabib' rushed to Twitter to announce that he had been freed and placed under house arrest by the police. Memes swarmed the internet in response to the development. Hasbulla also weighed in with a joke about the arrest.
He even began selling merchandise with his mugshot on it. As a result, it's reasonable that the arrest didn't bother the 20-year-old Russian sensation.
What are your thoughts on Hasbulla's antics? What do you guys think about his tweet for Dwayne Johnson?
---