"It was just a retired guy trying to sound gangster" – Roman Reigns comments on the Undertaker calling modern WWE stars 'soft'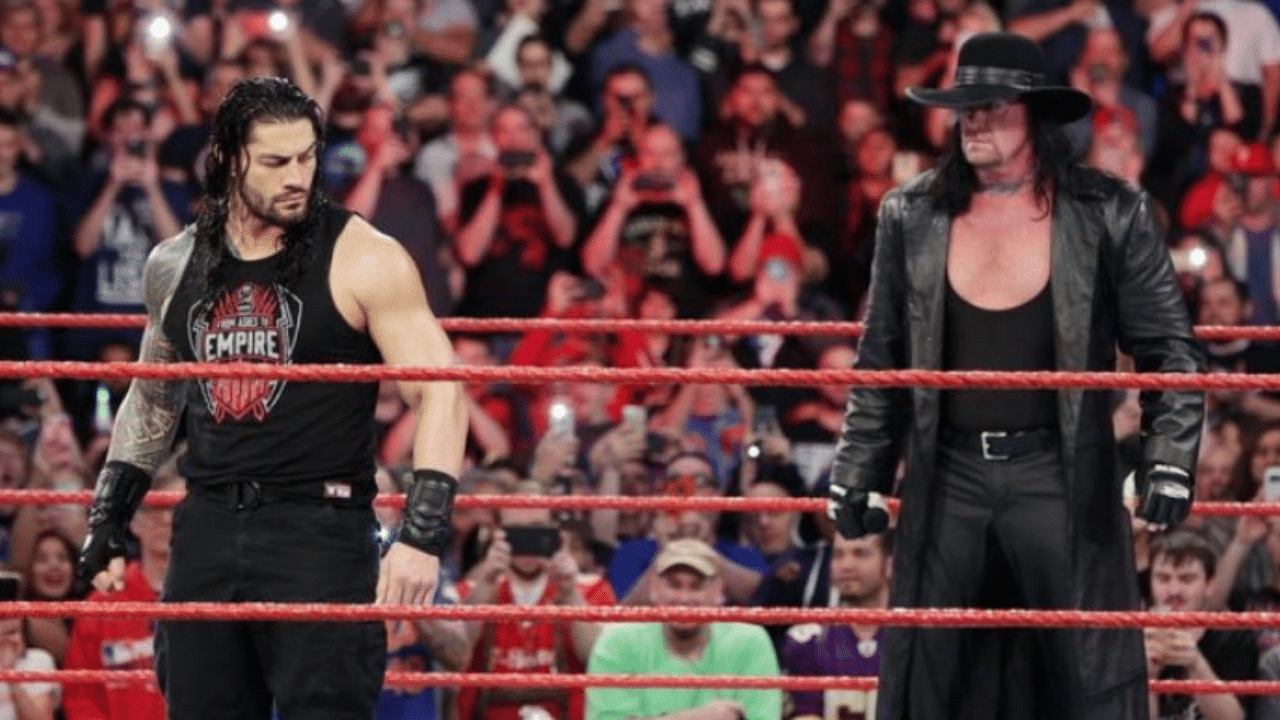 Roman Reigns comments on the Undertaker calling modern WWE stars 'soft'. The Deadman has created a controversy with his comment.
The Undertaker recently appeared on the Joe Rogan Experience Podcast where he made some controversial comments regarding today's locker rooms and the ones he had when he was starting out.
"I think the product is a little soft. There are obviously guys here and there that have an edge to them, but there's too much pretty [and] not enough substance I think right now," The Undertaker said. "In that era of guys, too, those were men. You go into a dressing room nowadays, and it's a lot different. I remember walking into my first real dressing room, and all I saw were some crusty f—— men.
"Half of them had guns and knives in their bags. S— got handled back then. Now you walk in, there's guys playing video games and f—— making sure they look pretty. It's evolution, guess. I don't know what it is, but I just like those eras, man. I liked when men were men."
Also read: Megastar scheduled for a surprise return at WWE Royal Rumble 2021
This has predictably led to quite a discussion in the pro wrestling community. Many have agreed and disagreed with the legend. WWE Universal Champion Roman Reigns has now weighed in with his opinions regarding the comments.
Roman Reigns comments on the Undertaker calling modern WWE stars 'soft
"It's strange. I really feel like he misspoke. Because Mark is a really good guy," Reigns said during a recent interview with the SI Media Podcast. "He's very knowledgeable. Obviously, he has a ton of respect for the business. But he's talking about guns and knives in the locker room.
"Come on. You guys travel just like we did. Did you really get that stuff through security? TSA was just letting everything happen back then?
"Some guys choose to stay in the locker room. And for guys like the New Day who are überly talented, they can get away with that. I hope the younger guys in the locker room don't fall into that because we're not all the same.
"So, yeah, I don't always think there's room for video games in the locker room, but when we're running our regular touring system and it's a live event and there's nowhere to go, you got kicked out of the hotel because you couldn't get the late check out, you already hit the gym, you already picked up your food and you're sitting in the locker room, I'd rather my guys be playing video games than breaking into a bag of some sort.
"It's a different time and I think we're smarter. I think you're gonna see that from the financial side of it, from how we save our money, how we prepare for the future, having a life after the business when we can't fall down anymore to our actual health. I think it was just like a retired guy trying to sound gangster."
Click here for more Wrestling News
---