Is WWE Superstar Roman Reigns Related to Hollywood Actor Jason Momoa?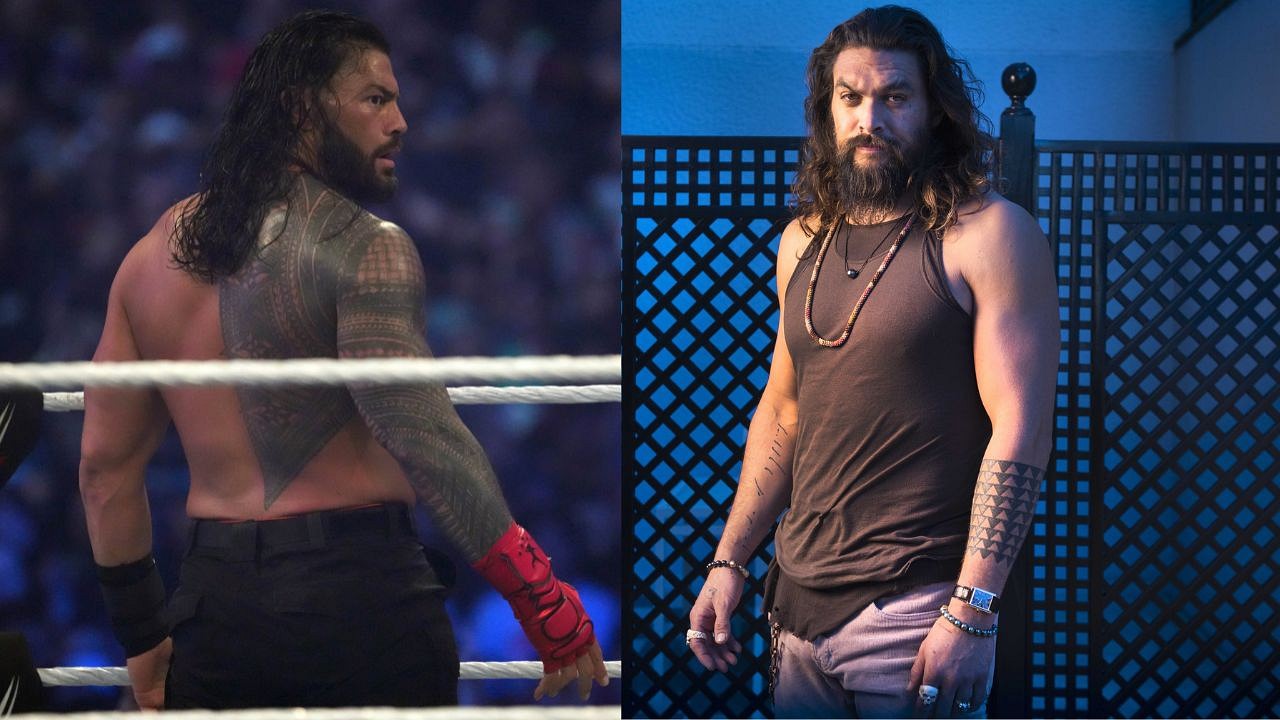 Be it looks, physique, attire, or attitude, The Head of the Table is class in every aspect. The Undisputed WWE Universal Champion is a perfect example of what a top star looks like. However, Roman Reigns often gets compared to Hollywood star Jason Momoa. In fact, some fans believe they are related to each other. Well, are they?
Talking about WWE's current roster, "The Tribal Chief" Roman Reigns is the biggest name on the list. Right now, what he is doing in the ring is something that even John Cena and The Rock could not do.
Reigns' ongoing title reign has not only been dominant, but it has also gone over 870 days. As a matter of fact, he is the longest-reigning champion in WWE history in the last 35 years. But the question here is his relationship with the Hollywood star.
Is "The Tribal Chief" Roman Reigns really related to "Aquaman" Jason Momoa?
Before getting to a conclusion, let's discuss the physical appearances of both icons. While Jason Momoa is 6'4, Roman Reigns is one inch smaller as his height is 6'3′. Both men also have long, dark hair and possess athletic bodies.
Tattoos are also a big part of Roman and Jason's life, and the interesting part is, they look similar. The bicep region of both men is filled with Polynesian-style body art that represents their family and culture. If you look at Roman Reigns' right arm, it is fully covered with tattoos that lead to his back. The Head of the Table also has a turtle with a flower tattoo on his back that represents his daughter, Jojo.
However, the arm tattoo of Jason Momoa is small and is on the left one. His tattoos are comprised of small triangles that represent the shark's teeth, a key aspect of Momoa's culture. Moreover, the chest region of the Aquaman Star also has tattoos that represent his children's signatures.
So, after all these comparisons, is Roman Reigns related to Jason Mamoa? Well, the answer is no. Despite their similarities, both men have no personal connection to each other. In fact, they have never met each other in person.
The Undisputed WWE Universal Champion has also tried his hands in the acting world
Jason Momoa is an established actor and well-known for his role in DCEU's Aquaman and HBO's Game of Thrones. On the other hand, Roman Reigns is yet to be there. Though, he has acted in a couple of movies, one of which was The Rock's Hobbs and Shaw. Moreover, Reigns has also expressed his desire to move to Hollywood in the future.
 

View this post on Instagram

 
Nevertheless, both men look alike, and if they ever come together in one movie, it will be a treat for fans. Who knows, the Hollywood star could appear in WWE someday and share the screen with his twin buddy. As of now, it seems both are happy and doing great in their respective domains.
For More Wrestling News, Click Here. 
---