GTA Online Los Santos Drug Wars Part 2 launching March 16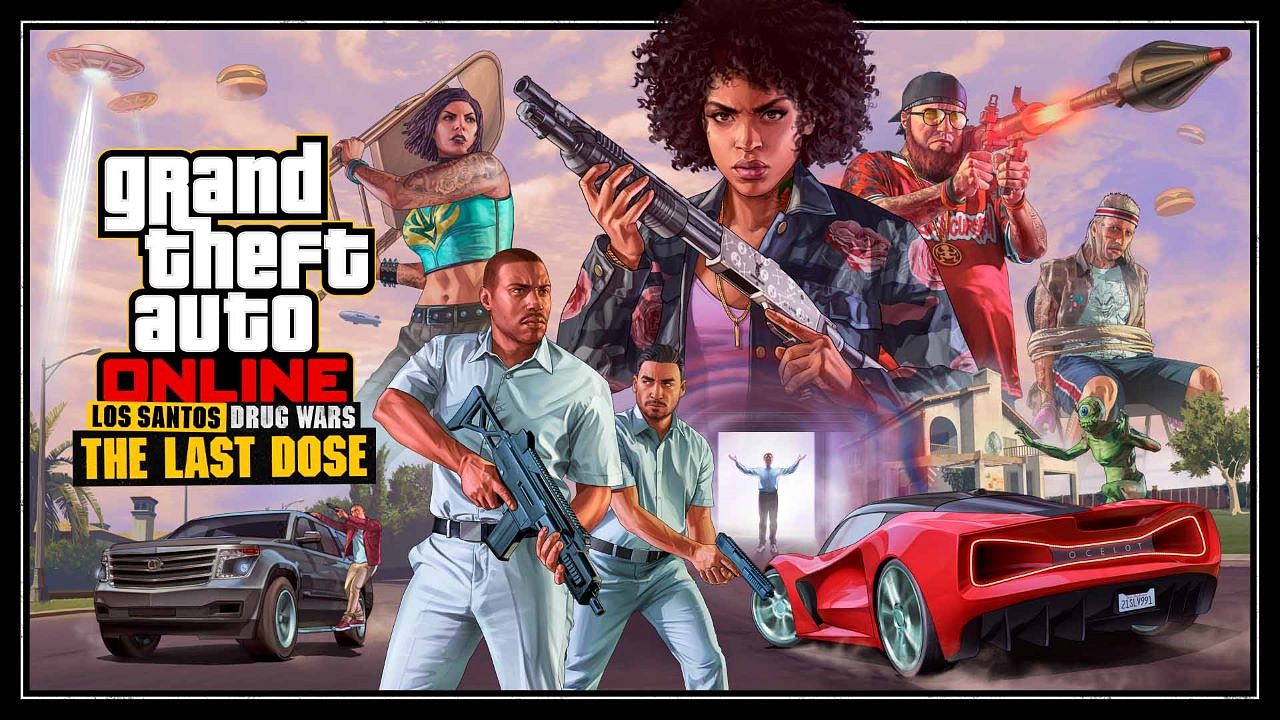 In December 2022, Rockstar Games revealed the Los Santos Drug Wars update for GTA Online. Launched as a multi-part update, the patch was split into two halves, First Dose and Last Dose. After following the Fooliganz and helping them set up in Los Santos, it's time to wrap up the saga coming March 16, 2023. The reveal was made with a trailer and blog post at the Rockstar Newswire.
Also read: GTA Online Weekly Update for March 09, 2023: 3x payout on Tuner Contracts
GTA Online Los Santos Drug Wars Last Dose release date revealed
Los Santos Drug Wars reaches its eye-popping conclusion with an explosion of hallucinations, kidnapping and revenge in The Last Dose.

Coming to GTA Online on PS5, PS4, Xbox Series X|S, Xbox One, and PC on March 16: https://t.co/XC1e8HKZ9z pic.twitter.com/ZLjmhTV2Wj

— Rockstar Games (@RockstarGames) March 9, 2023
Come March 16, players will be able to partake in the Last Dose missions. It has been confirmed that five new story missions will be added as part of the update. Characters like Luchadora will get a lot more air time this time around as Rockstar concludes the Fooliganz' story.
"Reach the bottom of the rabbit hole in five new story missions that reveal the mysterious connection between Los Santos' illicit drug trade and the pharmaceutical industry, as Dr. Isiah Friedlander returns to the fray to wreak havoc in this mind-bending and twisted finale."
– Rockstar Newswire
The first set of DLC re-introduced Ron, who was seen reeling from Trevor's departure. After meeting him at Trevor's old lab, the player joins forces with the Fooliganz to set up their Acid business. What follows is a bunch of missions that give players a new location and business to access. This time Michael's former therapist, Dr. Isiah Friedlander, returns.
The Acid Lab continues to be a profitable source of income from the update and could be boosted once Last Dose launches. Aside from the number of missions, not much is known about the update.
The March 16 content update serves as a great stop-gap for players waiting for the 2023 summer update in June. The update will be launched on PlayStation 5, PlayStation 4, Xbox Series X|S, Xbox One, and PC.
Also read: Redfall will support crossplay on Steam, Xbox, Game Pass, and the Epic Game Store
---
Share this article