"Giannis Antetokounmpo is Clearly the MVP": Staggering Stat Proves How Greek Freak is Better Than His 2 MVP Years This Season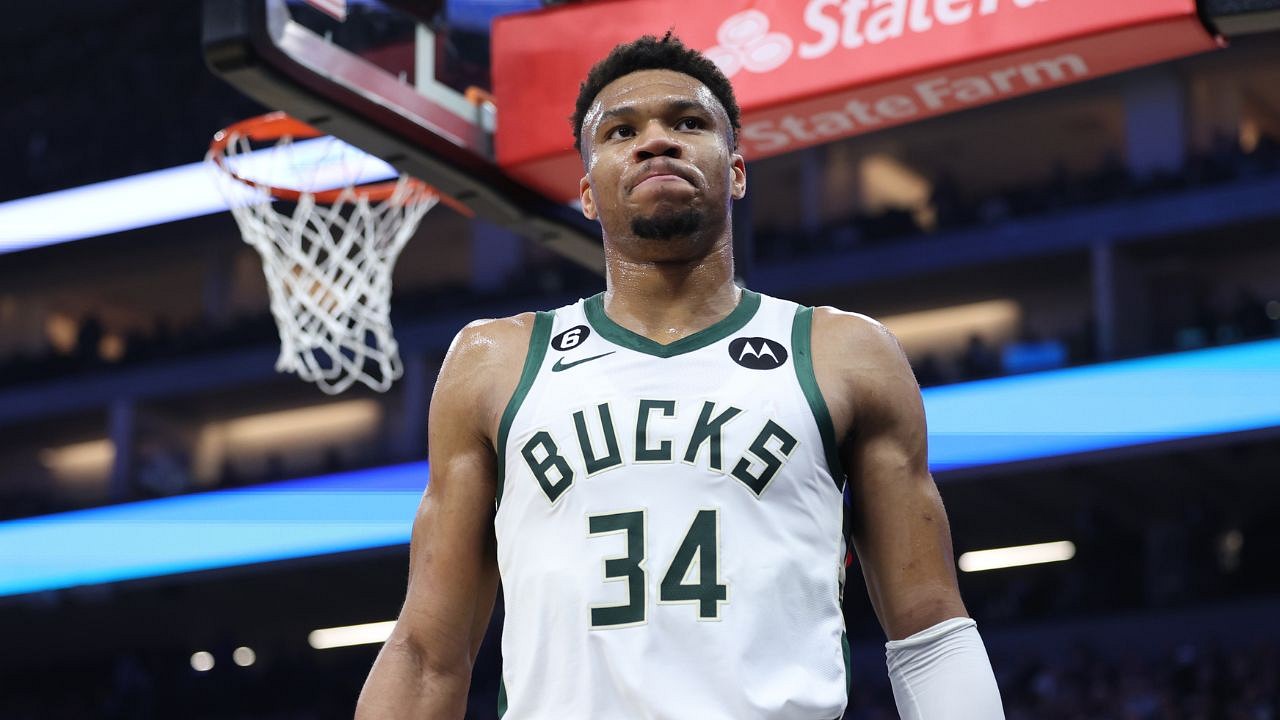 Former two-time MVP Giannis Antetokounmpo has outdone himself during the 2022/2023 campaign to the extent that he has tallied better numbers than both his MVP seasons combined.
Giannis Antetokounmpo is plausibly the best player in the NBA when healthy, despite his modesty. The Greek Freak has ascended through the ranks over the past half a decade before attaining the apex of the sport in 2019.
The year he won his first NBA MVP trophy. While many were of the impression that the feat was accomplished through sheer dumb luck and other circumstances, the Greek Freak enhanced his displays from his MVP season immediately in the next campaign.
Thereby obtaining his second MVP. His performances during these particular couple of years were exemplary. Justifying his laurels.
The next two years saw Antetokounmpo be classified as a runner-up to reigning MVP Nikola Jokic. Nevertheless, his current season has surpassed his displays from his MVP campaigns, which has now taken the NBA aback. 
Also read: "What Happened in 2014?": Chris Paul Slyly Dodges Questions About His 2014 Playoffs After Stephen Curry's Trash Talk
Giannis Antetokounmpo is having himself a career year! 
Antetokounmpo is a consistently prolific scorer for the Bucks. Furthermore, he is also renowned for his rebounding abilities. These two pivotal skills have aligned and enabled him to rack up numerous double-doubles over the past five years.
However, he has outdone his productivity and output over the past half-decade in this season. The 28-year-old has now amassed 11 40-point, and ten rebounds games this season.
For context, in his two MVP campaigns combined, the Greek international tallied eight. Three of these have come in the month of January, with four of these 40-point performances arising in December.
Giannis most 40/10 games:

11 — This season
8 — Both MVP seasons combined pic.twitter.com/A7tbootMnJ

— StatMuse (@statmuse) March 14, 2023
Giannis Antetokounmpo attained a 50-point performance against the Los Angeles Clippers last month when he notched 54 points and 19 rebounds. The Milwaukee Bucks protagonist has been on a tear this year.
Antetokounmpo was elected to play in his seventh NBA All-Star game. Yet, it is a ludicrous stat from his current campaign that has caught the attention of NBA supporters.
Undoubtedly, his current campaign will be etched into the history books, irrespective of whether he wins the NBA MVP award. 
Also read: "Stephen Curry Would've Looked Older if Kevin Durant Played": Skip Bayless Sides With Chris Paul With Childish Argument
Giannis Antetokounmpo's current campaign! 
The Greek Freak is having a career year with regard to points scored. Antetokounmpo is averaging 31.5 points per game. He has additionally led the Bucks to the first seed presently, dethroning the Boston Celtics, who were sitting at first comfortably last month.
The Bucks are currently on par to finish first and face the eighth seed in the Playoffs. Antetokounmpo will face a onerous scenario challenging Nikola Jokic for the MVP award this season.
Since the Denver Nuggets have the best record in the West, off of the Joker's incredible displays this year. Nikola Jokic procured 100 triple-doubles this season and is on pace to gather more. 
Also read: "We Ain't Taking No S*** From Nobody": Giannis Antetokounmpo Irks De'Aaron Fox & Kings' Coach Into Blasting Him in Post-game Conference
---
Share this article