"Kent Bazemore read his Twitter at halftime": Warriors wing sends a strong reply to Bradley Beal's wife Kamiah Adams-Beal by letting his game do the talking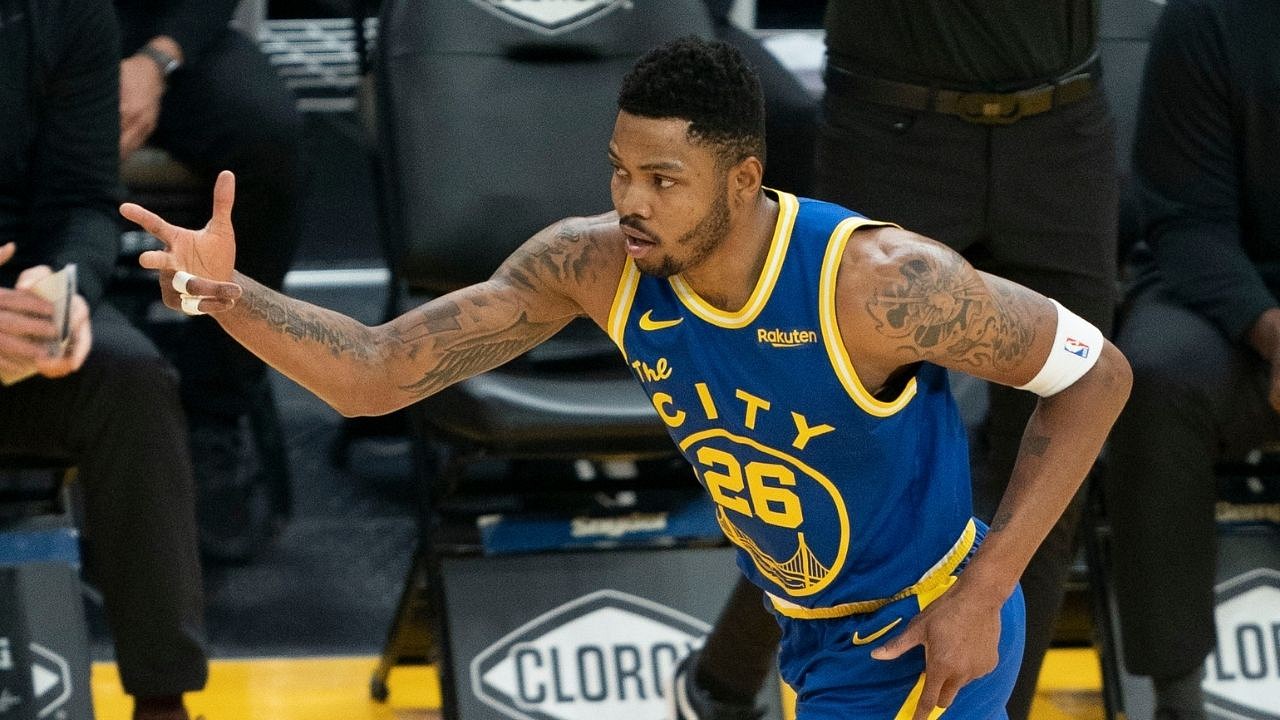 Warriors' guard Kent Bazemore lets his game do the talking, as he records a huge second half in the crucial win over Utah Jazz
The Golden State Warriors recorded a very important win tonight against the Utah Jazz. After tonight's game, the Dubs have three games remaining on their schedule to wrap up the regular season. To wind up the season, they would face the Memphis Grizzlies, the team that's trying to weasel the 8th seed out of the Warriors' hands.
Also Read: "Kyrie Irving is helping underrepresented entrepreneurs": Nets star launches KAI Eleven Consulting to help new businesses flourish
Kent Bazemore has seemed to get on Bradley Beal's nerve with a comment of his. After Stephen Curry recorded 49 points and retook the lead in the scoring title, Bazemore complimented his teammate and said, "We got guys hurting hamstrings to keep up." This comment came off as insensitive, as Beal had injured his hamstring that same night, scoring 50 points in a losing effort against the Indiana Pacers. Bradley Beal replied to the same with a series of tweets.
Kent Bazemore replies to Kamiah Adams-Beal with his performance on the court
After Bradley Beal called Kent Bazemore a clown for his comments, his wife tweeted about Bazemore and his game. She put out the following tweet, commenting about Bazemore's numbers.
I wouldn't hold my breath for a response. But hey, maybe after a long night of 8 points, 1 assist, 1 rebound, 6 turnovers and 6 fouls he will have some time.

— Kamiah Adams-Beal (@KamiahAdams) May 11, 2021
Kamiah Adams-Beal put out this tweet right in the middle of the second quarter of the Warriors-Jazz game. It seems like Kent Bazemore might have read the same during halftime. Bazemore came out scorching in the third quarter and helped the Warriors establish an 18 point advantage over the Jazz at the end of the third. He finished the game with 19 points, 2 assists, 4 rebounds, 1 Turnover, and 1 foul.
Also Read: "Saw LeBron James today, he'll be fine": Anthony Davis reassures Lakers fans of their commitment to defending their NBA championship
However, this wasn't her first comment about the incident. She first put up a tweet calling Bazemore 'irrelevant.'
I'm mad we even giving relevancy to someone most people didn't even know was still in the league.

— Kamiah Adams-Beal (@KamiahAdams) May 10, 2021
It still remains uncertain whether Kent Bazemore would reply to the tweets on Twitter, but he certainly sent a reply via his game tonight.
With his performance tonight, Stephen Curry added to his lead on the race to the scoring title. With Bradley Beal out for another game, Steph can take an unassailable lead, and make the title his own.
---
Share this article