"Patrick Ewing Wasn't Bad, But Joel Embiid…": Doc Rivers Points Out How Unique Sixers' MVP's Shooting Skills Are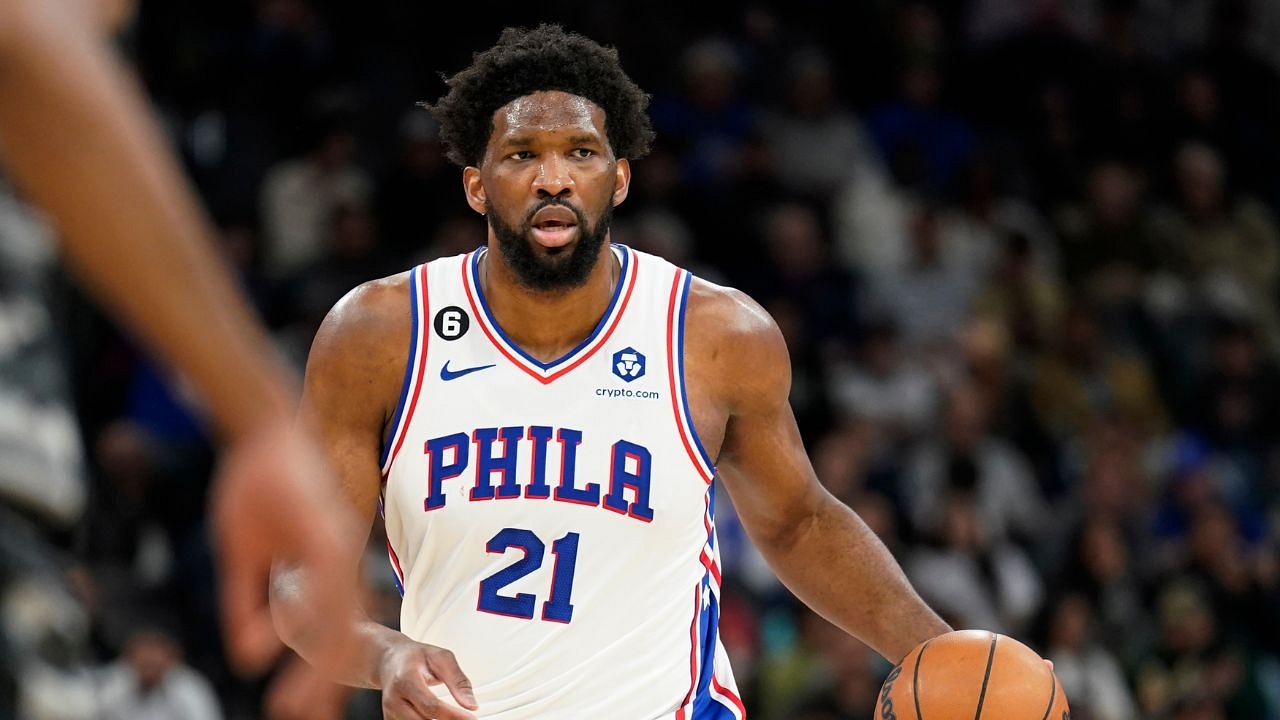 Philadelphia 76ers head coach Doc Rivers has reserved high praise for talisman Joel Embiid in light of the six-time NBA All-Star's remarkable display against the Washington Wizards.
The 76ers centre erupted for 34 points, eight rebounds and four blocks while shooting 12/21 from the field. An efficient display, considering he scored 57.2% from the field.
It enabled Philly to dominate the Wizards, who won the fixture with a comfortable margin of 19 points at 112-93. Embiid's colossal performance led the Sixers past Washington.
The 76ers now sit three games behind the second seed, Boston Celtics. In the wake of his heroics, head coach Doc Rivers could not resist the temptation to laud Embiid.
Rivers insinuated that he had not come across a talent as unique as Embiid, despite being around the league since the 1980s. 
Also read: Having Spent $10,000 on his Wedding Dress, Dennis Rodman was Once Ridiculed by Oscar Winner Brendan Fraser
Doc Rivers is in awe of Joel Embiid and his skillset
Joel Embiid is conceivably the leading big man in the NBA in terms of versatility and skillset. His dominating display against the Wizards reiterated this.
However, having possessed this knowledge, head coach Doc Rivers was still in awe of what he had witnessed. Following the game's conclusion, Rivers was asked whether he had seen a player in his time in the league who possessed Embiid's size yet could move and shoot like him.
The 61-year-old thought about it and concluded that he had not. Rivers said: 
"I did play with Patrick Ewing, he wasn't bad," Doc Rivers said, adding Kevin Garnett as another big guy who could shoot well. "But this guy — from the three, from the mid-range, to the post and really to taking people off the dribble with his size, I've never seen anything like that."
Needless to say, Rivers himself floundered and wasn't able to draw parallels. The former MVP frontrunner is unlike anything the league has come across since its inception in his position.
In spite of his dexterity with basketball, it wouldn't be an over-exaggeration to state that the 28-year-old is rather underrated. Hopefully, in due time, the former scoring champion will be owed his credit once he ascertains himself in the postseason. 
Also read: "Impossible To Catch A Rhythm": Michael Porter Jr. Criticizes Mike Malone For Lack of Playing Time in Loss vs Nets
Joel Embiid's adroitness in the game of basketball
Embiid is often overlooked for his offensive as well as defensive prowess. For a 7'0 player to possess the skill to be shifty, agile, mobile and elusive in his offensive approach is practically unheard of.
Not to mention, the diverse weapons he holds in his arsenal make him a threat to every player at every point on the floor. Embiid is perhaps the most skilled offensive centre in NBA history, taking into consideration his ability to score the ball from all three levels of the floor.
Although, the fact that licenses his offensive proficiency is his incredible footwork. The ability to deceit and bait defenders has paved the way for the Cameroonian's offence.
The past couple of years of Embiids displays is a testament to the fact that it's not a matter of if, but rather when he inevitably clinches the necessary accolades in the NBA. 
Also read: "Mavericks Should be Excited With D'Angelo Russell's Form": NBA Reddit Speculates Kyrie Irving's Future as Lakers Guard Catches Fire
---
Share this article