"Stephen Curry, f**k these guys, you got to go": David West reveals what advice he gave to the Warriors star during the 2017-18 NBA season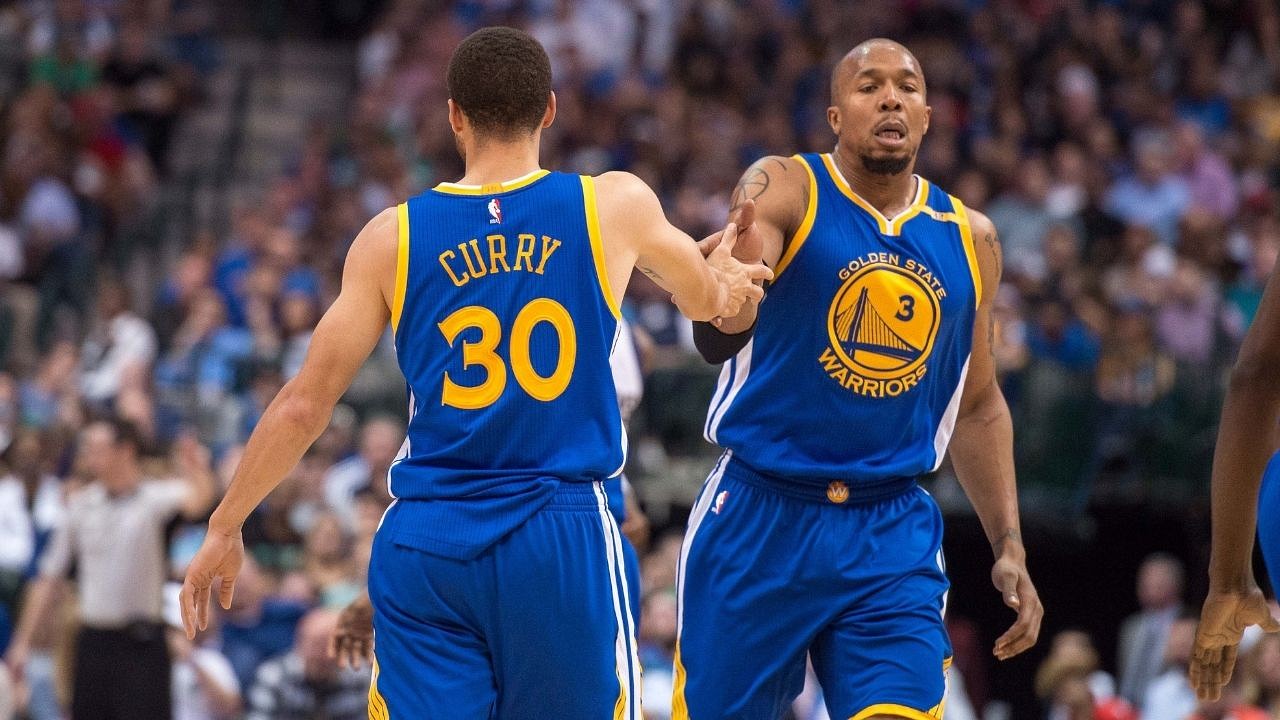 Former Warriors forward and 2-time champion David West reveals what he once told Stephen Curry during their 2017-18 season.
Back in 2016, the Warriors blew a 3-1 lead in the NBA Finals of a season they had been 73-9 in. However, as soon as the game ended, the Warriors had their next move planned. They signed Kevin Durant on a 2-year deal, a decision that changed the entire dynamic of the league.
Steph is known around the league as one of the most unselfish players, and the Warriors run with KD proved the same. Curry gave up personal accolades to complement KD and Klay, and that turned out very well for him. The Warriors won 3 rings in 5 years and were the best team of the 2010s.
Also Read: "LaMelo Ball is slyly hitting on Instagram models": Hornets rookie seems to have perfected how to catch the attention of social media influencers
In their first campaign together, the 2016-17 Warriors registered a 67-15 record in the regular season. They went 12-0 in the playoffs to secure the Western Conference Champions title. In the Finals, they beat the Cavs 4-1 to win their first title together, and the second title in three years.
David West talks about how Stephen Curry made sacrifices in the 2017-18 campaign
Ever since KD's decision to join the Warriors was made public, the biggest question was how would all the stars play together. However, there was never an issue, thanks to Stephen Curry, and how he made sacrifices for the team.
David West was recently on The Ringer podcast. He talked about how things were not as smooth as they appeared in the 2017-18 campaign. There were nights when he felt as if Steph was giving up too much to please the other guys playing with him.
"There were nights where I told Steph that first year, like, 'F–k these guys, you got to go. Steph was trying too hard to, like, make everybody comfortable. He knows Klay wants to score, shoot the ball, that's who Klay Thompson is. He knows that [Draymond Green] likes to have the ball in his hands so Dray can make plays. KD needs his time."
"So Steph was the one making the most sacrifices and I'm like, 'Yo, the f–k you doing? You gotta do what you know, man.' I would say that to him some nights and he'd look at me [funny]. Because I don't think anybody would tell him, like, 'Yo, you trippin'. You can't pass that one, dog.' "
The full feature of the interview can be viewed here:
What was so weird about the 2017-18 Warriors? @loganmmurdock and @Bell19Raja ask @D_West30 about it on #RealOnes.

➡️: https://t.co/fONKP88FeV pic.twitter.com/ahbng98X4J

— The Ringer (@ringer) February 26, 2021
Also Read: Michael Jordan made Jerry Stackhouse pay for an imagined slight as a rookie: "Nobody in the NBA can stop me one-on-one"
---