NFL Analyst Robert Griffin III Drops Racial Slur On Live TV & Fans Want Him Fired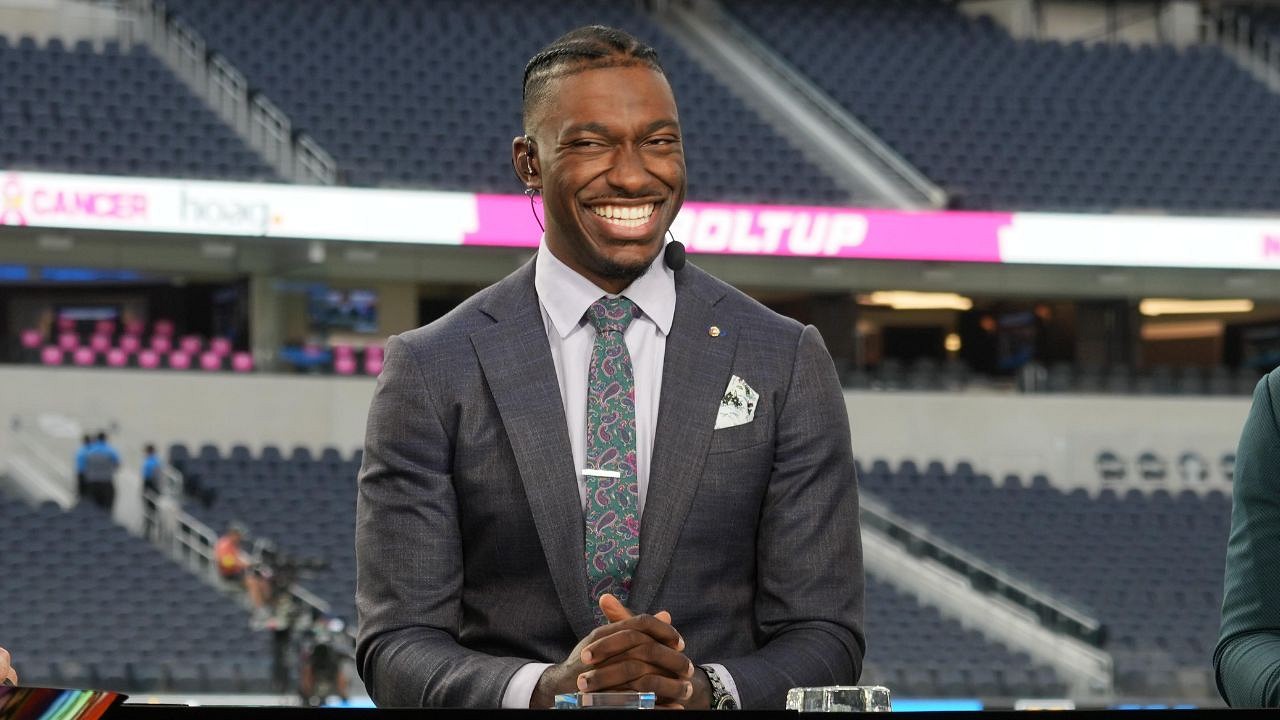 Right now, Robert Griffin III is trending for all the wrong reasons. RGIII used a derogatory term toward black people while discussing how Philadelphia Eagles quarterback Jalen Hurts is proving the doubters wrong while providing analysis on ESPN's Monday Night Countdown.
RGIII pushing the boundaries of analysis you can get on TV pic.twitter.com/2JsxHG0p8B

— CJ Fogler AKA Perc70 #BlackLivesMatter (@cjzero) December 13, 2022
"People claimed Jalen Hurts couldn't accomplish it. He was unable to escape the pocket. He isn't the quarterback of tomorrow. I believe he disproved every jiggaboo," he said.
Yooooo, Definitely need to clarify this. THIS IS NOT WHAT I MEANT TO SAY. Was trying to say "those Bug-A-Boos" in reference to haters and doubters. Regardless of my intention, I understand the historical context of the term that came out of my mouth and I apologize. https://t.co/Dy4vVuigin pic.twitter.com/DL0lqcz0jK

— Robert Griffin III (@RGIII) December 13, 2022
Issuing a clarification on this, he stated "Hey, I think this needs to be clarified. I DID NOT MEANT TO SAY THIS. Was attempting to refer to detractors and skeptics as those Bug-A-Boos. Regardless of what I meant to say, I am sorry and I am aware of the term's historical significance."
Also Read: Tom Brady's Ex-Wife Gisele Bundchen & Neymar Jr. Once Appeared On a Magazine Cover & Ignited a Massive Rivalry
Robert Griffin's Racist Slur Creates Social Media Storm
Griffin has landed in trouble as a result of this racist slur as people are now upset about it on social media. Twitter was ablaze with discussion about this former Redskins player. Griffin has been involved in a number of controversies in the past, but this particular one is going crazy viral online.
Those WHAT?!? https://t.co/nZJoWqy9HS

— Bibs (@BibsCorner) December 13, 2022
It has been observed that athletes, performers, and artists from all over the world are united in their opposition to racism and the injustices that black people experience.
I just heard Robert Griffin say "He prove those jigga boos wrong" what is is you on?!🤨

— Spark Go Hamma (@SPARKK22) December 12, 2022
Griffin has received advice to be a little more sensitive to this issue, and as a black man himself, he ought to have been more careful with his word choice.
Well……RG3 just got himself fired! @packers_access @BordersPackers @Pack_Daddy pic.twitter.com/Ka0itPydxq

— Adam Bricco (@4bricco) December 12, 2022
For eight seasons, Robert Griffin was a player in the National Football League and was chosen by the Washington Redskins in the second round of the 2012 NFL Draft. Griffin agreed to a multi-year deal with ESPN in August 2021 to serve as an analyst for NFL Live and ESPN College Football.
Also Read: Shaquille O'Neal Supports Jerry Jones' $8 Billion Cowboys & Urges Team To Replace Mike McCarthy With Deion Sanders 
---
Share this article