"You Belong to the Streets": Russell Wilson's Wife Ciara Wilson Shamed on Twitter for Showing Up "Almost N*de" at Vanity Fair Oscar Party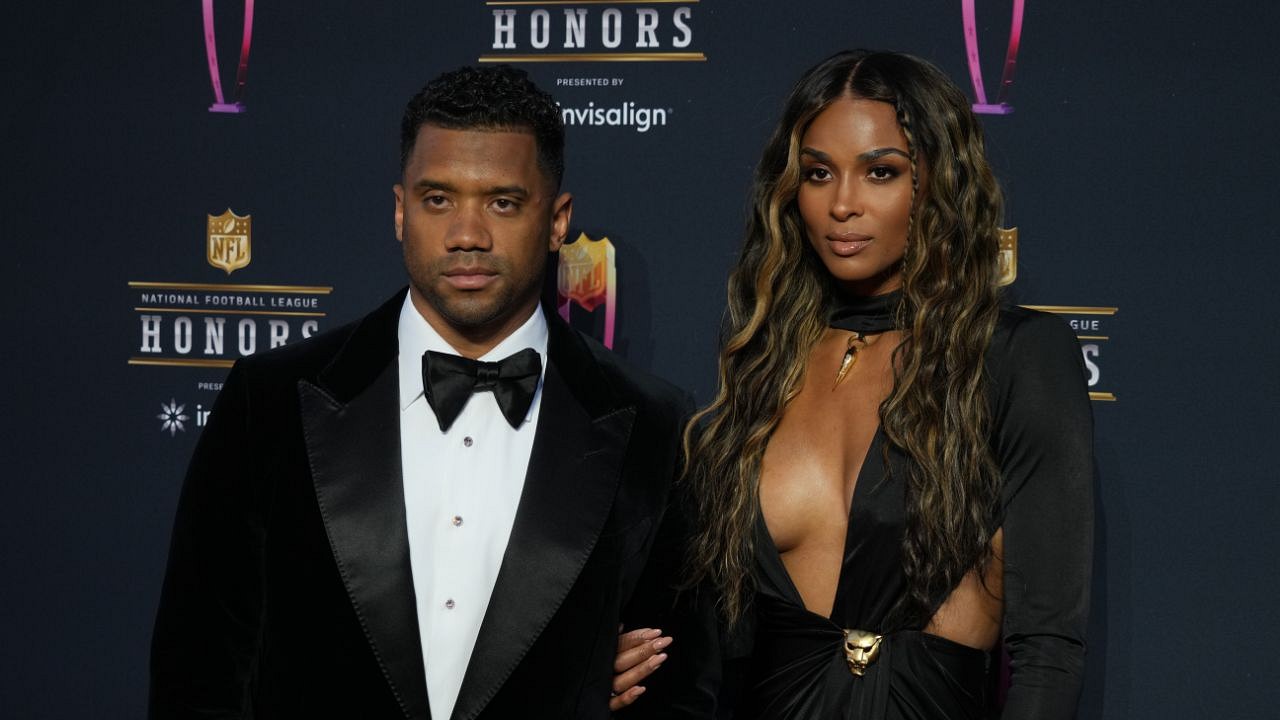 Quarterback Russell Wilson and his wife Ciara Wilson are known for their glamorous appearances at various public events. In fact, the couple had practically confirmed dating rumors by appearing together holding hands at the White House Correspondents' Dinner back in 2015.
With Wilson being one of the highest earners in the sporting world and Ciara being a massive star in the music industry, the power couple is often the most talked about duo at numerous high-end events. So when fans got to know that the power couple is going to attend the Vanity Fair Oscar Party, they weren't really surprised.
Also Read: NFL Combine 2023: Top 5 Most Impressive Offensive Linemen Who Sealed the Deal at Combine This Year
Ciara Wilson's Oscar party outfit results in social media uproar
Needless to say, people were eagerly looking forward to what look Russell and Ciara sport while making their way to the event. While Russell's all-black look was appreciated by his admirers, Ciara's dress ended up causing a war on Twitter.
On one side there were fans who called Ciara's look path-breaking, bold and simply scintillating, others called it downright vulgar and utterly inappropriate. The gorgeous singer actually wore a completely see through black dress along with just a couple of nipple covers and a G-string.
That man tried to take her off the streets but it keeps calling pic.twitter.com/vccMmoh226

— crypto fat sacks (@merkyou81) March 13, 2023
This is what we show our daughters

— Pat Porter (@Overboard21) March 13, 2023
Ain't no mf way… 😂

— 💨 JamarCigar (@j_newsome1911) March 13, 2023
This is so pitiful especially as a married woman and mother of 3. Smh

— charrr✨ (@chardy_notsorry) March 13, 2023
We are supposed to walk the walk. This attire is not reflective of a woman of God. It's the age old party on Friday, praise on Sunday schtick. pic.twitter.com/Ou5zTfZHhS

— Jillian ن (@jchn316) March 14, 2023
Many are opining that the reason behind opting for such a bold look is that Ciara wants to create more buzz for her new skincare brand called OAM. One has to admit that if the singer's aim behind the look was to gather attention, she sure accomplished the task successfully.
Ciara Wilson recently guided 300+ prison inmates to the path of Christianity
Russell and Ciara have been involved in a lot of philanthropic work for years now. Right from providing millions of meals to the needy during Covid time, to raising money for cancer hospitals, the power couple never fails to give back to the community.
Moreover, a few days ago, to spread positivity and propagate the teachings of the almighty, Russell and Ciara danced and prayed with 300+ prison inmates inside a maximum security jail. Moreover, tears rolled down Ciara's cheeks when she delivered the message of repentance to the inmates.
However, due to the Oscar party costume controversy, many people are now opining that she should refrain from talking about religion. However, innumerable people are also speaking aggressively against this narrative which is good to see.
Also Read: Top O-Line Prospect Paris Johnson Shares an Emotional Message For His Mother After Impressive Run at NFL Combine 2023
---
Share this article