Eagles Star A.J Brown Slapped With $13,621 Fine For 'Spanking' Action After TD Catch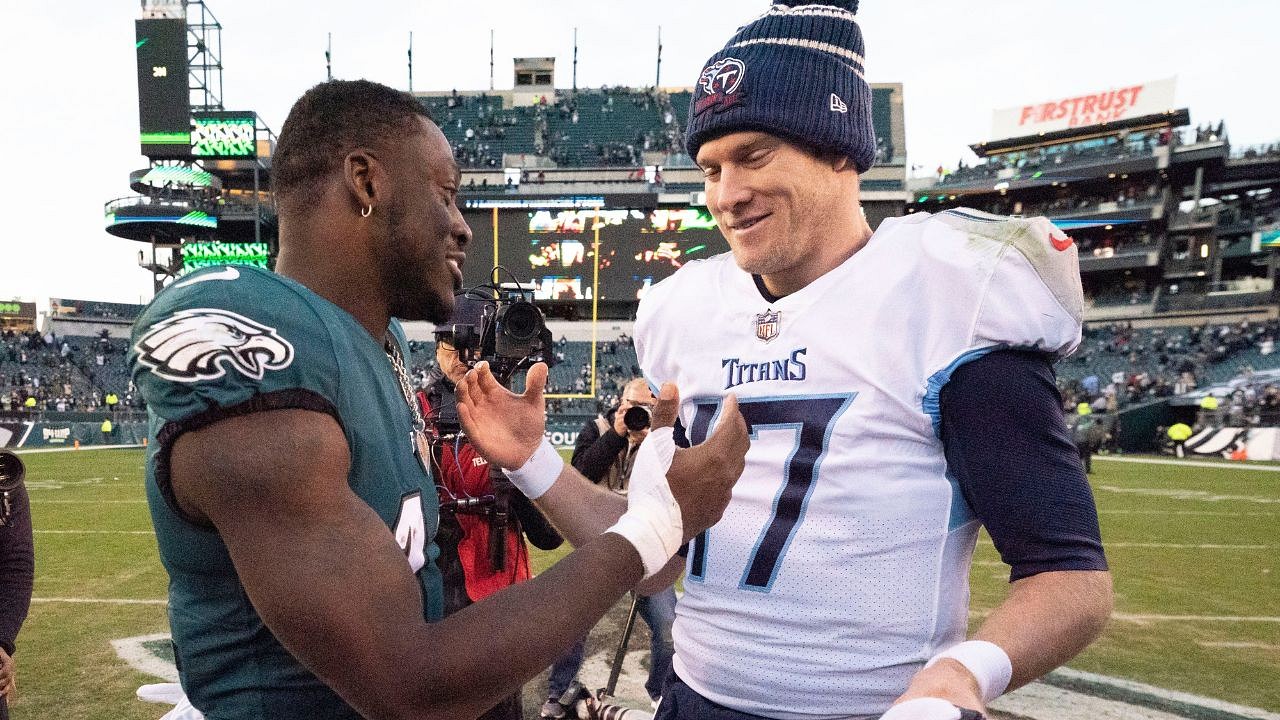 The Philadelphia Eagles have been simply sensational this season. Right from the first game, they have been able to dominate the opposition, all thanks to their all-round roster.
Credit has to go to the team management for covering all facets brilliantly which ultimately has allowed the team to emerge as one of the most consistent units in the competition.
Out of their 12 matches this season, the Eagles have won 11 which is enough to showcase how incredibly impressive they have been. Last Sunday, they took on the Titans and ended up scripting another easy win.
Although the Titans showed some fight in the first quarter, they were absolutely outplayed after that by an unforgiving Eagles unit. Jalen Hurts had a field day, Miles Sanders performed exceptionally and even A.J Brown did what he is expected to do on the field.
Also Read: Tom Brady Explains How He Stole Plays From Peyton Manning Which Led To Rob Gronkowski Becoming One Of The Most Dominant Players In NFL
A.J Brown Would Regret Spanking The Goal Post
For 380 yards, Hurts scored 3 touchdown and made life incredibly easy for the rest of the team. The contest, as expected, ended 35-10 in favor of the Eagles.
#Eagles WR A.J. Brown was fined $13,261 for unsportsmanlike conduct for spanking the goal post with his towel after a TD catch in last week's rout of the #Titans. The catch was reversed after review, but Brown scored again on the next snap.

— Ian Rapoport (@RapSheet) December 10, 2022
While everything about the game turned out to be positive for the Eagles, there is one aspect which wouldn't have pleased the management at all.
A.J Brown, who had 2 TDs to his name, was fined $13,261 by the NFL for unsportsmanlike conduct. As it turns out, Brown had spanked the goal post with his towel after a touchdown catch in the game against the Titans.
Although the catch was reversed after a review, Brown ended up scoring yet again on the next snap. However, as per Ian Rapoport, the spanking action ended up costing him over $13,000.
Although the fine isn't hefty by NFL players' standards, it is good to see that the league is taking its rules quite seriously. The Eagles are now all set to take on the impressive New York Giants and we can expect another entertaining encounter.
Also Read: Arrest Warrant Issued Against Antonio Brown After Latest Domestic Violence Allegations
---
Share this article