Tom Brady's Rumored Girlfriend Veronika Rajek Playfully Trolls Legendary DJ Steve Aoki for Being too Short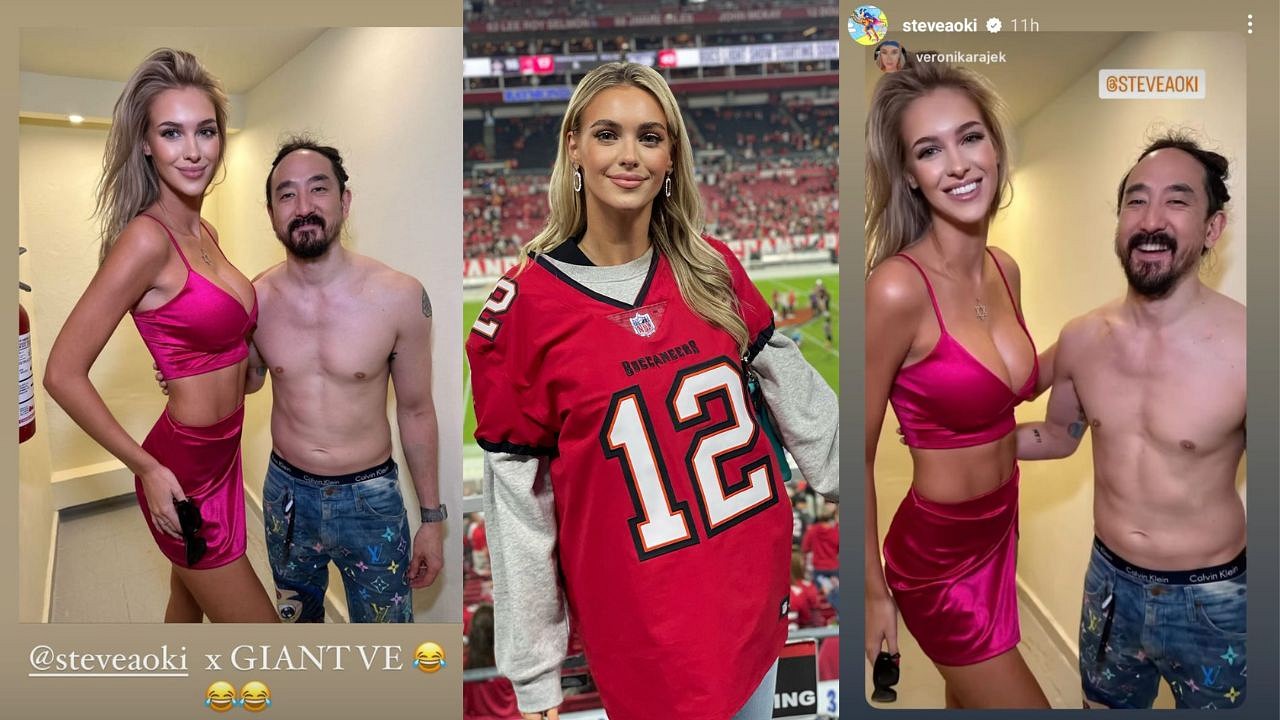 Instagram sensation Veronika Rajek is probably having the time of her life. Linked to Tom Brady a few months back after she had expressed her love for him through an Instagram post, Rajek's social media follower count has been surging upwards ever since.
While Rajek used to drop Brady dating hints on a constant basis, after the GOAT's retirement, such posts have certainly reduced to a great extent. However, the Slovakian bombshell has still succeeded in breaking the internet with her racy posts.
 

View this post on Instagram

 
Also read: Iconic Us Flag Re-Signed by Tom Brady Hits the Market Again for A Whopping Price
Veronika Rajek hilariously trolls superstar DJ Steve Aoki
Most recently, Rajek shared a number of visuals alongside renowned American DJ and Musician Steve Aoki who is performing for the Clayton's 2023 Spring Break. A rockstar like Aoki performing live is a guarantee that every grain of sand on the beach will shake vigorously because of the enthralling beats.
The atmosphere seems unmissable when Aoki is around which is exactly why even Rajek couldn't resist herself from attending the legend's heroics. A few hours ago, Veronika took to Instagram to share a few pictures alongside the renowned DJ. However, Rajek being Rajek, ended up playfully trolling the superstar.
"Steve Aoki x Giant Ve," Rajek wrote with the picture in which the Slovakian model was seen wearing a flashy pink mini-skirt and top. On the other hand, Steve posed in funky blue jeans while acing the shirtless look.
 

View this post on Instagram

 
Veronika wants her partner to be taller than her
Veronika, who is around 5 ft 11 in tall, is very particular about choosing a partner who is taller than her. During an Instagram Q & A session which she conducted a while back, Rajek, while describing her dream man, had stated that he must be taller than her.
While she had claimed that she doesn't dislike shorter guys, she just thinks that a shorter boyfriend might not feel very comfortable around her whenever they go out. After this, when someone asked if she wants to have kids, the gorgeous model's response was, "I want 4 or 5 kids. I know its crazy but I hope that I'll have twins because I don't think I'll be enjoying (pregnancy)."
While Rajek is reportedly married, there is little to no information available about her partner. Moreover, the model also never posts anything alongside her husband which has forced NFL fans into believing that she might as well one day end up dating NFL veteran Tom Brady.
Also Read: Tom Brady and Gisele Bündchen put their $650 million fortune into maximizing their stake in FTX cryptocurrency
---
Share this article