Andrew Tate Bugatti: Did Elon Musk Buy the $5 Million Car After Cops Seized It in Dubai?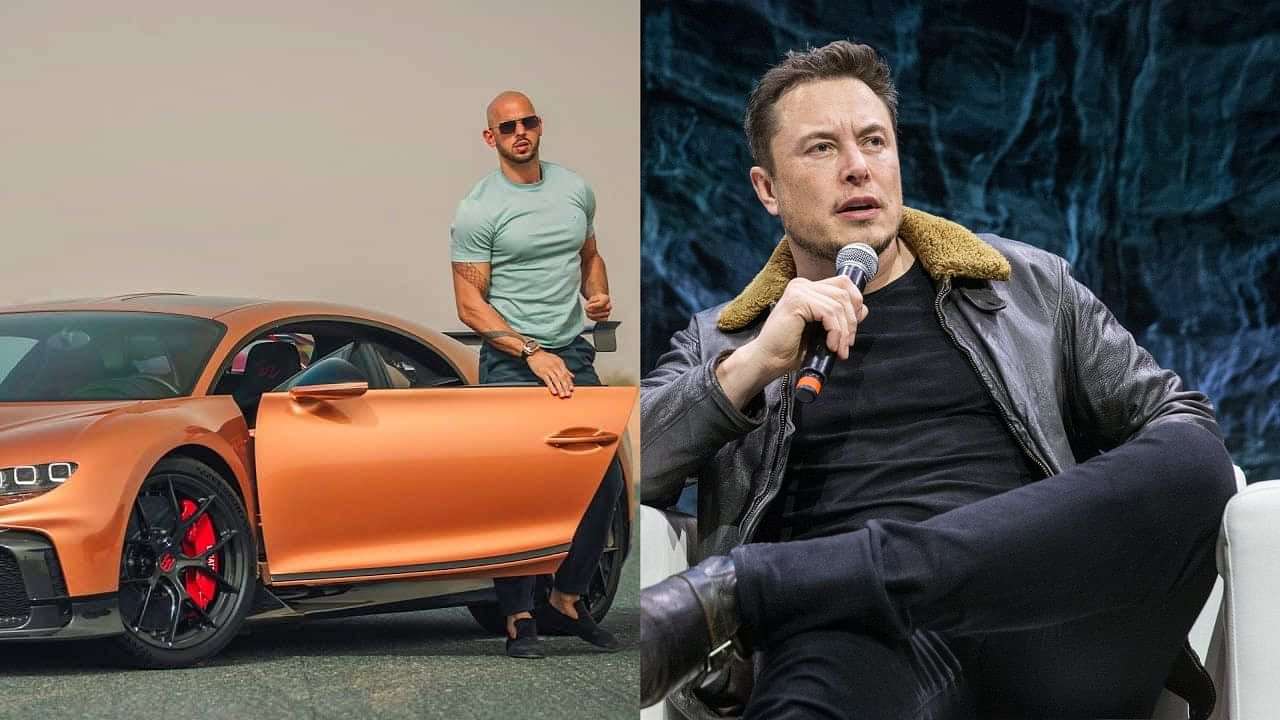 Andrew Tate and his younger brother Tristan Tate were arrested from their Tate mansion in Bucharest Romania. The Romanian authority made the arrest on human trafficking and money laundering suspicion. Following the arrest, the authorities seized many of the Tate brothers' valuable possessions, including the mansion and fleet of cars. Tate brothers are millionaires and have made this fortune through their multiple online businesses. Thus, Andrew Tate also owns a Bugatti Chiron worth over a whopping $5 Million. The car was in the UAE at the time of the arrest. However, the Romanian authorities were able to seize the Bugatti in Dubai.
The Bugatti Chiron is one of the most precious cars from Andrew Tate's collection. The 36-year-old is seen flaunting it in several of his videos. Thus, after the arrest, it was believed that South African billionaire Elon Musk has bought the car.
Did Elon Musk buy the Andrew Tate Bugatti?
No, the Tesla CEO has not bought Andrew Tate's Bugatti seized by cops. However, the rumors might have sparked after Musk's previous jibe at the controversial social media influencer.
ALSO READ: 'Juicehead' Conor McGregor Mocked for 'Unreal' Transformation by Nate Diaz's Friend Ahead of UFC Return
Tate, in December, posted a video on Twitter mocking Greta Thunberg. In the video, he accidentally exposed his location by showing a box of pizza. Therefore, following the arrest, the South African billionaire made a comment on Twitter related to pizza.
Loading embed tweet https://twitter.com/elonmusk/status/1609254628113420290?ref_src=twsrc%5Etfw
Musk wrote on Twitter that it is sometimes better to make pizza at home. Although the Tesla CEO did not mention Tate, it is not rocket science to understand that it was directed at the self-proclaimed men's influencer. Also, the tweet was made just a few days after the arrest.
Is there a beef between Musk and Tate?
No, there seems no beef between the two famous personalities. Musk did somehow take a dig at Andrew Tate. But there is nothing personal between the two. As Musk was the one to bring Tate back on Twitter.
The 36-year-old was banned from many social media platforms because of his controversial views on women. But he was later allowed on Twitter after the SpaceX founder bought the platform for a whopping $44 billion last year.
ALSO READ: Joe Rogan Leaves Fans Puzzled by His Absence During Conor McGregor & Jake Gyllenhaal's Roadhouse Filming at UFC 285
Andrew Tate and his brother were expected to be out of prison at the end of February 2023. However, the Romanian judicial court has denied their bail for the third time. Thus, they will now be in prison until the end of March.
What are your thoughts on Andrew Tate and Tristan Tate's arrest case? What do you guys think about Musk's tweet?
---