Stone Cold Steve Austin May Face This SmackDown Superstar At WrestleMania 39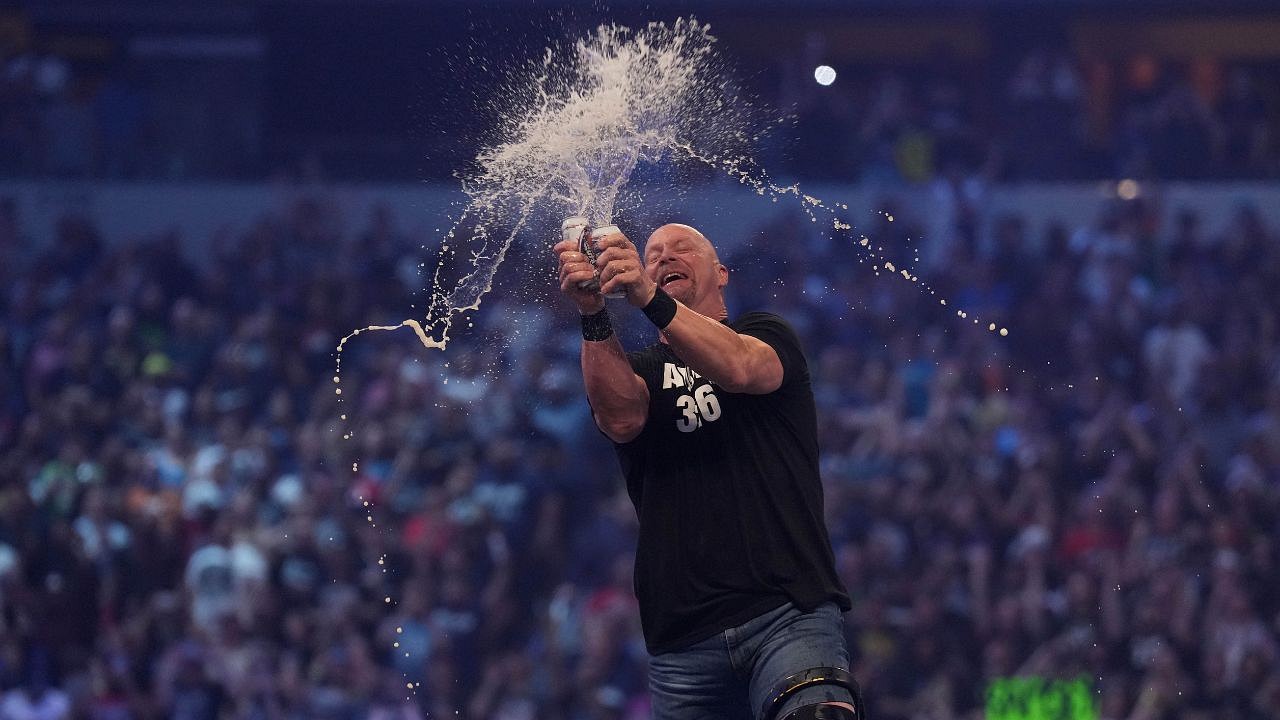 WWE is seemingly still pursuing Stone Cold Steve Austin to wrestle a match at the forthcoming PLE, WrestleMania 39. It was previously reported that WWE had pitched Brock Lesnar for Stone Cold to face at the Grandest Stage but, the plans never came to fruition. The Texas Rattle Snake was then offered to face Roman Reigns at Mania. However, Stone Cold seemingly did not accept the offer. According to a new report, the six-time WWE Champion may face the SmackDown superstar, LA Knight. 
Steve Austin was last seen in the ring at last year's WrestleMania, where he came out of retirement after almost two decades. Austin reigned supreme on Night 1 after defeating Kevin Owens in a singles match. The following night, Stone Cold returned to the ring and dished out stunners to Pat McAfee, Austin Theory, and Vince McMahon.
The WWE Hall of Famer is currently in phenomenal shape, which explains why WWE wants him back for one more match. 
WWE reportedly wants Stone Cold Steve Austin to wrestle LA Knight at WrestleMania 39
According to Fightful Select, WWE has pitched more names to Stone Cold Steve Austin for a match at the Show of Shows. The name that is heavily pitched at this point is LA Knight.
So far, LA Knight is not scheduled for WrestleMania. Knight is not involved in any storyline with anybody. He was last seen participating in the fatal five-way match at SmackDown. 
Fightful Select has learned there have been more pitches for Stone Cold Steve Austin at WrestleMania.

YEAAAAAAAAH. Get the full story at https://t.co/jy8u4a8usI. pic.twitter.com/X90ncjdJUY

— Sean Ross Sapp of Fightful.com (@SeanRossSapp) March 13, 2023
WrestlingNews.co also took to their Twitter to hint at the potential duel between Knight and Austin. However, at this point, these are mere speculations as it has not been confirmed by the company. Nonetheless, it's safe to bet that Stone Cold will wrestle another match next year if not this year at WrestleMania. 
Austin vs. LA Knight? I'll take it. #WrestleMania pic.twitter.com/j3ZTD5U5MO

— Wrestling News (@WrestlingNewsCo) March 12, 2023
Kevin Nash says he and Stone Cold Steve Austin will never watch AEW
While Big Sexy once watched AEW regularly, he revealed on his podcast that he hasn't watched it at all in months. Speaking on Kliq This, Nash confessed that he and Stone Cold Steve Austin have a pact of not watching AEW. Big Daddy Cool also added that even Undertaker does not watch AEW. 
"I have not watched AEW in months. It goes back to Steve Austin and I got a pact that he's not watching it therefore I'm not watching it and what I can tell by Twitter is [Undertaker] is now not watching it."
Don't worry he ain't watching

— Kevin Nash (@RealKevinNash) March 4, 2023
Earlier this month, Nash and Taker took a dig at AEW on Twitter after the company paid tribute to Steve Austin's bloody spot at WrestleMania 13. Nash tweeted that Stone Cold doesn't watch AEW. The Undertaker joined in and tweeted "huge pop".
Click here for more wrestling news.
---
Share this article