"Giannis Antetokounmpo Doesn't Look Like He Has a House": When Dwyane Wade Praised Bucks MVP's Work Ethic In His Last Game in Milwaukee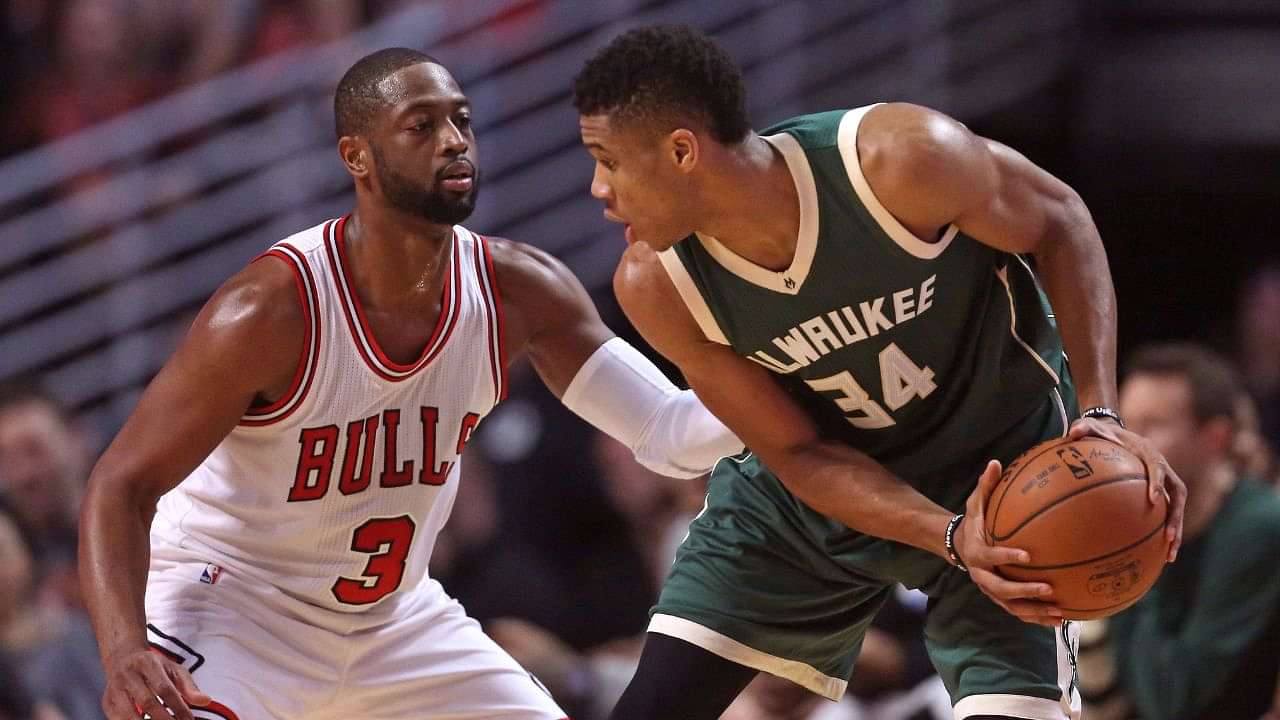 Dwayne Wade was nicknamed the 'Flash' due to his impeccable speed and immaculate athleticism. The 40-year-old was an influential figure in the NBA during the 2000s and for the better part of the 2010 decade as well.
Wade is a member of the fabled 2003 draft class, which includes modern-day trailblazers such as LeBron James, Carmelo Anthony, and Chris Bosh. Apart from James, Wade was the only other player who brought an NBA championship to the city that drafted him.
During his career, Wade accumulated three NBA championships, with the latter two coming alongside James and Bosh, in the form of the 'Miami Heat Big Three'.
And although, he is fondly remembered for his contributions to their successive championships, make no mistake, he was a governing authority by himself as well. Wade averaged  25.4 points, 6.6 assists, and 4.9 rebounds prior to the pair's arrival in 2010.
So for someone of the talent and caliber that Wade possessed, it's no surprise that his IQ indicated to him the distinction of a modern-day great in Giannis Antetokounpo. As they say, It takes a great player to know one.
Also read: "How Am I Gonna Take Care Of This Man-Child?": Shaquille O'Neal's Mother, Lucille O'Neal, On Her Struggles With Raising Shaq
Dwayne Wade heaped praise on Giannis Antetekounmpo!
When the realization that his NBA career was drawing to a close hit him, Wade took a seat back. During the twilight years of his career, the 13-time NBA All-Star, Wade reserved praise for numerous surging marquee players.
In the final season of his NBA career, Wade and the Miami Heat made a trip to Milwaukee. Prior to their game, the former Heat protagonist had some immense thoughts to share on Bucks franchise star, Giannis Antetokounmpo.
Wade said:
"His rise, it's been..it's been special. To see a young kid come in like that, just raw, and I don't know cos I'm not around but from what you see it looks like he just put so much where he looks so much like some of the guys who live at the gym…You know like a house or an apartment…He looks like he literally lives at the gym, whether it's in the weight room, or whether it's working on his game, I mean it's just phenomenal to see a young guy like that grow and he doesn't look satisfied at all.
Wade went on to add:
"You know each year he looks even more hungrier. you know he's put himself in a position to be a MVP candidate. He's put his team in a position to compete for a championship and he's still young, he has a long way to go, so Kudos to him for that, my head goes out to the work he's put in for it."
D-Wade's statement in relation to Antetekounmpo could not have been more accurate. The Greek Freak's dedication to developing his size and structure has been beneficial to his success.
At 6'11 and 243lbs, the two-time NBA MVP has a chiseled body, which came to be following years of hard work. It has laid the pathway to his success as he resorts to using his physique to score points. Or commonly referred to as 'Bully Ball'!
Also read: Shaquille O'Neal's Mother Lucille O'Neal is the BIG Reason why he Spreads Awareness on Sleep Apnea
Giannis Antetokounmpo's rise to stardom!
The 28-year-old was drafted in 2013 as a skinny teenage prospect, with aspirations of establishing himself as the cornerstone of the Bucks franchise.
The Greek has since gone on to don over 40lbs of muscle mass. Unbelievable. 
With the Greek international having already captured an NBA title, he is en route to solidifying himself as a generational power forward. Provided he can attain another couple of championships or more. 
Also read: LeBron James All-Star Game Stats: Breaking Down 6ft 9″ LBJ's Numbers in 18 Appearances
---