"Zion Williamson over Anthony Davis was a choice!?": NBA Twitter Questions Domantas Sabonis & Lakers Big's 'All-Star Starters' Snub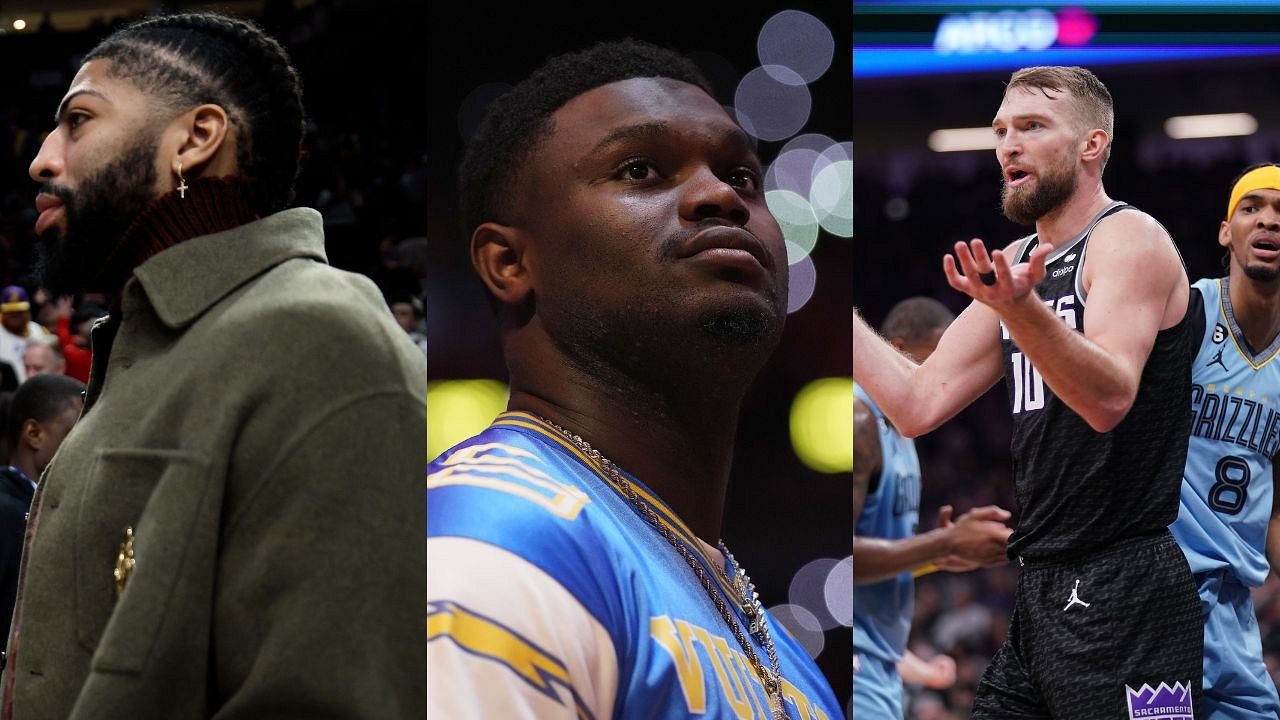 The 2023 All-Star starting list had come out, with LeBron James of the Los Angeles Lakers making the headlines after getting the most votes for his NBA-record 19 All-Star selections. His teammate Anthony Davis though missed out on his starting place to Zion Williamson.
The Western conference has Stephen Curry and Luka Doncic in the starting guards positions whereas the front court has Zion, LeBron, and of course the MVP leader Nikola Jokic.
AD, who got the 3rd highest votes from the fans, and Domantas Sabonis 3rd highest votes from the media were both beaten by the Pelicans forward who got the 3rd highest vote from the players. Hence, the fans and the media both aren't too happy about it.
Also read: "Don't Let Fans Pick All-Stars Or The President": Charles Barkley Scoffs At Fan Voting As LeBron James and Giannis Antetokounmpo Get Captained
Charles Barkley goes off on Zion Williamson getting the All-Star starter spot
On Thursday's pre-game show, the NBA on TNT cast discussed the All-Star starters and while discussing the West, Adam Lefkoe brought up Williamson's selection over AD and Sabonis to which Charles Barkley claimed even Utah's Lauri Markenen deserved it over the #1 pick of 2019.
Both Zion and Davis have missed plenty of games this season. The Pelicans forward has missed the team's last 12 outings while having missed another 8 making it 20 for the season out of his team's 49 thus far.
The former Pelicans big man, though, has played even lesser games. After Wednesday night's return against the Spurs, the 9x All-Star appeared just in his 26th game of the season out of his team's 49 outings where they are 23-26 in the W/L column, good for only 13th position in the league.
Whereas the Kings' big man Sabonis has played 45 games this season and is averaging well over 18 points, 12 rebounds, 7 assists, and close to a steal per game and has led his team to be the #3 team in the West with a 27-20 record. That's a snub!
Also read: Prior To $100,000+ Signing, Shareef O'Neal's Dad, Shaquille O'Neal, Promised Him A 'Beautiful Woman' During His Heart Surgery
NBA Twitter has mixed reactions on Zion's selection
It's not like fans didn't want the former Duke star in the starting line-up for the 2023 All-Star game on 19 Feb., they had him just behind Davis on #4. They gave mixed reactions to Williamson's selection as a starter.
Zion over AD was a choice

— John Hollinger (@johnhollinger) January 27, 2023
Either one over Sabonis was a choice

— vnzla81 (@Indyvnzla81) January 27, 2023
Kings fans knew it was coming.
Seeing the results of the starting 5…yeah they are gonna snub both Sabonis and Fox

— kcinimod (@dominickWho) January 27, 2023
There are voices for SGA as well.
I'm a HUGE Zion fan.. future MVP for sure. But…. pic.twitter.com/KQY6JSJbwa

— Binnyhana (@only1BinnyHana) January 27, 2023
All-Star voting never seems fair, does it?
Also read: "Knicks have been irrelevant since Patrick Ewing left": Charles Barkley & Shaquille O'Neal Believe New York Team is High on Expectations and Short on Talent
---
Share this article