Former Pro Bowler Destroys Patrick Mahomes' Tainted Brother Jackson Mahomes Who Is Under Investigation for S*xual Harassment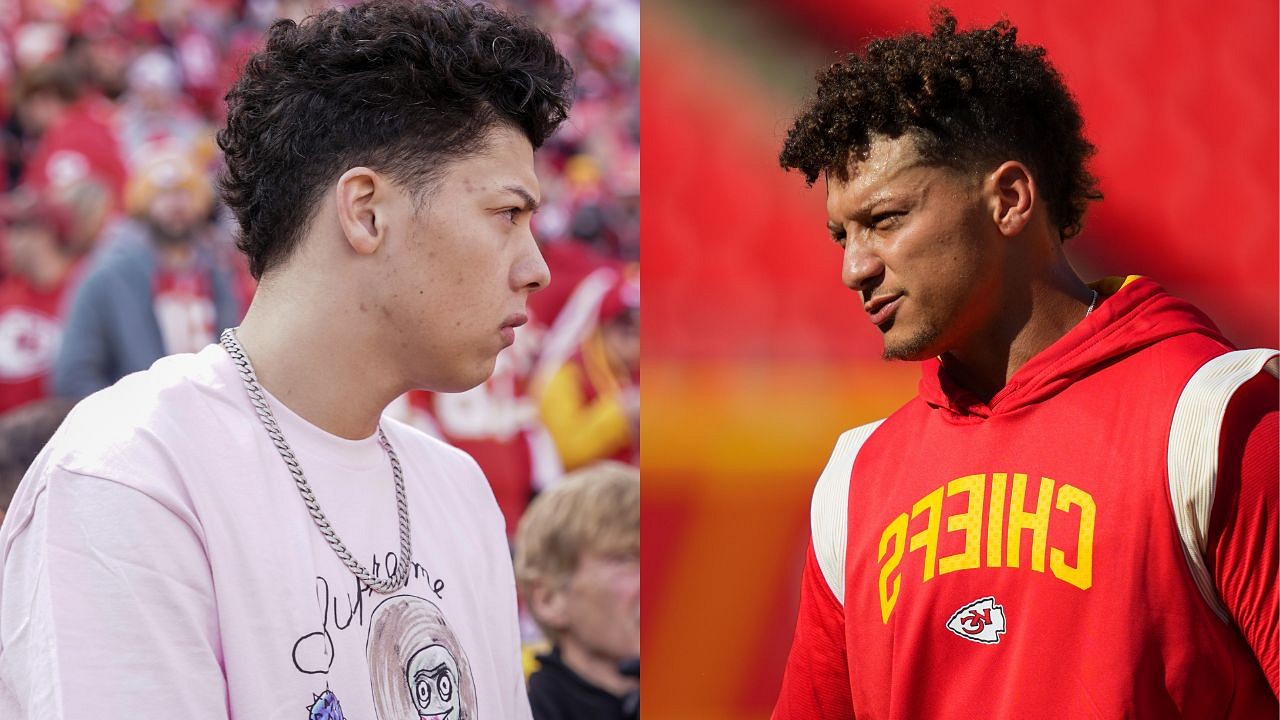 After the Kansas City Chiefs won their second Super Bowl under the reign of Patrick Mahomes, players, and their families went on a stretch of celebration. The merry-making did not stop for weeks. Jackson Mahomes, the younger brother of the lead QB of the Chiefs, uploaded dozens of TikTok videos and posted several pictures on his social media accounts. But everything came to a stop when the 22-year-old was hit by an investigation.
The Aspens Restaurant and Lounge, owned by a 40-year-old, submitted a surveillance video that showed the assault in progress. The owner and one of her servers also claimed that he physically assaulted them. Word of the news spread quickly. It understandably earned a lot of negative reactions from fans. Along with the NFL fans, former Pro Bowler defensive end Marcellus Wiley also grilled Jackson.
Also read: Another Video of Jackson Mahomes Trying to Forcibly Kiss a Woman in Vegas Goes Viral as He Faces Scrutiny in a Different Alleged S*xual Assault Case
Is Patrick Mahomes' younger brother ruining his image?
This is not the first time that the MVP-winning QB's younger brother has found himself in trouble. Jackson Mahomes has become a figure of contention. Fans think he is piggybacking on his brother's success. Additionally, the recent claims against him do not make the picture any brighter.
Wiley spoke candidly about the situation at length. On his podcast, More To It with Marcellus Wiley, the former Dallas Cowboys player explained that an entourage spoils the image of a hard-working athlete.
Jackson's careless acts can take Patrick down
According to the 48-year-old, an entourage gets one in trouble more than the actual star. "I've seen it a thousand times, where you know the person on the outside who doesn't have the same level of talent, discipline, focus, determination, desire all the things that got that star to that place the person next to him…also doesn't have the same things at stake…all of a sudden you mix that gumbo up that's the recipe for disaster."
Patrick Mahomes brother Jackson Mahomes is accused of assault, forcibly kissing owner at bar 👀 pic.twitter.com/YvGOPMbz6J

— Daily Loud (@DailyLoud) March 4, 2023
Wiley went on to explain that the 27-year-old's image may get damaged because of his brother. Jackson did not toil and grind like his brother. Surprisingly, fans reciprocate the same sentiment when they talk about the younger Mahomes.
The investigation is still underway. Even though the claims against him are of serious nature, his lawyer, Brandan Davies, spoke in his defense. Davies said that his client is innocent. They are also trying to collect evidence against the accusers in order to refute their claims.
Also read: Derek Carr Car Collection 2023: From Ferrari 488 GTB to Mercedes-Benz S63 AMG, Saints QB's Luxury Car Collection Can Even Make Hollywood Stars Envious
---
Share this article