Ex-UFC Star Ropes In Robert Downey Jr. to Throw Shade on Joe Biden for His Recent Remarks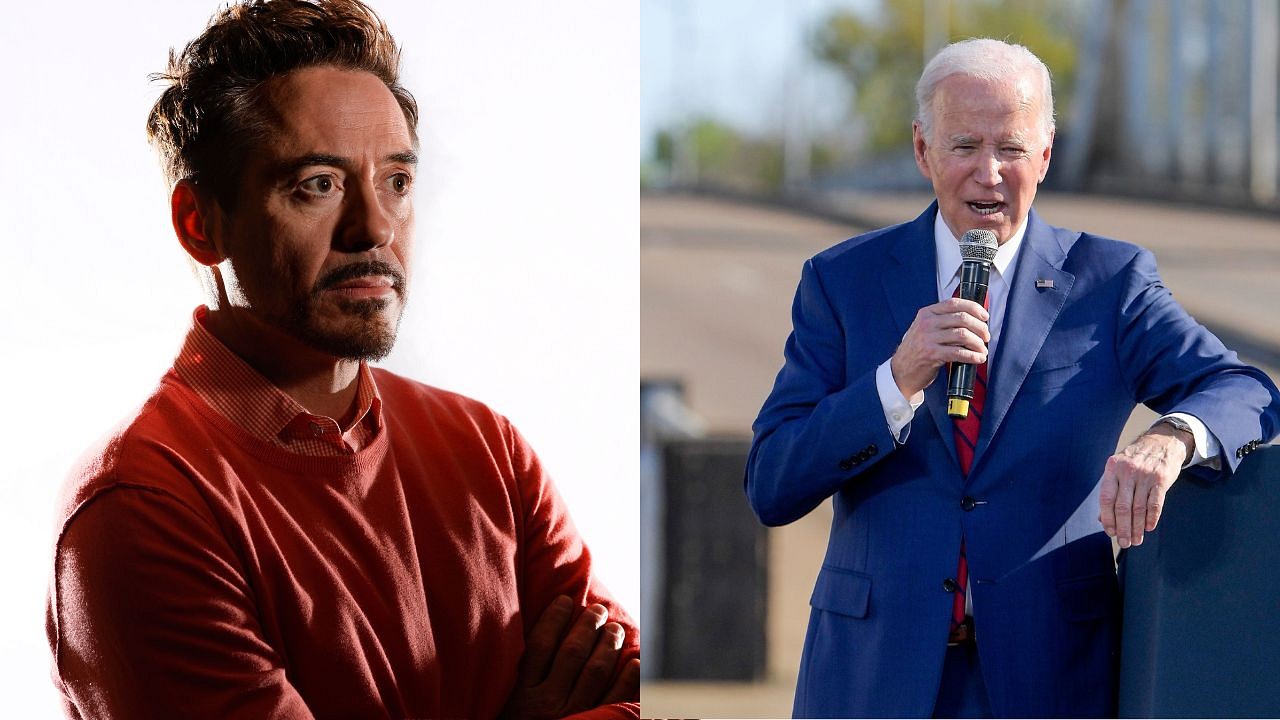 Joe Biden has quite often found himself being trolled online for his statements. The President of the United States of America most recently made the headlines for making a rather inappropriate statement at the Black History Event last month in February. In an attempt to speak about the importance of black history, Joe Biden suggested that he is white, but not stupid. Because of the same, the US President was grilled online.
Now, a former UFC welterweight title challenger, Jake Shields has also chimed in on the matter while throwing shade at Joe Biden. He publicly criticized the president for the same.
Jake Shields mocks Joe Biden while roping in Robert Downey Jr.
As mentioned earlier, Joe Biden recently made the headlines for his comments at the Black History event. Since then, he has been trolled a lot online. Moreover, The Babylon Bee, a parody news outlet, also jumped in on the matter with a blog of their own.
ALSO READ: Did Conor McGregor Train Merab Dvalishvili for His Fight With Petr Yan in Las Vegas?
The news outlet known for its funny parody news stories recently published a story claiming Robert Downey Jr. was awarded the award of the Black Americans of Courage. It was in context to the role he played in 'Tropic Thunder.'
Congrats Robert Downey jr pic.twitter.com/sPJRLteqBz

— Jake Shields (@jakeshieldsajj) March 9, 2023
Jake Shields took to Twitter to sarcastically congratulate Robert Downey Jr. on the achievement while making fun of Joe Biden. He posted a screenshot of the Babylon Bee article and wrote, "Congrats Robert Downey Jr," in the caption.
However, this is not the only time Shields has taken a shot at the president of the USA. His Twitter is filled with several tweets mocking Biden for his decisions and stances.
Jake Shields pokes fun at Conor McGregor for using steroids
The former UFC star Jake Shields has never shied away from making his opinions heard online. Shields often find himself commenting on controversial topics. That said, he did the same recently when he poked fun at former UFC champion Conor McGregor.
The ex-UFC welterweight took to Twitter to share a collage of Conor McGregor's bulked-up physique and Jose Aldo. He compared the two fighters who had competed in the same weight class previously. And also suggested that McGregor has been using steroids.
This juice head tried claiming I was on steroids pic.twitter.com/d4sNo3dy1k

— Jake Shields (@jakeshieldsajj) March 7, 2023
Interestingly, this wasn't the first time that the former UFC champion has been accused of taking banned substances. McGregor has gained a considerable amount of weight. He has bulked up a lot physically over the recent years, raising question marks surrounding the potential use of steroids.
ALSO READ: Rose Namajunas & Ash Barty Put In the Same Class as F1 Star Daniel Ricciardo's Italian Nonnas
It is worth noting that Jake Shields and Conor McGregor have had quite a history. The former is a really good friend of Nate Diaz, the former rival of McGregor. Moreover, the Irishman and Shields have also traded verbal blows in the past. Thus, he ignited the rivalry. But McGregor hasn't responded to it yet.
What are your thoughts on Jake Shields' tweets? What do you guys think about McGregor's bulked-up physique?
---
Share this article