WATCH: Bruce Buffer Captured Advising UFC Fighter Not to Discuss 'Lower Pay' in Octagon Interview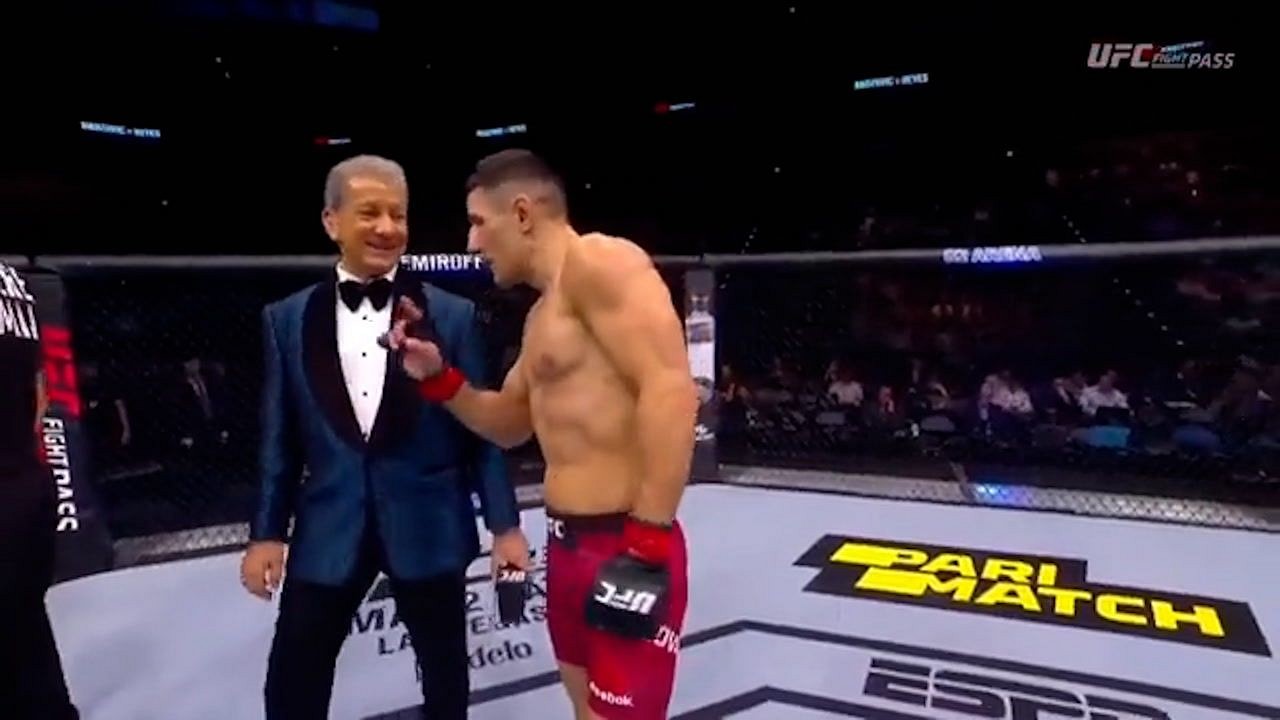 Fighter pay has been a long-standing issue in the sector of combat sports. The UFC and its president, Dana White, in particular, have been the subject of scrutiny for their demeaning ways of conducting business when it comes to the remuneration of fighters. The sport of MMA is unlike any other, including boxing.
All facets of fighting are legalized, with the scope of injuries extremely high. In addition, fighters jeopardize their long-term health and safety, every time they grace the octagon. In an ideal world, they would be compensated accordingly for their troubles, but the UFC has not taken the bait so far.
Their consistent rationales for not enhancing the salary of fighters have prompted multiple athletes of the promotion to speak out against the subject. Generally, UFC athletes go down this path during press conferences or mandatory media obligations.
Current UFC heavyweight champion, Jon Jones himself had a three year layoff due to fighter pay concerns.
One such athlete, Damir Hadzovic, was on the cusp of taking this route following a spectacular knockout victory when he was advised not to do so by UFC announcer Bruce Buffer. 
Also read: UFC 286 Streaming Details: When and Where to Watch Leon Edwards vs. Kamaru Usman 3?
Bruce Buffer once advised Damir Hadzovic not to comment on fighter pay after his victory. 
Back in 2019, then-surging UFC lightweight Damir Hadzovic was slated to face Polo Reyes, having amassed a subpar record of 2-2 with the UFC. Needless to say, Hadzovic kept his job as he knocked out Reyes around the two-minute mark of the second round via punches.
Despite a sublime finish, it was Hadzovich's post-fight shenanigans that garnered the attention of the MMA community at the time. From footage captured inside the octagon following the conclusion of his fight, the Dane can be seen pacing around the octagon.
He seemingly glared at his opponent's unconscious body lying on the floor before he approached UFC announcer Bruce Buffer and said the following. 
Hadzovic stated: 
"They don't pay us enough for this."
 

View this post on Instagram

 
To which Buffer resonated with his emotions, but practically responded by saying: 
"Ah, I know, I know…Just don't say that in your interview."
Buffer chuckled about his comment as Hadzovic assured him he wouldn't. It's safe to say that Hadzovich would have had his position as a lightweight contender reprimanded, provided he made those comments in his post-fight speech. 
Also read: UFC 286: Kamaru Usman vs. Leon Edwards 3- Full Fight Card
Francis Ngannou's departure from the UFC and deteriorated relationship with Dana White!
Former UFC heavyweight champion Francis Ngannou departed from the company earlier this year, as the 36-year-old was unable to reach an agreement with the UFC on a new contract. The principal concern about his new contract was the money he would be awarded.
However, Ngannou had certain other clauses, namely the right to sponsorships for fighters so as to earn a revenue from their names and health insurance for the athletes. Both of these requests were denied by the UFC.
Although Ngannou did mention he was content with the deal he was offered from a financial perspective, which was believed to be lucrative.
 

View this post on Instagram

 
Ngannou's situation hopefully is a blueprint for fighters in the future to realize that they do not have to settle for anything less than their worth.  It also proves that it is attainable to get a deal from a corporation that values them as the opulent commodities they are. 
Also read: Vile 'Blackface' Conor McGregor Meme Leaves Fans & UFC Stars Divided: "Bring Back Khabib"
---
Share this article